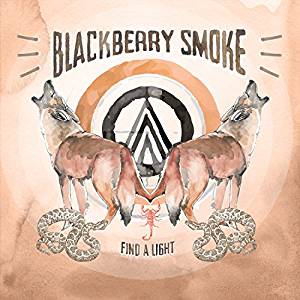 Blackberry Smoke
Find A Light
3 Legged Records
Blackberry Smoke's newest release, Find A Light, is a distinct change in tone from 2016's Like an Arrow and is taking the band into some new musical directions. You still get the raucous rock and roll that Blackberry Smoke is known for, but this album seems like it's pushing to take advantage of the last 2 albums debuting at #1 on the country charts and finding a wider audience for this fantastic group of musicians.
Of the 13 tracks on the album, Charlie Starr wrote 6 while sharing song writing credits on 6 other tracks with either Travis Meadows or Keith Nelson. Robert Randolph also shares a co-writing credit on their song "I'll Keep Ramblin'". The collaborations with Keith Nelson seem to lean towards, and will appeal to "modern" country listeners, while the balance of the albums songs will feel a bit more familiar to the diehard Blackberry Smoke fan.
The album was created by the 5 member team of Charlie Starr, Paul Jackson, Brandon Still, Richard Turner, and Brit Turner. Charlie and Paul have dual guitar playing down to a science and on Find A Light, are tightly locked in with tempo and interesting chord changes. Brandon's keyboard playing is always on point but he's a little more up front in the mix and it is great to be able to hear those contributions. The Turner brothers are literally the bedrock that is Blackberry Smoke. Richard's steady, thundering bass pushes along the song flow while Brit's unflinching beats set the tempo for these often times delicate rhythms.
They brought in a number of guests, more than we have seen on previous albums, and it perfectly adds to the overall feel of the album. Amanda Shires is uplifting on "Let Me Down Easy" and puts the finishing vocal touches on an already solid song. The addition of "The Black Bettys", Sherie and Sherita Murphy, on backing vocals for "I'll Keep Ramblin'" and "Lord Strike Me Dead" are fantastic and a new avenue for Blackberry Smoke.
Robert Randolph helps tear the roof off on "I'll Keep Ramblin'" with his amazing pedal steel work while the rest of the band locks in and pushes the limits right along with him. The last track on the album, which features Oliver and Chris Wood of The Wood Brothers, is the earthy "Mother Mountain", a simple acoustic track that wraps up another beautiful album.
I'd love to continue to point out the reasons that this is a good album but, I'd suggest picking it up and digging in for yourself. I'll have it on repeat for the next few months until it's as comfortable as an old concert t shirt.
---