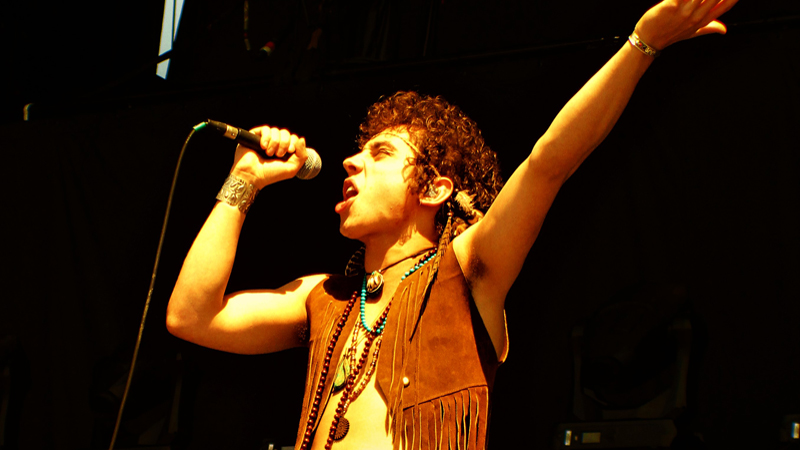 Welcome to Rockville
with Ozzy Osbourne, Avenged Sevenfold, Foo Fighters Billy Idol,Andrew W.K., Greta Van Fleet and more…
Jacksonville, FL • April 27-29, 2018
by Alberto Rivera
Welcome to Rockville! Three days in the Florida sun before spring slides into summer. Reasonably pleasant and cooperative weather, performances from exceptional rock legends and plenty of up and comers. So was it worth it?
Hell yes.
"underoath_r_1"
If you like loud, crunchy guitars, then this was the place to be. A healthy blend of newer and older artists filled out the line-up, and for those familiar with how unforgiving Florida weather can be, it was nigh on perfect. The show ran like clockwork. Sets started and ended on time, and short of being halfway between stages when two different sets were running at the same time, the sound quality was really good. There's a lot of bands, a lot to cover, and here's a slice of Rockville's offerings.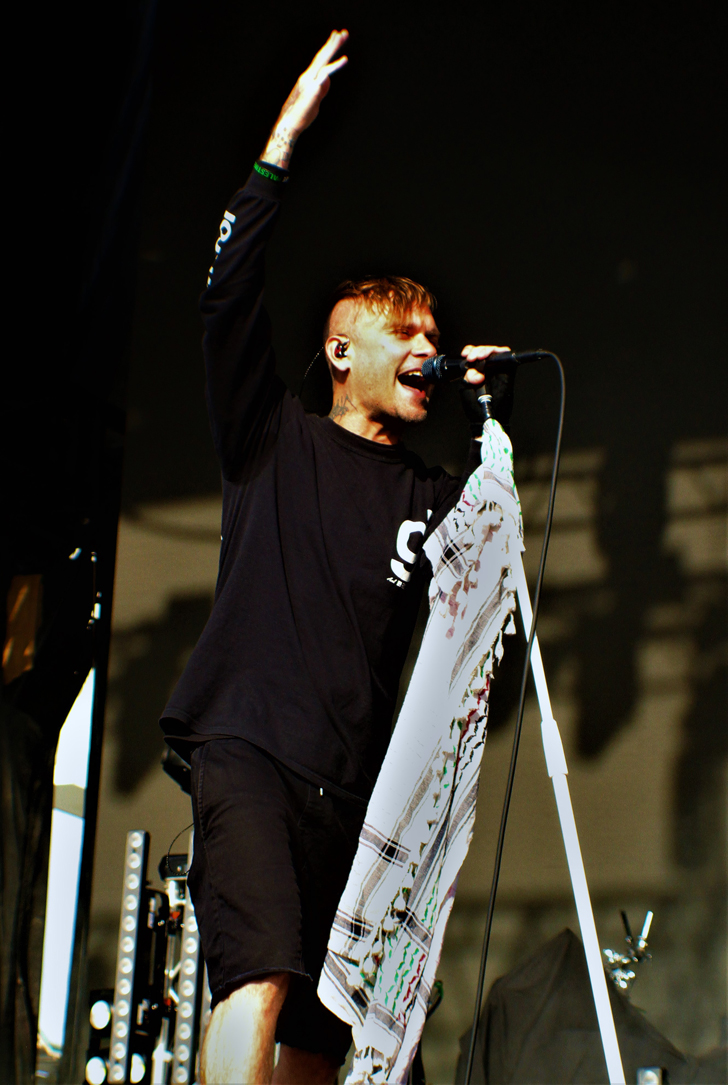 Ozzy was as good as you'd expect at this point. 50 years of live performances under his belt, and on what has been dubbed No More Tours 2 string of farewell shows, The Oz Man declared repeatedly from the stage he wasn't retiring anytime soon. Makes you wonder if artist and management shouldn't get their stories straight regarding this most recent of cash grabs.
At any rate this was my fourth time seeing him live, and he was better than I could recall, In the '80s I thought he was great, but it was just my youthful enthusiasm. In the late '90s-2000 Ozzfest period, he was quite good, but his solo sets were overshadowed by Black Sabbath reunion sets. So here on his own, with a talented band led by Zakk Wylde, Ozzy gave a memorable performance worthy of his legacy and catalog. There's also the interesting detail that I can't recall ever seeing so many of the AARP types in a crowd before. They are Ozzy's age and this being the soundtrack to their lives, they all banged their heads along with everyone else.
Foo Fighters were reliably brilliant. Dave Grohl is living out every kid's idea of what it means to be a rockstar, so good for him. A brilliant full moon rose over the stage during their performance, adding a nice touch to the closing set of the weekend.
[[gvf_2]] "gvf_1"
Greta Van Fleet exceeded all expectations with their Florida debut. Within moments of taking the stage, any and all skeptics could keep their doubts to themselves. Those catchy riffs unspooled easily, and that voice; well hell, that voice was just like the record, but right in front of us. The band, at ease with themselves and the sizable afternoon crowd, are poised to be the next huge stadium act. Don't tell them I said so, lest it go to their young impressionable minds. I only wish I could have seen them live 6 months earlier.
[[sevendust_r_1]] [[halestorm_1]]
Sevendust were perfect. They served up a taut, aggressive blast of memorable metal. I was unfamiliar with Fireball Ministry before this weekend. Fireball Ministry could be the ideal soundtrack for every bike week ever for the next ten years. Gritty, no BS rock done right. Red Sun Rising were a surprise to me as well. They have a great throwback sound that doesn't make think of any one band, but that golden age of mid '70s hard rock/metal, with hints of Hawkwind, Deep Purple, and too many other bands to list. Great melodies over soaring riffs, this is a band to watch. Halestorm also proved to be a live act to contend with. Bringing an out-sized performance with them, they bear repeated viewing.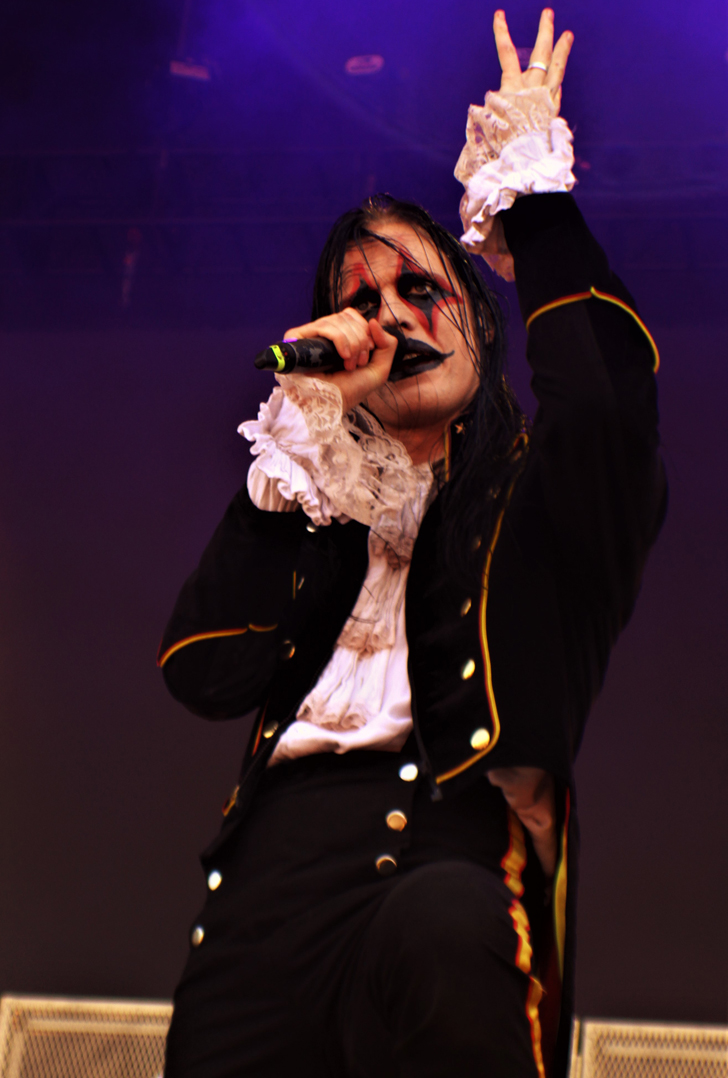 Butcher Babies were darkly entertaining. Avatar were bombastic, silly and over the top. I enjoyed their set way more than I expected to. Clutch are the primitive life form that emerges from a three week muck fire. Swampy, sooty, and irresistible. The Sword, finally I was able to get some decent pics of them in the full light of day. I caught their gig a few years ago where the stage was soaked in red, to great effect, but alas I hadn't upgraded my camera gear yet. Oh, and they delivered one amazing broadside burst of metal after another. Queens of the Stone Age proved to be formidable and imposing act live.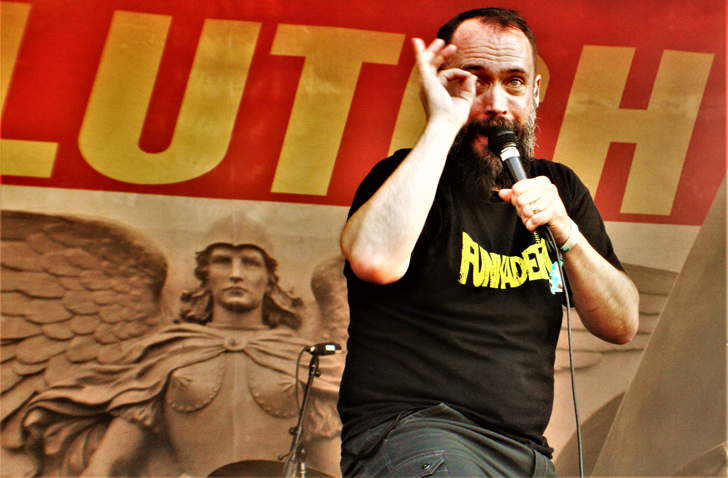 Billy Idol was a bright spot. I wasn't sure what to expect. Some long-lived acts are content to rest on their catalog, and audience adoration. Billy may not have been as physically animated as in previous years, but the show, the band, the songs, and his voice, all hold up damn well. Guitarist Steve Stevens and Idol work seamlessly together, and the long partnership continues to be fruitful. There appears to be plenty of gas in that tank.
It was a tremendous three days of music. Rockville got a lot things right that other festivals don't and are easy to take for granted. Well organized, good sound, clean facilities, and water, for those inclined to drink it, wasn't overpriced. Rockville is worth revisiting and becoming a part of your annual rock pilgrimage.
---