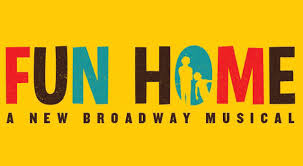 Fun Home
Mad Cow Theater
Book and lyrics by Lisa Kron
Music by Jeanine Tesori
Directed by Mark Edward Smith
Musical Direction by Robert Stamper
Choreography by Crystal Edwards
Starring Sonia Roman, Raina Grabowski, and Emile Sheetz
Orlando FL
Bruce (David Lowe) is not just a father, he's a jack of all trades and a coffee achiever: High School English teacher, old house restorer, mortician, and he still has time to cruise on weekends. Tonight's titles refers to the family code name for their funeral home: the people living in this gorgeous period set piece are NOT very happy and certainly don't have much fun. Mom knows what's happening but sticks around for the kids, and the older daughter Alison (Scheetz) heads off to college to wrestle and with her sexuality while Bruce just keeps meeting the most interesting young men. I think Alison ends up as happy as anyone here; she accepts what she is and makes it her career. But Bruce's wife Helen (Laura Hodos) takes the worst of it; she complains in one brilliant scene "…he brought home BODY LICE." Bruce loved, but not very selectively.
We see the story from Alison's multiple perspectives. As a child (Grabowski) she's as confused by adult arguments as any child. As a student out on her own (Sheetz), she's confused by the mixed messages her dad sends and the ones her body responds with. And as narrator (Roman), she struggles to understand and evaluate her father's influence on her. Father and daughter end up in vastly different places, both mentally and physically, and each place is of their own making.
There's a live combo playing back stage, and the plain-looking set turns into a Chinese puzzle box of pull outs and rotating flats as dramatic as the story. The music is challenging: "Welcome to the Fun Home" creates a fictitious ad for the funeral business that's both tasteless and hilarious as only children can make it. More traditionally you have "Medium Allison" singing "Changing my Major" as she realizes where she fits in life. "Rain Coat of Love" by the company and Helen's "Days and Days" get check marks in my program, but there's not a real "sing it home" number here. More dramatic than musical, this is still a touching view into modern family life.
---