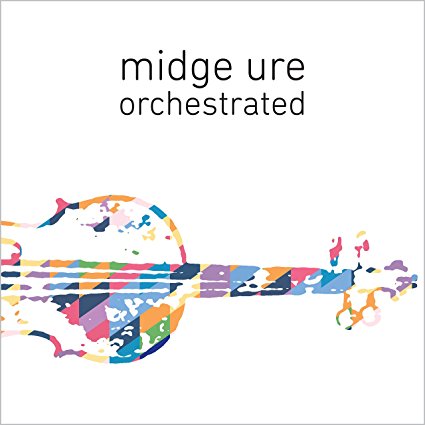 Midge Ure
Orchestrated
BMG
Midge Ure is one of the most enduring artists to emerge from the '80s synth pop era, and his iconic writing and vocals have stood the test of time. The Scottish singer/songwriter/producer/activist (Band Aid, Live Aid, Live 8) has early roots in such bands as Visage and Thin Lizzy, but it was his addition to Ultravox in 1979 and the release of their fourth album, Vienna (1980 – the first with Ure) that put both the man and the band on the map. Following his self-produced 2014 release, Fragile, Ure makes a triumphant return with Orchestrated. This 12-song, career-spanning collection brilliantly reshapes and reinterprets some of his best material, backed by a full Bulgarian orchestra. It is a pure aural delight of epic proportions. His vocals are still as breathtaking as ever, perhaps even more so, with a deeper, lusher, more mature sound that most singers only dream of maintaining. Tightly produced by renowned UK composer, Ty Unwin, all material either was written or co-written by Ure, with one new cut, "Ordinary Man," co-written with Unwin. "The record took 18 months to make, but a lifetime of work to achieve," states Ure. And what a lifetime of work it is. (Note that it already saw UK release in late 2017.)
Right from the opening note of the first track, "Hymn" (Quartet, 1982), it is clear that this is a record with a tremendous sound. Ever the master of vocal control, Ure's notes vacillate between delicate pearls and soaring jewels. "Reap The Wild Wind" was released on the same record, and while Ure includes it here with strings, it is pretty close to the original, as is "If I Was" (The Gift, 1985). While the same could be said for "Vienna" (Vienna, 1980), it could also be said that this was an 80s signature song, and Ure does it serious vocal justice, even all these years later. It is still the sweeping, gripping composition it always was, just kicked up a notch. The bottom line is, it still makes the listener's hair stand on end.
By replacing guitar/drums with strings/piano and slowing the tempo on "Dancing With Tears In My Eyes" (Lament, 1984), it creates a piece that is nothing short of brilliant, with Ure's tremendous, haunting sound permeating every fiber. Also off this album and equally as powerful are "Man of Two Worlds" (featuring Mae McKenna, who was also a backing vocalist for Ultravox) and the title cut, "Lament," with beautiful piano and strings as well as hints of early Depeche Mode.
"Breathe," the title track from Ure's fourth solo record (Breathe, 1996), navigates away from a more distinct pop sound in the original to a heavier sound, and also has echos of Depeche Mode-like keys that were not in the original.
Transforming from techno pop to broadway, "The Voice" and "I Remember (Death in the Afternoon)" (both off Rage In Eden, 1981) get makeovers that far surpass the originals.
The aforementioned new song on the record, "Ordinary Man," has echoes of Tears For Fears' "Sowing The Seeds of Love" in the chorus.
As noted in my 2014 review, "Fragile" has moments that smack strongly of Pink Floyd's "Comfortably Numb," but it also has one distinct note straight out of The Moody Blues' "Nights In White Satin" that is unmistakable and quite chill-inducing.
The beauty of this record is that the material lends itself so well to full orchestration, putting a fresh spin on music that already was incredible, giving it renewed life and reaching a wider audience.
Ure and fellow '80s darling, Paul Young, have just embarked on a co-headlining US tour in support of their respective latest releases.
---