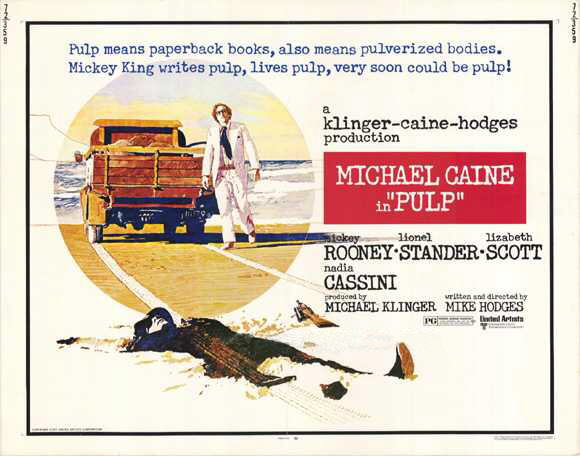 Pulp
directed by Mike Hodges
starring Michael Caine, Mickey Rooney, Lionel Stander
MVD / Arrow Video
After scoring the major hit Get Carter, Michael Caine starred in a number of less successful ventures. Pulp is one such obscurity; it's an odd riff on the American gangster films that entranced European film makers. Caine portrays Mikey King, a pulp writer of sleaziest material. His pseudonyms include such credits as "S. Odomy," "Guy Strange," "Les Behand," and "Paul S. Comin." His pen names were far better than his text.
King is sucked into the vortex surrounding small time American mobster Preston Gilbert (Rooney) who wants his biography written by King. He likes his style, and that says a lot about his personality. Rooney may lack the threatening presence of a Michael Corleone or an Al Capone, but he's the highlight of the project. Gilbert's consigliere is the overbearing Ben DeNuccio (Stander); a past master of the snooker table. King finds himself on a tourist bus to the south of Italy (but filmed in Malta) where he enters a surreal world that '70s era movies excelled in creating. King narrates this story in the style he writes in, and the voice over is invaluable in decoding this otherwise surreal film. Once on station in the south, King begins to have odd experiences – finding the body of a acquaintance from the bus dead in his bathtub, viewing weird Italian political demonstrations, and fling with King's leggy assistant Liz (Nadia Cassini). Dig though the commentary and you'll understand the set dominated by grey, brown and taupe. This isn't a film for viewing; its for talking about at the bar in any film fest you can crash.
Has this film stood the test of time? Sort of. Caine possesses cool distance from the action at hand as he narrates the action around him. Rooney shines brighter than anyone else; his underwear dance scene ranks with the Groucho – Harpo mirror scene. We all mourn Rooney when he dies, and after his passing the film needs to wrap up. Rooney's Tiny Napoleon act is one of his finest comedic performances ever. Liz plays a hot pants wearing sex goddess typical of the era, complete with a large hat and legs about five feet long. The scenery is great and never mind the scenic designers desire to keep everything in neutral tones.
Pulp reveals a time capsule not as outrageous as the Flint series or as well shot as the Bond franchise but worth a spin for the film aficionado. I recommend the special features; four technical professionals relate production horror stories and production nightmares. This isn't a GREAT movie, but its one that leans on ironic reference points more than actual plot or acting. Mr. King sums it up when he tells the police: "I write crap like this every day. It's my job." And people eat it up.
---