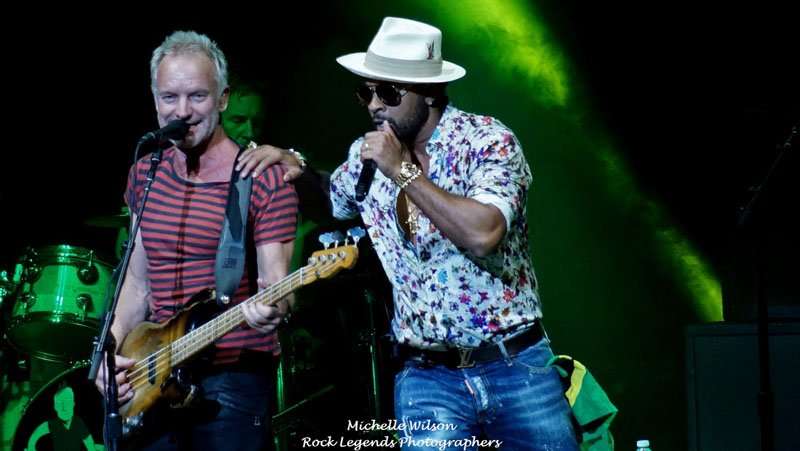 Sting & Shaggy
Daily's Place, Jacksonville, Florida • September 14, 2018
by Michelle Wilson
Sting & Shaggy
The 44/876 Tour
Daily's Place, Jacksonville, Florida, August 14, 2018
Few things in life make me happier than the music of Sting. Discovering The Police at 16 years old after Synchronicity debuted was a life-changer. I backtracked through their catalog and purchased every album, poring over the liner notes and soaking it all in like a sponge. Anything Sting played on, I had to have. I purchased every magazine I could get my hands on, absorbing every word of every article. My bedroom walls were covered with photos of Sting and The Police, and my car even had an "I heart Sting" bumper sticker on the back. In the section of my high school yearbook where you predict what you will be doing in ten years, my quotable quote read "Living in England and having Sting's children." My very first concert was The Police in Atlantic City, New Jersey, February 7, 1984. I saw the band four more times after that, and I have seen Sting solo 11 times. I am (clearly) a diehard Sting fan.
So when I read that Sting and Shaggy would be kicking off the North American leg of their 44/876 Tour in Jacksonville, I knew I had to be there to cover the show. While many people may have been surprised by this collaboration, I certainly was not. With a penchant for reggae-infused music throughout his career, particularly in The Police days, teaming up with Shaggy was a natural development. The two first appeared together at the 2018 Grammy Awards, and then their album, 44/876, was released a few months later (the name was derived from their country calling codes). In top form at 66, Sting remains the king of musical reinvention and always seems to have one more fresh trick up his sleeve.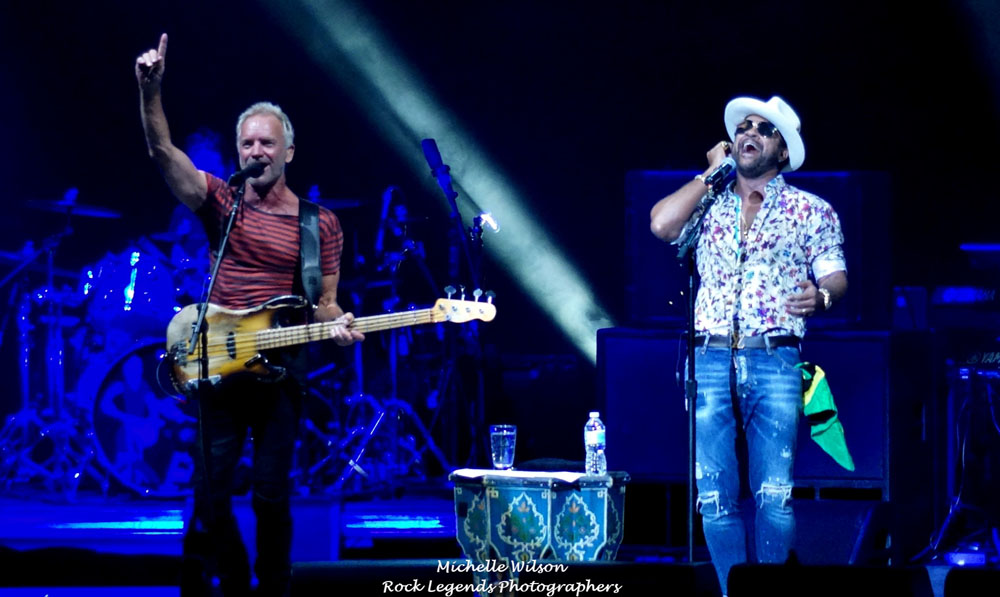 After a slight delay, the music got underway at 8:30pm on a pretty perfect Florida evening with "Englishman In New York." It was a packed crowd and the fans remained on their feet for majority of the two-hour show, dancing, clapping, singing and loving every moment. Backing musicians included longtime Sting guitarist Dominic Miller and his son, guitarist Rufus Miller, Sting drummer Josh Freese, Shaggy keyboardist Kevon Webster, and Shaggy backing vocalists Melissa Musique and Gene Noble.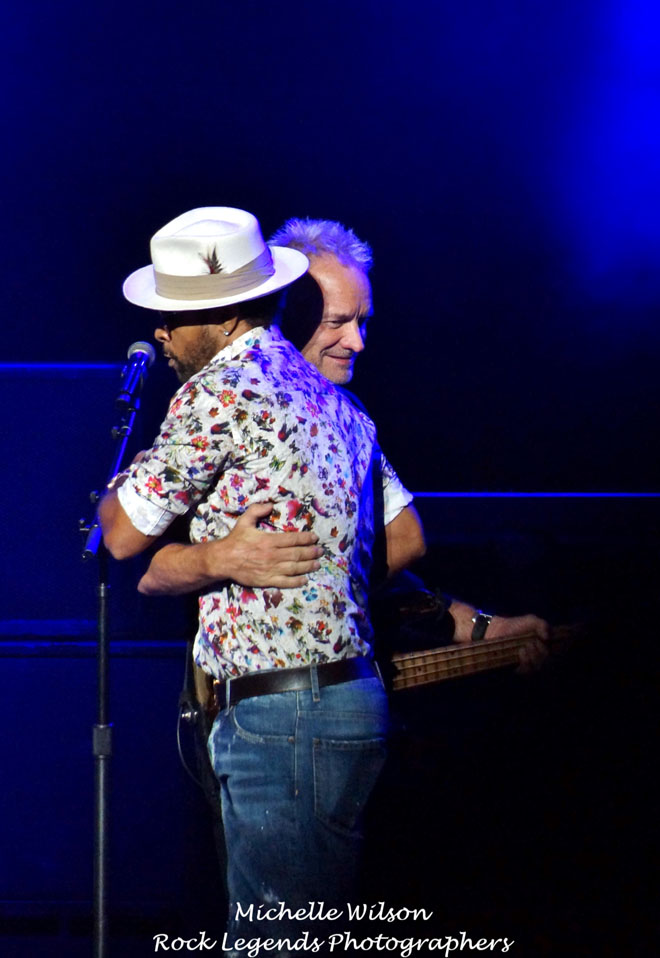 Packing in 29 songs including six from The Police, eight from Sting, six from Shaggy and nine from the new record (one which only appears on the Deluxe version), the show was incredible and over in the blink of an eye. The genuine rapport between the two superstars kept the fun factor flowing throughout the evening. There was little stage chatter and a rapid flow of song progression, which is always a plus at a live show. It may sound as if nine cuts off 44/876 was a bit much, but it truly wasn't. Song placement was carefully interwoven and appreciative fans respectfully showed their support for the new material and also for the Shaggy tunes. Mashups of "Oh Carolina" (Shaggy) and "We'll Be Together" (Sting) as well as ""Roxanne" (The Police) and "Boombastic" (Shaggy) really highlighted the harmonious blending of sounds that these two innovative musicians created together. Tackling Shaggy's "Angel," "Strength of a Woman," "Hey Sexy Lady" and "It Wasn't Me" was great stuff, and Shaggy really knows how to work the crowd. During "Crooked Tree" off the new album, Sting appeared to be "pushed" by an officer and he put on a "striped" jail sweater, while Shaggy emerged onto the darkened stage dressed as a judge, donning a black robe and white wig. It was a bit cheesy, but Sting has always loved to dabble in the theatrical.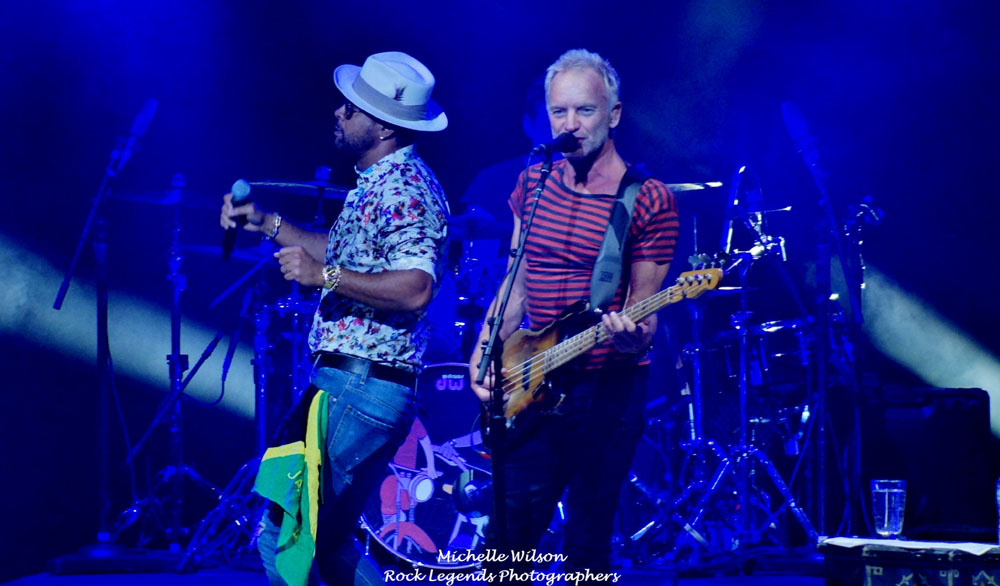 The crowd was treated to Sting/The Police favorites such as "Every Little Thing She Does Is Magic," "Love Is The Seventh Wave," "If You Love Somebody Set Them Free," "Walking On The Moon" (with some Bob Marley/Peter Tosh "Get Up, Stand Up" thrown in), "So Lonely" (a real highlight) and "Every Breath You Take." It was thrilling to hear Sting perform poignantly stirring versions of "Fields of Gold," "Shape Of My Heart," "Desert Rose" and the closer, "Fragile," with Shaggy helping out on vocals. "Message In A Bottle," which was done early on in the show, was totally crowd-interactive, with everyone clapping and singing along, and Sting impressively held a note that I didn't think would ever end. I would have personally preferred it as the closer due to the very nature of the crowd interaction and the exiting high note factor it would have offered. Closing with "Fragile" was a bit heavy for me, and it is literally my favorite song ever recorded. But it was nonetheless beautiful, and there wasn't a person there who didn't get his or her money's worth.
Set list:
Englishman In New York 44/876 Morning Is Coming Every Little Thing She Does Is Magic Oh Carolina/We'll Be Together If You Can't Find Love Love Is The Seventh Wave To Love and Be Loved Message In A Bottle Fields of Gold Waiting For The Break Of Day Gotta Get Back My Baby If You Love Somebody Set Them Free Don't Make Me Wait Angel Dreaming In The U.S.A. Crooked Tree Shape Of My Heart Walking On The Moon So Lonely Hey Sexy Lady Roxanne/Boombastic
Encore:
Desert Rose It Wasn't Me Every Breath You Take
Fragile
Check out the full gallery of photos from Rock Legends Photographers.
◼
---