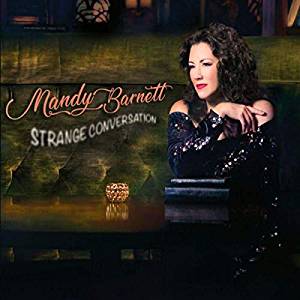 Mandy Barnett
Strange Conversation
Thirty Tigers
If a better reason to have ears has been released this year, I ain't heard it. Strange Conversation by songstress Mandy Barnett is intoxicating, sultry and yes, strange — cue up "A Cowboy's Work Is Never Done", a duet with John Hiatt — but the record's ten tracks give you a glimpse of this powerful singer and interpreter.
Starting with the sexy "More Lovin'" with Arnold McCuller on guest vocals, you can see why Barnett decided to record in Muscle Shoals — the record is endued with that certain Southern heat and funk that is a hallmark of that upper Alabama sound. The Tam's "It's All Right (You're Just in Love)" follows with a nifty bit of vintage soul/pop that wouldn't sound out of place on a airing of American Bandstand back in the '60s. Barnett's musical reach is vast, from a take on Lee Hazelwood's "The Fool" to an absolutely swampy and stirring romp on Tom Wait's "Puttin' On The Dog" that makes you sweat even sitting in air conditioning. Lawdy.
The record ends with a barn-burner of a take on Andre Williams' "Put a Chain on It" with the great McCrary Sisters lending their voices alongside some great guitar from producer Doug Lancio. Mandy Barnett can sing it all…and really well at that. Try a little Strange Conversation. You absolutely won't regret a moment.
---