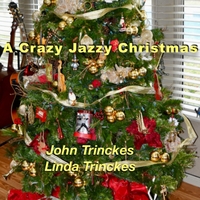 John Trinckes & Linda Trinckes
A Crazy Jazzy Christmas
Under the tree, the Trinckes have placed a joyful, yet classy and warm Yuletide album.
As Christmas is getting closer and closer, we can't get enough of great holiday music. Whether it's classic crowd favorites or new Xmas songs with a unique edge, there are several fantastic new releases each year as many talented artists want to celebrate the jolly spirit of the holidays.
John Trinckes and Linda Trinckes are among the many talented artists who are releasing new holiday records this year. The title of the Trinckes' brand new project actually reveals a bit of the pair's influences, as these talented musicians are inspired by smooth jazz and terrific melodies.
This captivating release has everything it takes to becoming the quintessential Christmas album. It has pleasant and cheerful melodies as well as upbeat and charming arrangements. Most of all, it captures a feeling of togetherness and happiness. This is what's so special about the holidays, and there is no better way to capture this feeling than with the right soundtrack for it.
---