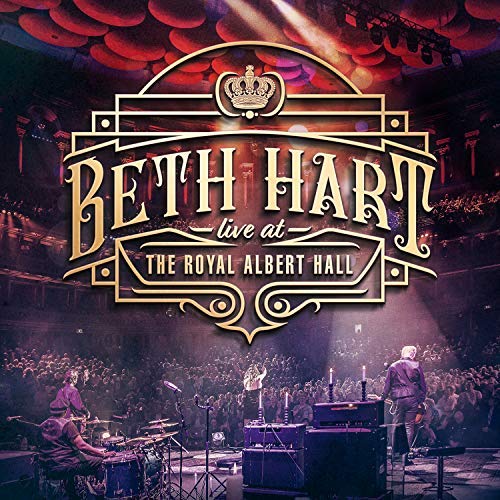 Beth Hart
Beth Hart – Live At The Royal Albert Hall
Mascot Label Group/Provogue
The date is May 4, 2018. The venue is Royal Albert Hall. The singer is Beth Hart. But she needs no introduction and simply enters the darkened, sold-out 5,500-seat venue from the back, mic in hand, crooning out an a cappella version of her 2015 gem, "As Long As I Have A Song." The spotlight finds her while astonished fans begins to cheer amid her high fives, hugs and waves. Breaking the spell as she approaches the stage, Hart cheerfully shouts, "How the hell are ya?! Can you believe this place?! Unbelievable!"
Maybe not so unbelievable, though, that a singer with Hart's talent could not only play Royal Albert Hall, but sell it out. The singer/songwriter/multi-instrumentalist undeniably possesses one of the greatest female voices of all time, combining sultry jazz, hard rock and sizzling blues. She owns the crowd from the moment she appears, and for two hours she takes them on an emotion-filled roller-coaster ride filled with 23 sultry blues numbers, poignant piano ballads and gospel-tinged compositions, plus the gut-wrenching stories to go with them.
Even though this performance is being recorded in one of the world's most storied, iconic concert halls, Hart creates such a feeling of intimacy that you feel as if you are in HER own living room and she is playing just for you. Hart is tightly backed by guitarist Jon Nichols, drummer Bill Ransom and bassist Bob Marinelli, and what they create on stage is pure magic.
If you are a long-time fan, Beth Hart – Live At The Royal Albert Hall is one you need in your collection. If you are new to Beth Hart, it is a perfect introduction to a wide array of her music and gives a wonderful glimpse into her passion and intensity. It is available on CD, LP, DVD, Blu-Ray and digitally. The DVD offers bonus features including an in-depth interview.
Hart has never shied away from discussing her struggles with drug and alcohol addiction as well as her bipolarism, all of which helped to create the person she is today. She speaks at great length about her support network, including her husband, Scott, her long-time manager, David Wolff, and her family. With her mother, Dorothy, in the audience and her brother part of the crew, the entire event becomes a family affair. She dedicates "Baddest Blues" to her mother and to Billie Holiday, because her mother played a lot of Billie Holiday when Hart was younger. "Sister Heroine," a bittersweet homage to Hart's late sister, Sharon, was added in at the last minute. Hart explains: "We're filming tonight…I just don't think it would be right if I didn't talk about what a hero she was."
Other highlights include her upbeat, gospel-flavored track, "Spirit of God" and the Lieber/Stoller standard, "Saved" as well as the slow burner, "Close To My Fire," one of Hart's mother's favorites. Picking up an acoustic guitar, Hart does a fun rendition of "Spiders In My Bed" and then slows things down with "Take It Easy On Me," a much heavier track. No Beth Hart set list would be complete without her signature song, "Leave The Light On," which Hart delivers in stellar fashion, dedicating it through tears to her manager, David Wolff and her husband, Scott, and then she follows with "Mama This One's For You," once again dedicating it to her mother. Rounding out the main set with "My California" ("this is for my Scotty"), he is right there to wrap his arms around her after the last note, and her heartfelt "I love you, man!" just endears them both to the crowd even more.
The four-song encore includes "Trouble" (with Hart in her bad-ass stateliness dropping the MF-bomb in the prim and proper Royal Albert Hall, AND having everyone sing it back to her, even commenting on the fact that they have done this), "Love Is A Lie," "Picture In A Frame" and "Caught Out In The Rain." The entire crew comes out on stage and it is clear to see that this is indeed one big family. "We had a ball, man, we had a ball!"
---