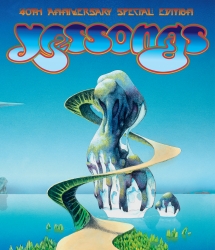 Yessongs
directed by Peter Neal
starring Yes
MVD, AIOK Pictures
Early rock and roll came across as loud and chaotic, and it was. But as bands like the Beatles and the Stones made tons of money, they also refined their musical skills culminating in the late '60s and early '70s Progressive Rock movement. This genre worked toward complex and structured music leaning on classical composers yet adding the new electronic sounds. The result was an oeuvre of thought-provoking music with leitmotifs, chord progressions, and electronic effects that pushed the eras synthesizers to better and better sounds.
One of the top bands of the era was Yes. Along with a hit producing sound ("Roundabout" charted) they had a great sound system and strong look with lamé capes, regency jackets, and long yet coifed hair. In this 1973 live concert film, they do all their hits in front of an appreciative audience. While this was the era of full album concept performances, they know how to pull out their hits out and showcase them. "I've Seen All Good People" lurks in your back brain, "Close to the Edge" is prog rock classic, and "Roundabout" and "Yours Is No Disgrace" are hits that still appear on vintage collections, as is their "Starship Trooper" out take "Wurm."
The original film was shot in 35 mm, and for its day was a high-quality recording, This HD release does what it can to clean up artifacts, but it's just not possible to bring it to the sharp standards we expect in video today. But it's a noble effort, and special feature show some early video-like performances of this pivotal group. Yes was famous for its cover art from the pen of Roger Dean; we even get an interview with him and find out how he approached the band to use his still wondrous art. This is a well-made period piece, still fresh in my mind, and as good an introduction to the big stadium rock sounds of the early 1970's.
---