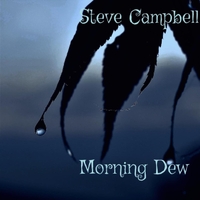 Steve Campbell
Morning Dew
Arizona-based Steve Campbell's latest is a touching album filled with classy melodies and organic production aesthetics.
Campbell is an artist and performer with a passion for smooth jazz sounds and classy arrangements. The record features twelve songs, and each tune explores a different creative range, giving the release a cohesive yet diverse tone. The opening number and title track is a perfect introduction to this album, giving listeners a first taste of the mood of this effort, In addition to that, another cut that I really enjoyed was definitely the fourth track, "Cool Blue." This song is all about giving a new spin to classic influences, making for a vibrant and tasteful recording.
These are only two highlights from a record that feels like a true sonic journey. Campbell's music will take you by the hand and walk you through a lot of charming melodies, soothing grooves, and unique textures, which tip the hat off to some of the best contemporary smooth jazz out available.
---