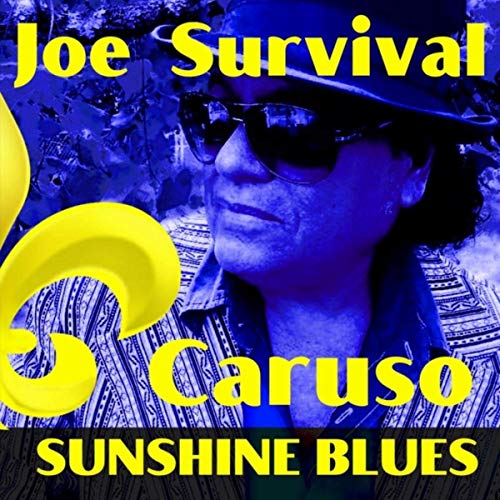 Joe "Survival" Caruso
Sunshine Blues
Lakehouse Records
Joe "Survival" Caruso has been singing and playing the blues professionally since he was fifteen years old, and he is definitely a singer/songwriter who has lived the blues. Growing up in a musical family across from Club Desire in New Orleans, Louisiana, he was exposed to the best of the best: Ray Charles, Guitar Slim, Count Basie, Dinah Washington, Memphis Slim and Fats Domino. Influenced by Freddie King, Guitar Slim, B.B. King, King Curtis, Jimi Hendrix, Jimmy Reed and Bobby "Blue" Bland to name a few, Caruso created his own unique sound that he continues to share today. After "surviving" a tour in Vietnam and later "surviving" Hurricane Katrina, it's befitting that Caruso would take on the moniker "Survival." Following many successful years in California, the seasoned bluesman returned home to his native New Orleans in 1992. While traveling to a performance, he was warned not to return to NOLA due to an impending storm. Little did he know that the storm would be Hurricane Katrina. He lost everything. But thankfully, his mother was with him. The two relocated to his sister's home in Deltona, Florida. Sadly, Caruso's mother passed away during the recording of this record, which he dedicated to her.
All eleven songs on Sunshine Blues were written or co-written by guitarist/lead vocalist Caruso. The Big Easy native is backed by Adam Kornecki on piano and organ, Kuroki Gonzalzles on bass, Aaron "Pop" Watson and Simo Bergado on drums, Paul Palizzolo on harmonica and Harriet "Bootsy" Taylor on backing/lead vocals. Before I even heard the lyrics on the opening track, I was thinking "down-home blues." Sure enough, Caruso sums up his own style perfectly in "Call It What You Want" – you can call it what you want but I call it 'down-home blues'. His understated tones feature a swirl of influences including his deep New Orleans roots, delta blues, boogie-woogie, jazz, rhythm and blues, and rock. There's no bells and whistles here and nothing over the top – just straight-up, old-time blues at its finest with a little edge. The throwback sound is quite refreshing and there's no sitting still when you hear this music.
"Something Strange" is one of my favorites, with a real '70s vibe at the beginning followed by echoes of Albert King's "Born Under A Bad Sign." The boogie-woogie/jazz influence really shines on "Can't Keep A Good Man Down" while "What You're Doing To Me" and the title track, "Sunshine Blues" showcase the blues/jazz side. If you live in Florida as Caruso and I do, the lyrics to "Sunshine Blues" are really funny. I mean, how much sunshine and beautiful weather can one person take? Everybody down in Florida, they got the Sunshine Blues. "Too Many Women" boasts a great melding of harp, keys and guitar with funny lyrics to boot: I got too many women and they all wanna be my wife. "Blue Star" opens with tasty harp and features the strong, soulful vocals of Harriet "Bootsy" Taylor (who also co-wrote the song with Caruso). Followed by the very bluesy "Hoodoo Love," the record finishes with "Foodstamp Lovin' Blues," a classic delta blues combo of guitar and harp.
Caruso has never sounded better than he does on this release. There's a little something for everyone. If you dig clean, old-time blues, you will really dig this record.
---