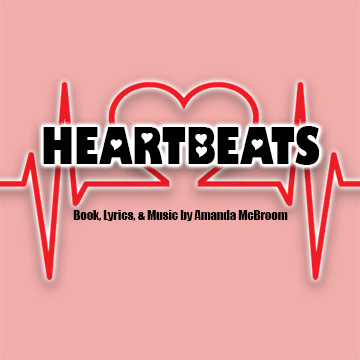 Heartbeats
Winter Park Playhouse, Winter Park FL
By Amanda Broom and Bill Castellino
Additional music by Gerald Sternbach, Michele Brourman, Tom Snow, and Craig Safan
Directed by Roy Alan
Starring Heather Alexander and Shawn Kilgore
Musical Direction by Chris Leavy
After the kids leave and the dog dies, many marriages drift apart. The romance is long gone, football and shopping are much more interesting and while adultery is not always the result, it IS always an option. We meet lonesome Anne (Alexander). Her biggest thrill is a ride to Publix for toilet paper and cheerios. Hubby Steve (Kilgore) works a dead-end job and retreats to football for his excitement. The kids are gone but not forgotten, but the romance is reduced to yelling at each other from across the room. And in a bit of bad life planning, Anne's 20th anniversary is also here 40th birthday. Anne, is, therefore, sad. But she does have friends, and they take her out to bar where she meets s cute guy about the same age as her son, and while the temptation is there, her heart isn't, and she heads home to a big argument with Steve, and hopefully some great make up sex.
I made lots of little check marks by my favorite songs, including numbers like "Jennifer's Song," "If This is Love," and "Jeff's Song" highlighting act one, and "Anything but the Truth" which marks the high point of act two. Ms. Alexander plays a tired and nearly broken woman and by act two you're ready to cry along with her. Stage hubby Kilgore is loud and guy-like. He's not evil in any sense, just distracted. They put him in a cage at work and feed him paper work, and at home he's pretty much post romance. What's left in the marriage amounts to bills and taxes and crappy day jobs. A versatile support cast presents Hanna Laird and Rebecca Jo Lightfoot for the singing and dancing, while the males Nick Drivas and Clay Cartland provide counter point by dancing and then singing. There best moments come when they harmonize to deliver the mail and the peripheral plot points all in service to: "Unexpected letters are rarely good news."
The house band is tucked away somewhere behind the kitchen window with Mr. Leavy directing them in the dark. As middle-aged crisis shows at WPPH, this is one of their darkest. It's not just that potential adultery looms its tawdry head here, but this show takes us closest to a real marital collapse with those dark fissures of failed marriage strewed across the stage. As we head for the climax, Ms. Alexander looks tired and beaten down and just plain sad. I know deep down WPPH can pull off a full-on weepy ending tragedy, they just haven't gotten bold enough to abandon all happy endings yet.
winterparkplayhouse.org/
---