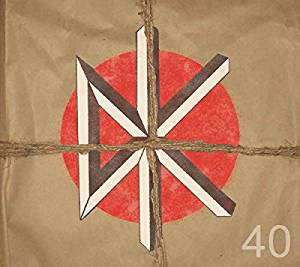 Dead Kennedys
DK40
Manifesto Records
San Francisco's Dead Kennedys were one of the biggest bands of the American punk/hardcore underground, with Jello Biafra's darkly witty and sarcastic lyrics attacking Reagan-era politicians and the religious right as well as the hypocrisy of the punk scene. Biafra's lyrics were backed up by a band much more musically proficient than the name would lead one to believe, one that brought a wider range of influences than expected, and could range from thrash to Ramones-style punk to creepy psychedelia.
The original iteration lasted for about seven years and produced at least three classic records, depending on your count. After a landmark censorship case and the usual band differences, the Kennedys disbanded, ending up in court years later with the rest of the band suing Biafra, then touring with a bevy of replacement singers, sort of like the corporate bands they were reacting to in the first place.
Luckily, someone managed to find or hold on to some live tapes to document the band in their prime. DK 40 contains three shows, two in Europe in 1982 at the peak of their classic run, and one in 1985 to a hometown San Francisco audience towards the end of the band's run.
The 1982 shows in Amsterdam and Munich are documents of just how arresting Dead Kennedys could be. East Bay Ray's guitar work shines here, somehow managing to turn trebly surf guitar into something dark and menacing. Biafra's stage banter and introductions are as funny and cutting as you'd want (although his introduction to "Nazi Punks Fuck Off" at both shows is pretty hilarious – the introduction seems longer than the song, which is titled "Nazi Punks Fuck Off," which oughta be self-explanatory).
The 1985 show features the band performing most of "Frankenchrist," and the band sounds a bit more polished. The few musical flubs heard in the first discs are not apparent here, even though Biafra has to constantly plead with the crowd to back up and give the band some room. At one point he brings up metal, asking "Will the metalheads learn something or will the punks throw away their education." Funny to recall how this was a much discussed and controversial topic in the mid to late '80s.
Overall, the sound quality is much better than would be expected, and the band shows just how electric and eclectic they could be, especially on the first two shows.
---