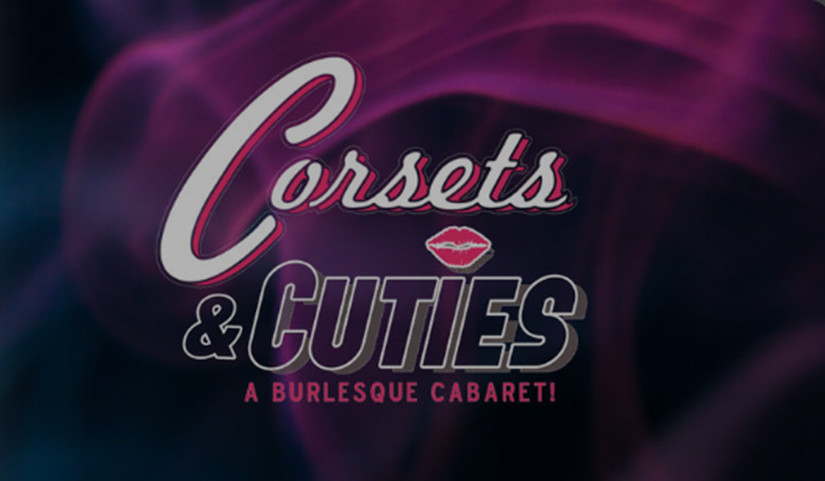 Corsets & Cuties, a Burlesque Cabaret
Theater West End – August 25, 2019
Sanford Florida
Produced by Jaimz Dillman
Modern burlesque shows are fun, but not as fun as when you bring in a friend who is expecting to drink cheap beer and watching a regular strip club show. I hooked up with my friend well in advance of the show; this gave us some time to explore the Sanford German store and its 99-cent beer special. You can get a decent German beer for 99 cents, but they pick the brand, and it's the brand that not selling. Still, it's much better than NASCAR beer.
The show occurred on the Theater West End stage with its dramatically lit century old bricks and the plastic vines that made the back drop of the current run of "If / Then." the C and C cast wandered about, and when my buddy saw there were male strippers as well, he seemed… confused. But I had the keys, and by the end of the evening and a few more beers, he was one of the best dollar bill tucker-inners of the show. Beer and partial nudity: its legal in Florida.
There's a floating squad of performers on stage at any C&C show, but tonight we experienced clothing removal that stopped just short of unexpected. I don't have a good decoder ring for all the actors, but their stage names are better than their real ones. We opened with Jax and Kady belting and grinding "Can We Pretend?" Their energy high and they got the audience out of the warm up mode. Somewhere in here there a group effort lead by Veronica and Crumcake covering one of my naughty favorite 80's tunes "It's Raining Men." Umbrella threatened to poke eyes out, but we were all still agile enough to dodge the downpour. A few performers drifted up from Break Through Theater's "Red Light: The Bad Girls of Broadway." The "Best Name Award" goes to the guys: Tony Bonefish and Jax N. Auf ladled out some sci-fi fun with a rousing "Star Trekkin'."
The time and singles just flew, and soon we were wrapping up with a rather emotional "Last Dance/We Are Family." Stripper bars were a big deal in my youth and entering them felt as sinful as looking for things you could only see in a sticky glossy magazine. Now with any kink available on your cell phone no matter where you are, the burlesque of sex needs to be campier and less exploitive than in the old days. That what the Corset team and all their central Florida friends offer: they give us an excuse to see sex in a more stylized and energetic situation, and it's very clear everyone on stage wants to be there. And those outfits ain't cheap: bring change to keep the arts alive. Let dear old dad know. He'll appreciate a guy's night out.
---