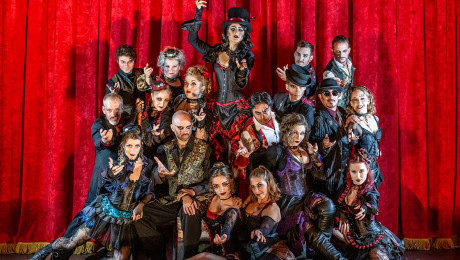 Phantasmagoria X: "Reckoning"
Presented at the Orlando Shakes
Created by John DiDonna
Orlando FL
I'm from Wisconsin, and even I thought this show had a lot of cannibalism. It's Scary Season, and if you're not at a haunted theme park or cosplay party, this is the show to see. Phantasmagoria mixes creepy tales, steam punk couture and massive dance numbers to paints a mood for the Halloween season. We begin with the possibly apocryphal "Tale of Sawney Bean." Sawney and his wife "Black Agnes" supposedly kidnapped and cannibalized over a thousand people, and spawned a heard of incestuous progeny. The story may be true, it may not be, but just the introduction is jarring enough set the evening on its way.
Folk tales abound, and my favorite is a "The Juniper Tree." It's packed with good German casual horror. These otherwise fine folks use the goriest cautionary tales to teach children, and I can vouch for the brutality. Her a woman has a child and dies, and hubby remains. Naturally, wife number two is jealous of the boy, and does him in. Seeking vengeance, he becomes a bird, and successfully flies back home with a millstone to drop on Wife Number Two. This is exactly the sort of story I grew up with: no cute puppies or frolicsome squirrels. Just jealousy and revenge over a broken blood lien.
We find a bit of humor in "Never Bet he Devil Your Head." This British folk tale offers up a young man who makes sham bets, with the biggest wager "I'll bet my head to the Devil" as his turn phase. Naturally, one day Satan appears in disguise, and takes the other side of the bet which ends up just as you would expect: no head, and no soul. That leaves just one career option: politics.
The cast here is mostly Phantasmagoria veterans including Bill Warriner, Mila Markka, and Jeremy Wood. A few newcomers sneak in, and the cast is large enough to generate a few decent crowd scenes. The content is certainly not tongue-in cheek, and DiDonna's aim here is to give those obscure yet thrilling takers the same sort of punch they had when originally written. Teens up will love it; and I give kudos to Mr. Didonna for digging up material that we've never seen before. You may have to drive a ways to see this show, it's touring the I-4 corridor from Sanford to Tampa. It's the coolest production running this Halloween.
---