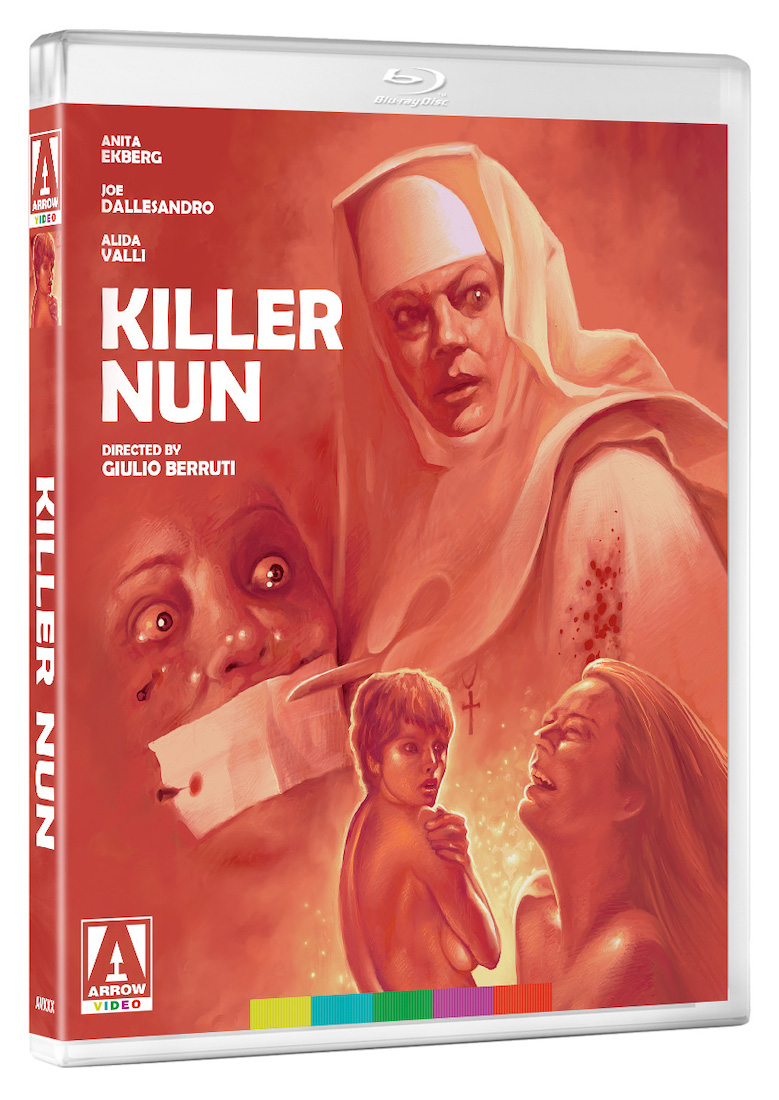 Killer Nun
directed by Giulio Berruti
starring Anita Ekberg, Joe Dallesandro
Arrow Video
One may not always think about sex and violence in regards to Catholic nuns, but there is an underappreciated sub-genre dubbed nunspolitation that delves into kinky sex and sadistic violence behind the cloistered wall of the convent. Giulio Berruti's Killer Nun isn't a classic nunsploitation film but rather a unique blend of giallo with nunsploitation tropes. . Director and co-writer Berruti leaves the historic convents behind and places his nuns as nurses in a modern hospital/nursing home. Sister Gertrude (Anita Ekberg, La Dolce Vita) is the head nurse in the mold of Nurse Ratched from One Flew Over the Cuckoo's Nest. No one, least of all her patients and her sister nurses are immune from her wrath. Sister Gertrude has some secrets including a taste for sex with strange men, a submissive lesbian roommate Sister Mathieu (Paola Morra, Behind Convent Walls), and a serious morphine addiction. As Sister Gertrude's mental health deteriorates a string of murders at the hospital all point to the good sister. Of course since Killer Nun is a giallo, nothing is simple as it first appears. Dr. Patrick Roland (Joe Dallesandro, The Cotton Club) arrives to replace the murdered Dr Poirret (Massimo Serato, Don't Look Now) and threatens to expose all the secrets of the nuns in the hospital. Killer Nun is clearly exploitation cinema, but Anita Ekberg lends so acting chops and gravitas to her performance of a middle age woman going through a very public breakdown and her hysteria is both frightening and sympathetic. The movie is far from a masterpiece but is a unique melange of tropes that do blend into an entertaining film.
Arrow presents Killer Nun in a 2K restoration from the original 35mm camera negative with crisp mono sound. The film is augmented with a surprising amount of good bonus content including a feature length audio commentary from film writers Adrian J. Smith and David Flint, interviews with director Giulio Berruti, editor Mario Giacco, and actress Ileana Fraia.
The best of the extras, and in some ways better than the feature film, Beyond Convent Walls, film historian and author Kat Ellinger (Diabolique Magazine) traces the Nunsploitation film not just from Ken Russell's The Devils but also from literary and film antecedents The Decameron by Giovanni Boccaccio, deSade's Julliette and the film Black Narcissus. Ellinger posits that the Nunsploitation genre was built largely on the mixture last '60s exploitation genres satanism/witchcraft, women in prison, and Naziploitation. Ellinger evaluates how different the film is from the typical devil possession or bawdy convent tropes as Killer Nun is set in the present day and the nuns in the film are not cloistered away from society but rather are nurses in hospital/nursing home setting and that the lead character is not a young innocent girl shuttered away against her will, but rather a middle aged nun who also has a career as the hospital's head nurse. The video does an excellent job of not only giving a tantalizing history of the genre, both in Europe and Japan, but also places the films in context of the culture at the time and where Killer Nun fits with other tales of sex and violence among the brides of Christ. In making these comparisons, Ellinger also provides some terrific analysis of Killer Nun and the tropes of the genre.
---