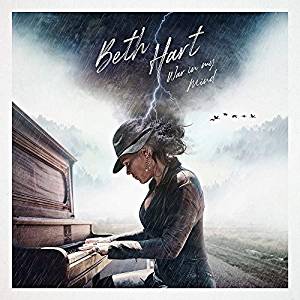 Beth Hart
War In My Mind
Provogue/Mascot Label Group
Badass Beth Hart is back and better than ever with her latest album, War In My Mind. Produced by Rob Cavallo (who also plays a variety of instruments on several tracks and has worked with Green Day, Goo Goo Dolls, Dave Matthews Band, My Chemical Romance), the deeply personal 12-track release is less blues-oriented and more piano-driven than prior collections. Her monstrous contralto vocals have never sounded better in all of their luscious layers. The music tackles sensitive subjects and takes you on an emotional roller coaster with bumps and twists at every turn, in true Beth Hart fashion. The seamless blending of rock, blues, jazz, soul and even a little funk and Latin flair finds its way onto this tightly produced record which also includes veteran industry players Vinnie Colaiuta (drums) and Tim Pierce (guitar).
Opening strong with the powerful rocker, "Bad Woman Blues," Cavallo's influence clearly rings forth. Followed by slower, more keys-heavy cuts such as "War On My Mind" and the jazzy "Without Words In The Way," Hart's vulnerability is on full display.
"Let It Grow" introduces a psychedelic keys opening followed by piano that slowly crescendos and is complemented with rousing backing vocals. The funky, groovy "Try A Little Harder" with Cavallo's xylophone accents introduces a light reprieve before seguing into the intensely intimate "Sister Dear," a poignant song Hart wrote asking for forgiveness from her late sister. Cutting the weight of the prior track, the Latin-inspired "Spanish Lullabies" tickles with the flavors of flamenco.
One of the true standouts both musically and vocally is "Rub Me For Luck," a song with a subtle vocal nod to fellow contralto, the late Karen Carpenter, on The Carpenters' cover of "Superstar" (Leon Russell/Bonnie Bramlett). Hart pours herself body and soul into "Rub Me For Luck" and gives it everything she's got as the song culminates in an incredible aural frenzy. I can't wait to hear this one live.
The last quarter of the record includes an uptempo, drum-driven rocker with "Sugar Shack," followed by "Woman Down," a stirring, piano-permeated ballad that showcases Hart's vocal range.
Perhaps the most radio-friendly song, "Thankful" offers another private glimpse into Hart's inner world. With a beautiful piano arrangement and a slowly building tempo, Hart is finally in a positive, content place in her life and grateful to those closest to her, thanking them through song.
Wearing her heart on her sleeve as she always does, Hart wraps up with the moving, painfully honest "I Need A Hero." I'm not a hero/I'm only human/I got my problems/Comin' and goin'/I look like my mother/But hurt like my father/I am so thirsty/But I won't drink the water/I'm not a hero/Yeah I am goin' crazy/I'm goin' crazy again there I go…I'm not a hero/I'm no superwoman I got so many problems/But who am I foolin'/I look like my mother/But I hurt like my father/I scream from the rafters/I'm still what's the matter/I need a hero.
Beth Hart truly is a musical tour de force who shatters barriers and never fails to reinvent herself. Just when it seems that she has given everything she's got, she pulls out all the stops and kicks things up another notch. Never one to shy away from her very public struggles with addiction and bipolar disorder, the sultry songstress has used her battles to fuel her music. Her penchant for inner reflection, honest examination and raw emotion has never revealed itself more. It's heavy, to be sure, but one would expect nothing less from Hart. She gives every last bit of herself over to the music, pulling you in and rattling you to your core. If you're already a fan, you "get" it. If you are new to Beth Hart, treat yourself to this gem and hear what legions of fans already know – Beth Hart is one of the greatest singer/songwriter/multi-instrumentalists you will ever encounter, and you will be hooked immediately. Hart has one performance left this year in Chicago (11/18), and then it's off to Europe in support of War In My Mind. If you ever get the chance to see her live show, do NOT miss the opportunity. You will leave a disciple of all things Beth Hart.
---