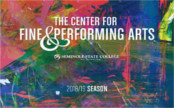 A Midsummer Night's Dream
Seminole State College
By William Shakespeare
Directed by Niki Salmon
Starring Hanna Ginsberg
The Center for Fine and Performing Arts
Lake Mary, FL
If you're going to do Shakespeare in the park, this is the Shakespeare to do. In ancient and mythical Athens, King Theseus (Josh Jacobs) prepares to marry Hippolyta (Annette Lee). The who city looks forward to a party and less noble couples attach tier permeant attachment to Theseus's. The local craft guildsmen decide to present some community theater as their gift. Naturally, Oberon (Jay Shah) and his mate Titania (Samantha Caldwell ) can't leave well enough alone, and he sends his assistant Puck Ginsberg) out to sow discord. It's a 15th century discord of mistaken identities and plot handy potions makes everyone important look a fool with a wonderfully comic result.
Preshow fairy's wander among the crowd, seating us and generally acting magical. It's overcast but nice, there was no need to bake in the sun or run for the umbrellas today. The front lawn is the best they can do; a sinkhole recently opened under the Fine Arts building and after 90 loads of cement, the building is still unsafe. But good microphones and projection makes the show accessible, and there's a certain element of silliness that helps sell the jokes. Getting a belly laugh out of 16th century gags is tough, but there pull them off. Ginsberg's Puck stole the day; she's fast funny, and slightly magical. other good performances came from weaver Quince (Carrie Miles) as the part time donkey and the full of herself Hermia (Chole Allison). We may be closer to mid-winter than mid-summer, but that's Florida – land of fantasy and high temperatures.
This show is set on the lawn in front of the now closed theater building (something about a sink hole and 90 cent truck full of concrete). Outdoor shows are always tricky in central Florida, if heat stroke doesn't get you lighting will, but today was a pleasant partly cloudy day.
---