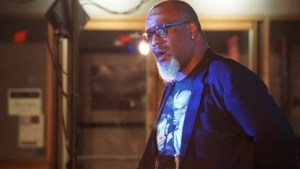 Derek Menchan: A Special Interview
by Stacey Zering
Multi-instrumentalist/producer/arranger/vocalist Derek Menchan had one of the year's most ambitious releases with The Griot Swings the Classics. On that album, Menchan re-imagined songs that reflect the black experience in America from the perspective of time and genre – jazz, R&B, gospel, big band, and soul.
Q: What are the earliest memories of music you can recall?
A: The earliest memories of music I have are of themes from TV shows I would watch as a 4 year-old and to which I would become attached- walking around the house and humming them. During my childhood, these included the Leave It to Beaver, Jetsons, and Dick Van Dyke shows. I'd be able to hum them and scat them, at pitch, accurately and from memory, with all the twists and turns of their melodies; sometimes I would scat their harmonies. These plus the hymns I heard in the church of my youth form my earliest musical memories – alongside songs from the album collection of my parents.
Q: Do you recall a strong musical community in and around where you grow up, which is where, actually?
A: Yes, actually, and that is Winter Haven, Florida. Characteristically, being in the most southerly state, and below the Mason Dixon Line, the tradition of Protestantism was, and still is, strong in a small community like mine. The Black church had always been an institution around which, not only music, but ideologies and mores were born. And, for good or ill, this was assuredly so for a young Negro boy like me. The rendering of hymns and spirituals carries a high priority in the Negro history and culture, as does the very spirituality that informs it. I breathed all this in, and it helped to create the architecture with which I would go on to build a great deal of my musical creations. All the essentials needed for truly great music are present in the singing found in the Black church: amazing harmonies, expressive dynamics, call and response (which influenced basically every great jazzer) and so on. Church was an integral part of the Southern Black community. That institution is virtually synonymous with musical creation, performance, and the spirit of improvisation.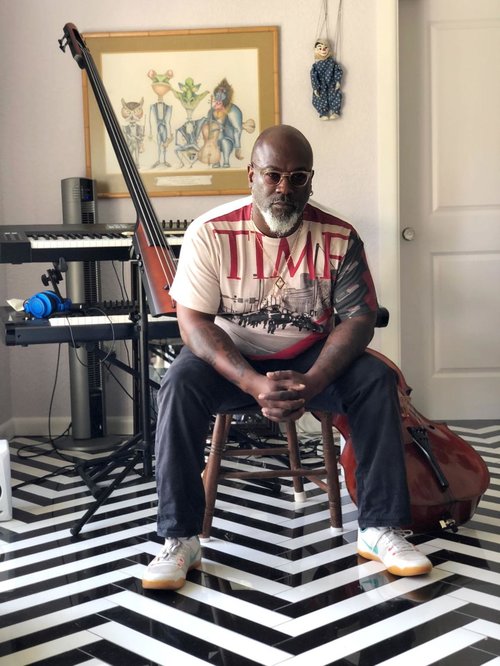 Q: Why are you attracted to the styles of music on your The Griot Swings the Classics album?
A: Why I am attracted to the styles of music represented on my album has to do with the powerful sonic profiles these styles each have, which I got from the aforementioned church connection, and also the album collection of my parents. The big band arrangements of Ellington and Basie, the smooth crooning of King Cole, and the raw renditions of Lloyd Price, to name but a few, were extremely colorful and impressive monuments of inspiration, each stylistically quite unique. They each also retained the same harmonic blueprints as did some gospel sounds from the very same church I keep mentioning. The swagger and fierce independence of these styles attracted me to them.
Q: Did you study music in school?
A: I did, indeed, study music in school. I learned early I had a real aptitude for musical performing and generating, and thus wanted the very best training I could get. My first serious 'cello teacher was a former solo 'cellist of the Chicago Symphony, Dudley Powers, an old head from the days before Fritz Reiner took over that squad, and my next serious teacher was Olga Rostropovich, daughter of the famed Mstislav Rostropovich, widely regarded to have been one of the greatest musicians ever to live. This was in New York, at the Manhattan School, whence I received my Master's. While I lived there, I worked, and and struck up meaningful friendships with, the Juilliard's Harvey Shapiro (who helped me switch my affinity from Honduran to Cuban cigars), and Indiana University's iconic 'cellist demigod, Janos Starker. From these folk, alongside a few other top tier musicians, I learned to cultivate a sound and approach favored by musicians of a bygone era, and a true respect for a personal artistic vision and the precision needed for realizing it.
Q: Which musicians have inspired or influenced you and how?
A: You may have noticed by now a theme in the music that inspired me: it is all old school. The musicians that influenced me the most are Duke Ellington, for the elegance and exoticism he incorporated in his works; Count Basie, for his riff-oriented works and the "down home" and dirty sound of them; Quincy Jones and his virtuosic renderings of emotive expressions, found in the musical languages of a broad sampling of peoples from varying demographics; and J. S. Bach, for what I have come to call enlightenment-in-sound. I think Bach knew all there was to be known, innately, and evidence for that assertion is in his creations, which are still studied by physicists today. The point is that all of my influences are from various eras of the "days of yore." Aside from George Clinton and Daft Punk, I don't have too many current artists as influences.
Q: Are there any artists who influenced you to change your approach to music and how?
A: No. I definitely can say that no artist influenced me to change my musical approach, but rather I would say that each artist that I venerate showed me how to bring out, from myself, traits I found in them. It is just that, without their example, I would've never grown to realize I had some of these gifts, myself. For instance, my decades-long penchant for scat-singing various voices of a work allowed me to pay attention to the many interconnected voices sung and played, when I would take part in Bach cantatas, or a work like his B Minor Mass. When I began, personally, to recreate entire Bach arias or chorales, by scatting their individual lines, from memory, I only then realized that the contrapuntal nature inherent in all great music was a staple of my personal and internal musical engine. Creating works with an eye toward complexity and an interconnectedness of voices is natural for me and, to a degree, effortless. But for my veneration of Bach, I would never have known that about myself. Same with Basie and the grooves he had; I learned how to walk basslines by playing along with his albums, when I was 8 years old. I am a successful bass player today because of his musical lead.
Q: What led you to choose to the material on The Griot Swings the Classics?
A: What made me select the material I did on my Griot album was the individual punch each of the songs delivered – and the fact that they very accurately represent the influences of my youth. The record is essentially a sonic autobiography, amongst other things. There isn't an influence missing. In the song selection I have, represented, the swing music I grew up listening to is there, as is the dance club feel that infused my teens. Too, the contrapuntal importance represented in the lone 'cello instrumental on the album is represented, plus the spiritual depth of the Southern Black church – alongside the humor and easy virtuosity, found in Louis Prima tunes, which I channeled in my take on "One Mint Julep."
Q: I imagine that a project like this size and depth had many challenges. What were some of the greatest ones you faced?
A: You are correct. There were a host of challenges I faced on this record, from making sure that every person involved helped me realize my very personal and idiosyncratic artistic vision and not some slick, studio-generated, glossy and "perfect" digital recording, to finding ways to be true to the actual soundscapes the muses dropped off to me, in inspiration. The biggest example of this is found in my version of "Fly Me to the Moon." In it, I had a 4 second break, a sample of the famous break, right after the first verse, from the legendary Basie/Quincy/Sinatra version. I had to have my tune sent to the Sinatra house to seek permission to use the sample and, not unexpectedly, they told me, "Nein, Herr Menschen." And I was floored, because I needed that old, scratchy, dated sound that only a sample could give. And I argued with many wise artist about the means by which to proceed. To a person, they each told me to recreate the music myself, my keyboard characteristically emulating the band. I refused. But, when the sample denial came back, I knew not what to do. I remember driving home from a recording session one day and thinking, "How do I re-create this?!" I began scatting the trumpet line from the break as I fervently searched my mind. Then the "Eureka!"moment came, and I literally pointed to my mouth as I sang. The next day, I walked into the studio and scatted 20 separate vocal lines, recreating the orchestra, drums and all; the engineer ran it through a filter to make it sound like it was on an old, scratched vinyl album, and that is how my version is heard today. I vocally re-created that all-important 4 second "instrumental" break. ◼
---