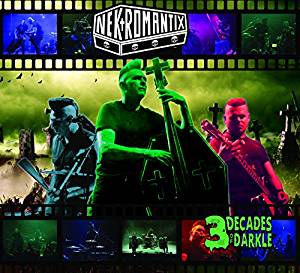 Nekromantix
3 Decades of Darkle
Cleopatra Records
Nekromantix hails from Copenhagen and they've cranked nearly a dozen albums since 1989; my favorite title is Dead Girls Don't Cry. Misogynistic, sure, but creeper points for the clever. Their roster of ex-players is lengthy, but the led Kim Nekroman provides a common thread to this project. He plays the "Coffin Bass" – a large boxy bass decorated with Christian iconography. It looks dangerous. Nekromantix is one of the few bands where the front man works a stand-up bass, and the process looks exhausting.
The topic here is a live show shot in Santa Ana, the set opens with a clear metal sound: 4/4-time, speed drumming, and barely understandable lyrics. Nekromantix blasts out of the gate with "Struck by a Wrecking Ball" and keep the energy up for over an hour. Covered in tattoos and greased-back pompadours, the guitarist keeps the tune going as the drumming provides a constant floor of noise. Fake film scratch artifacts aim to make this digitally shot concert documentary look a little more punk. It's 2019, can we please stop doing that? No matter, the entertainment here is the hardcore down and dirty rock and roll. Kim Nekroman and his boys make a solid wall of sound and occasionally I can make out a few lines from tracks "Night Nurse" or "Sub Culture Girl." It's a good sound, and decent lyrics when you can catch them.
Mr. Nekroman innovates on the bass. Sometimes it's pedal steel, sometimes it's his dance partner, and always it's played as fast as possible. The bass may be the real star here with its decorative crosses and uncomfortable coffin shape. Lighting stays dark and moody, and the crowd is on its feet the whole time. Things do slow a bit as they shift from speed to surf and by Track 7 "Necromantic Ecstasy" drifts us toward a rockabilly sound that's "Rocking all night long and upside down." I'm too old to track upside down, but it looks like fun. By "Necrophiliac" the mood morphs into a solid surf rock beat and for "Subculture Girl" the band has filled the stage with screaming, dancing female fans. Overall this is a fun concert, even if each song is introduced with a trite "…it goes something like this…" Nekromantix provides a loud, fun and a bit tongue in cheek entertainment. Musically its excellent performance, with just enough vaudeville froth to keep you listening and dancing. The package that came to my mail box had a CD, a DVD, and a Blu-Ray, and its all very entertaining no matter what media you chose; all are excellent quality sound.
---