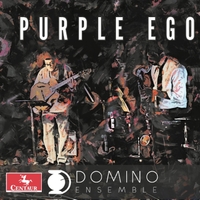 Domino Ensemble
Purple Ego
Domino Ensemble's new album features 11 new songs, which blur the lines between a wide variety of styles and genre definitions. From experimental jazz musings, down to funk, fusion, and progressive, anything goes. The line-up explores a wide variety of interesting sounds, making me think of artists as diverse as Bill Frisell, Marc Ribot, as well as John Zorn, and many others.
Some of the album highlights include "Common Features," a song that combines a distinctive rhythm section with atmospheric distorted guitar chords in the background and some incredible textures. I love how this song brings something truly memorable to the table in terms of allowing different elements to clash and collide so seamlessly. The fuzzy radio voices in the background are almost like a glue, holding it all together. The song "Not Exactly" what I mean is another highlight for me. I love the brushed snare tones, as well as the ever-evolving melodic landscape of this track. From uplifting melodies, to soaring dissonances, anything goes. "Gritty Throat" is another awesome song, which begins with a playful theme, with the double bass following along, but later drifting out on its own. This is a very minimalistic piece, which only has an understated arrangement. However, it serves as a sort of interlude, allowing the album to breathe and gain even more interesting dynamics, going out in full blast with the following track Domino, showcasing an atmosphere that makes me think of albums by Tom Waits in some ways. I love the ways in which the rhythm comes together and falls apart so many times, eventually giving the song a dreamy tone and a more experimental feel.
Ultimately, what I love the most about this album is the incredible variety of textures and organic sounds within. The ensemble has a warm, roomy tone which reminds me of old jazz records. On the other hand, the band is not afraid to experiment with distortion effects, li-fi dynamics and many other elements adding a grittier character to the mix. The sheer variety of sounds and influences in this release is also quite fantastic, giving the tracks a unique and memorable feel that truly stands out.
dominoensemble.com
---