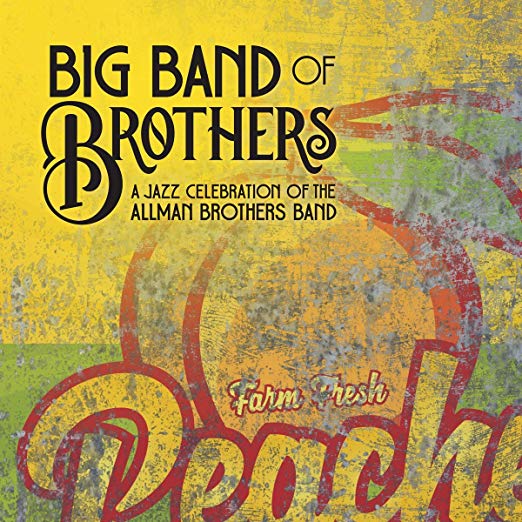 Big Band of Brothers
A Jazz Celebration of the Allman Brothers Band
New West Records
To celebrate the 50th anniversary of the Allman Brothers Band's self-titled freshman release in 1969, New West Records released this funky, jazz-infused reinvention of classic Allman Brothers Band material back in November, and it's a masterpiece. While this record may surprise some people, it doesn't surprise diehard fans. In fact, it's astounding that it hasn't happened sooner. Original Allman Brothers Band drummer, Jai "Jaimoe" Johanny Johanson introduced the band to jazz, and Duane Allman himself was heavily influenced by jazz musicians such as Miles Davis, John Coltrane and Rahsaan Roland Kirk. He was delving deeper into jazz shortly before his untimely death in 1971. It is likely that if he had lived, the band's music may have incorporated a heavier jazz turn. Big Band of Brothers has done a masterful job of realizing that jazz vision with each horn-laced track. Brilliantly produced by Mark Lanter, the 10-track record features a myriad of exceptional musicians and special guests.
Introduced with delicate drum and piano jazz flourishes, Blind Willie McTell's "Statesboro Blues" takes on a fresh sound as it then slithers into Matt Casey's stellar slide guitar for the iconic opening followed by Wycliffe Gordon's chunky horn arrangements. The solos are just outstanding including Andy Nevala's keys work on this cut as well as throughout the entire album. Marc Broussard's vocals are the icing on the cake as he tackles the quintessential Gregg Allman growl admirably.
Gordon's soprano trombone and Kelley O'Neal's alto saxophone are featured on an instrumental "Don't Want You Know More" that morphs into a spine-tingling "It's Not My Cross To Bear" with stunning keys from Nevala, crisp horns and Ruthie Foster's soulful tones takin' us to church (also later on "Don't Keep Me Wonderin'").
"Hot 'Lanta" has always been one of my favorite ABB songs and I simply love this arrangement from Tom Wolfe. The combination of his blistering electric guitar, the horns and the percussion does the Brothers proud. This is a real highlight.
No ABB tribute record would be complete without "Whipping Post," and Broussard once again nails the song. This version is monumental from start to finish with a fat horn sound.
Former Allman Brothers Band guitarist, Jack Pearson (1997-1999) lends his pristine slide work to an instrumental version of "Stand Back." For my money, there is no one on the planet who comes anywhere as close to Duane Allman's style as Pearson. I only wish he had appeared on more tracks.
Chad Fisher's trombone deftly replaces Gregg Allman's voice on "Dreams" in this instrumental version. While I enjoyed the horns, I found the repetitive piano note two-thirds in to be somewhat jarring. I really love "Dreams" but this one didn't quite work for me. It felt as if the lack of vocal removed the intensity of the song.
Dickey Betts' two instrumentals, "In Memory Of Elizabeth Reed" and "Les Brers In A Minor," lend themselves perfectly to jazz reinterpretations and both tracks truly shine.
There is no greater musical honor than reshaping a band's music into another genre, and doing it so successfully. It just goes to prove how innovative the early Allman Brothers Band material really was and still is, as 50 years later it takes on this fresh, enticing sound. This aural sensation is a must-have for every jazz or Allman Brothers Band enthusiast. After just one listen, it will hook you and reel you in. I think Duane would approve, too.
https://store.newwestrecords.com/collections/big-band-of-brothers-a-jazz-celebration-of-the-allman-brothers-band
---