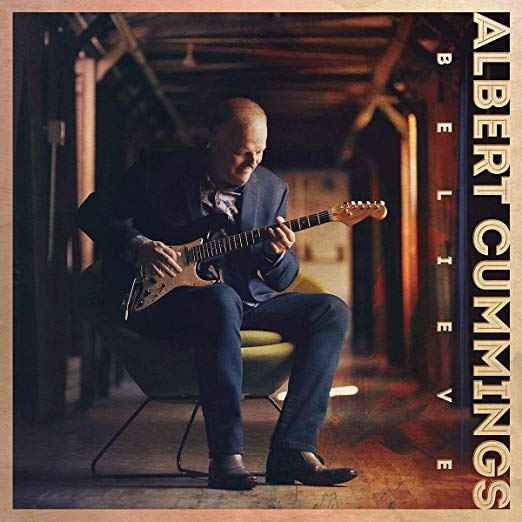 Albert Cummings
Believe
Mascot Label Group/Provogue Records
Albert Cummings' latest release, Believe, marks the bluesman's label debut on Mascot/Provogue and is his seventh studio album to date. Recorded at iconic FAME Studios in Muscle Shoals, Alabama and tightly produced by industry luminary, Jim Gaines, this 11-track record of six originals and five covers is a winner from start to finish. Cummings was humbly inspired by the rich history of FAME, recording under the spell of such past musical occupants as Aretha Franklin and Duane Allman. This was a "pinch yourself" moment, for sure. Cummings is flat-out a great guitarist, never playing over the top and always offering an economy of graceful, sizzling licks. He often has been compared to Stevie Ray Vaughan and even recorded with the remaining members of Double Trouble (Chris Layton, Tommy Shannon, Reese Wynans) after Vaughan's untimely passing. But make no mistake – while influenced by his guitar hero, Cummings is very much his own player. There is just the right mix of blues, soul, country and rock interwoven to create a collection as versatile as Cummings himself.
When a record kicks off with a cover of Sam & Dave's "Hold On" (Isaac Hayes/David Porter), I'm immediately on board. I've always preferred it to "Mustang Sally," and Cummings absolutely slays it. His slower, updated version features shining horns, more prominent keys, smooth guitar and talented lead/backing vocals. It's a perfect opener.
"Do What Mama Says" follows, a Cummings original, and features Clatyon Ivey on keys (as well as throughout except one track). It's a groovy, funky delight, as are the other originals, "Queen of Mean," "Get Out Of Here," "It's All Good," "Going My Way," and "Call Me Crazy." You can really hear the Texas blues influence on "Going My Way" and "Call Me Crazy," but the other tracks blend in country and rock as well.
Howlin' Wolf's original Delta blues gem, "Red Rooster" (Willie Dixon), gets a solid makeover here and is a real highlight. Cummings also covers Dixon's "My Babe." The guitar work on both is brilliant yet understated.
Slowing down the tempo with a stunning version of Van Morrison's "Crazy Love," Cummings truly shines and shows his softer, more vulnerable side. This is a real standout.
Finishing strong with a Freddie King stank-soaked cover, "Me And My Guitar" (Leon Russell/Chuck Blackwell) features killer axe work from Cummings. If you're not moving to this entire record, there's something amiss in the universe.
Albert Cummings truly is a master of his instrument, offering a brevity of precisely chosen notes. There's a reason that the late B.B. King called him "a great guitarist." There's nothing I don't love about this record and it's Cummings' best work to date. Get it and see for yourself, and catch him live if you get the chance. He's spectacular.
---