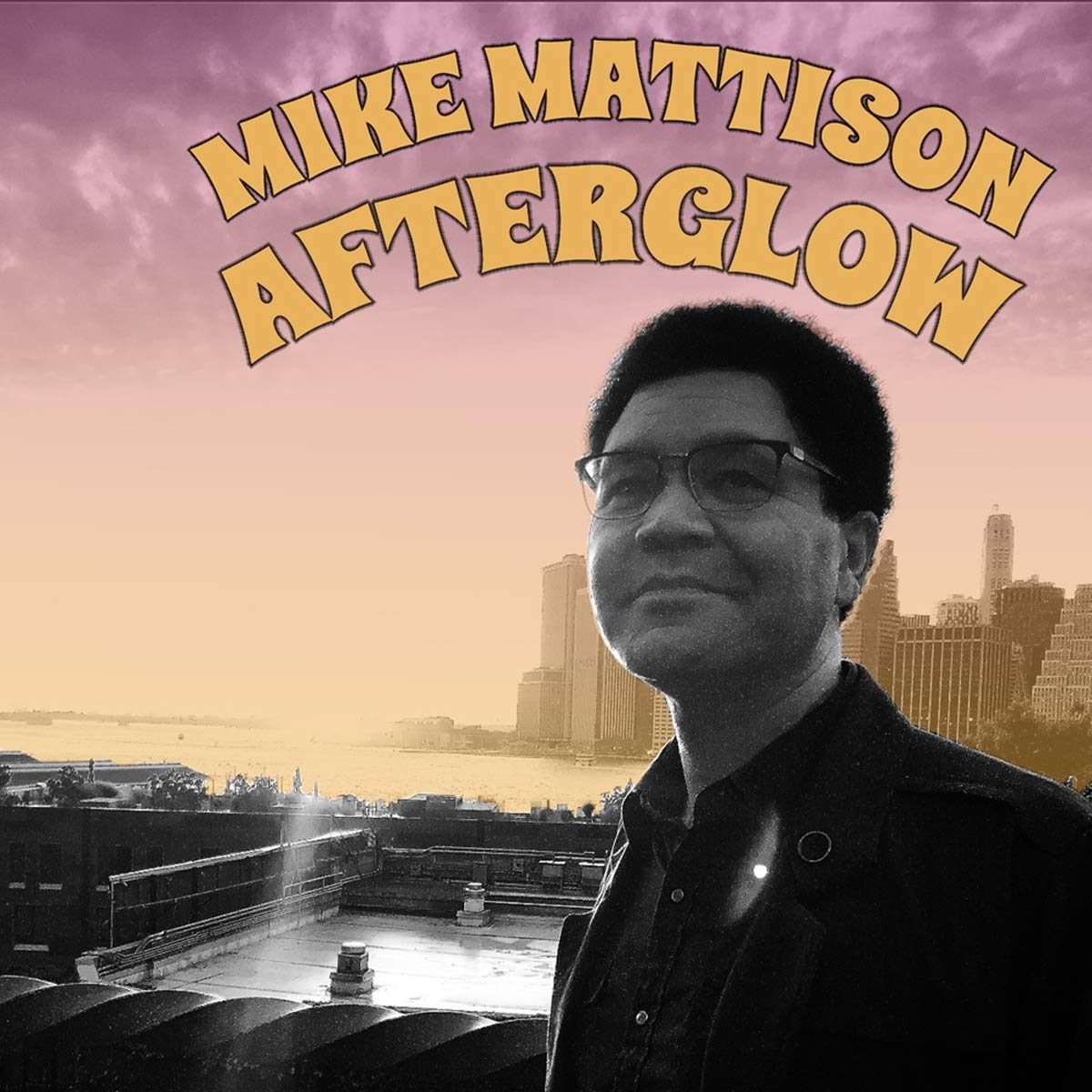 Mike Mattison
Afterglow
Landslide Records
Most of the time when I receive a record to review, I need to give it several plays before I can really form an opinion. Other times, I listen just once and I instantly know it is brilliant. Mike Mattison's sophomore effort, Afterglow, definitely falls into the latter category and boasts award-worthy material. It hasn't left my rotation since I received it.
The Harvard graduate and Grammy-winning singer/songwriter gets a little help from his Scrapomatic/Derek Trucks Band/Tedeschi Trucks Band mates on this ten-track stunner tightly co-produced my Mattison and TTB drummer, Tyler "Falcon" Greenwell. Combining Americana/roots with hints of country, blues, rock, and R&B, there's not a single track that I don't love. Sequencing is impeccable from start to finish. Supported by a stellar band including Scrapomatic's Dave Yoke on guitar, Greenwell on drums/percussion, and Delta Moon's Frahner Joseph on bass, the album also features various cuts with Scrapomatic's Paul Olsen on guitar ("We're kind of like the Romulus and Remus of modern porch blues," jokes Mattison about Olsen in a Paste Magazine youtube live performance.), Rufus Wainwright touring band member, Rachel Eckroth on keyboards, and the late, great Kofi Burbridge on organ. All of the songs were written or co-written by Mattison, many if not all being songs that didn't quite work on a Scrapomatic or TTB album but found a home here. Moving forward and starting again is a recurring theme on the record, which was recorded in Greenwell's garage.
Opening powerfully with "Charlie Idaho," Mattison combines his Harvard degree in American Literature with his musical prowess by adapting a story from the Alan Lomax non-fiction book, The Land Where The Blues Began, into a stark Americana musing. Charlie Idaho was a white levee camp boss who murdered a "Mercy Man" sent by the government to ensure that mules weren't being abused. Ironically, no one was checking on the abuse of the African-American laborers. Mattison's music really captures the situational bleakness. Incidentally, the song itself has spawned 15 new songs to be written by Mattison with a Mississippi River theme, hopefully for a future album.
Collaborating with Olsen and Derek Trucks on one of the two co-written tracks, Mattison offers a rollicking country tune about the end of a relationship on the title track. He continues the country theme on "Deadbeat," a song about staying too long in a relationship, and on "Word's Coming Down" and "On Pontchartrain," both groovy, country-tinted rockers.
The doleful "All You Can Do Is Mean It" was first recorded by Tedeschi Trucks Band and released in 2019 on a four-song EP called High and Mighty. While I love Susan Tedeschi's voice, this particular song was not well suited for her vocal style. Mattison's inclusion of it here is much better handled by his vocal range and it was one of two tracks featuring Burbridge on organ.
"Kiss You Where You Live" breathes echoes of an Ian Moore rocker while "I Was Wrong" exudes a real delta blues feel to it.
One of the real highlights takes a totally different turn as Mattison truly shows his Minneapolis roots and in Prince-like falsetto fashion, oozes out the Al Green-esque "I Really Miss You." Written 16 years ago with Burbridge (who also plays organ on it), it never quite fit anywhere else but has found a wonderful home here. It's a bittersweet homage to a very missed musician and TTB fans in particular will be moved by this poignant piece.
Rounding out the record with the choppy, upbeat "Got Something For You" featuring pristine guitar work from Yoke, a very underrated guitarist, Mattison wraps up a true gem.
It's anyone's guess what is going to happen with music for the remainder of 2020 as we navigate these unprecedented, uncertain times. Release dates are getting pushed back, recording has gone on indefinite hold and live performances have been curtailed altogether. But I urge you to continue supporting music, our solace and the universal healer. Watch a live stream, buy a download or a CD online and donate if you are able. This record is a fabulous place to start. Now, on Mattison's website, it says "Available now wherever music is sold, streamed or stolen." Don't be that person. SUPPORT MUSIC and the livelihood of musicians, now more than ever.
---