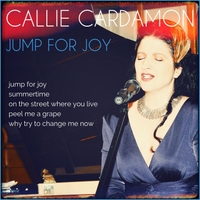 Callie Cardamon
Jump for Joy
Primavera Records
The new album from Los Angeles-based jazz vocalist Callie Cardamon has a smooth and distinctive sound. Jump for Joy really hits the mark, with an excellent approach to production. The record kicks off with the bright and melodic title cut, which stands out as one of the most iconic and memorable tracks on this release. A good start, but followed by an even better number, "Summertime," an absolute classic, which seems like a natural progression, adding a different pace to this set list.
In addition to that, the LP unfolds with such standards like "On the Street Where You Live" and "Peel Me a Grape," two of the most beautiful tracks on the album. What I particularly love about them is definitely the fact that they feel so spontaneous and shine a light on Cardamon's vibrant personality as an artist and singer. The record is full of gems and amazing songs stretching out towards different directions. Each track is a fantastic opportunity for Cardamon to express herself and showcase her vocal versatility. From the aforementioned opener to the stunning conclusive number, "Why Try to Change Me Now," anything goes. Ultimately, I would recommend listening to this beautiful LP if you are a fan of genres as diverse as jazz and easy listening.
Cardamon managed to wrap up a fantastic record characterized by her classy performances and velvety sound that feels absolutely timeless. If you like solid jazz chops with a classic feel and sultry vocal delivery, then you are going to enjoy the songs that are featured on Jump for Joy. This is an album that takes chances, but it is also not afraid to settle into something more familiar when the situation calls for it indeed. In terms of production, the quality of these recordings is absolutely astonishing, allowing Cardamon to blend in perfectly with the instruments. The tunes are balanced and lively, turning into an expertly crafted effort where every song is balanced to perfection.
---