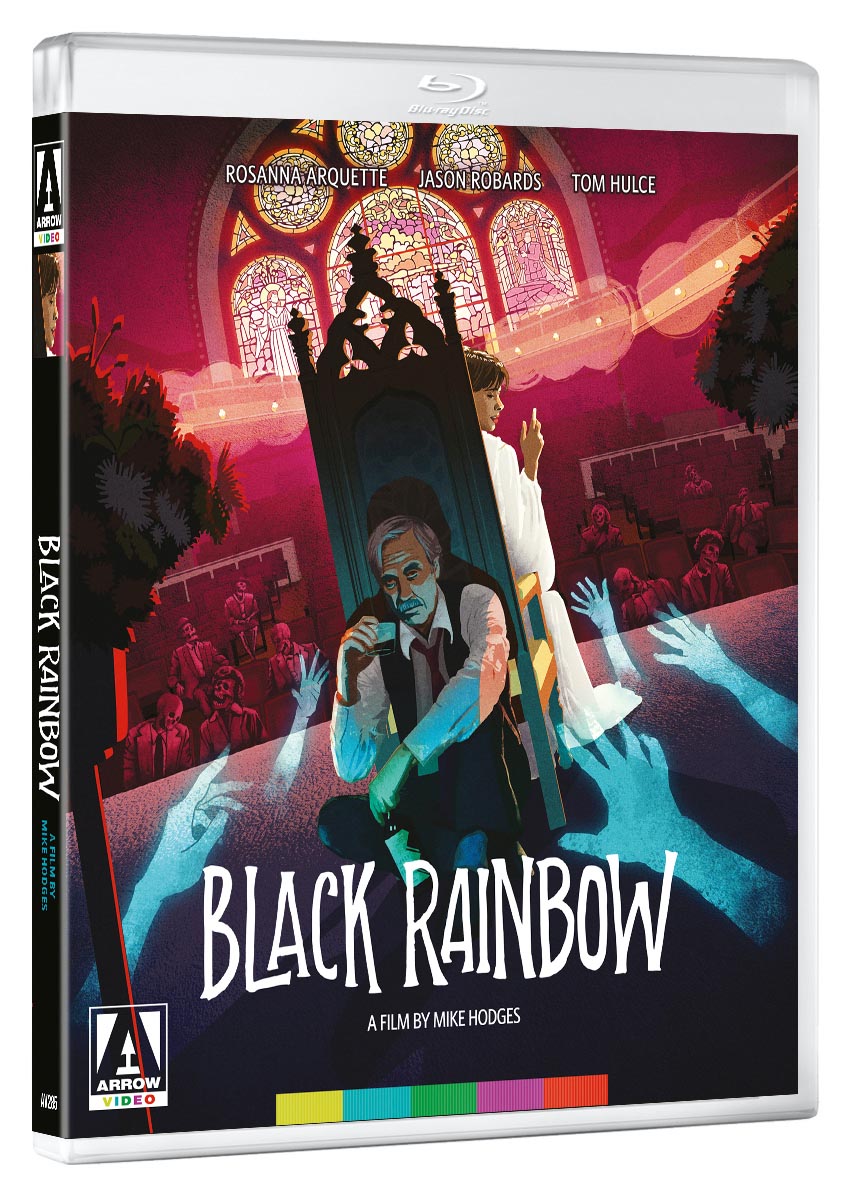 Black Rainbow
directed by Mike Hodges
starring Rosanna Arquette, Jason Robards, Tom Hulce
Arrow Video
There are any number of reasons a film may get lost. It can be physically destroyed through neglect or monstrously short-sighted business decisions ie 95% of all silent movies. They may be locked away in movie hell, deemed by their captors too extreme for modern audiences, notable examples being Disney's Song of the South and Ken Russell's The Devils, or they may through no fault of their own get stuck in movie limbo. Far too many films from the 1980s seem to be stuck in purgatory. The films became orphans when movie studios and distributors went bankrupt and many films became orphaned without any clear ownership and left to languish in vaults. Mike Hodges' psychic thriller Black Rainbow became one of these orphans after being unceremoniously dumped onto the direct to VHS market and cable TV and then forgotten. Now Arrow Video has rescued the film from the beyond and have given it a second life on Blu-ray.
Told in flashback, psychic medium Martha Travis (Rosanna Arquette, Pulp Fiction) travels with her father, Walter, (Jason Robards, Melvin and Howard) doing shows connecting people to their dearly departed loved ones. During one of these performances Martha communicates with a woman's husband who describes his own murder, despite the woman's insistence her husband is very much alive. It looks like the con is broken until the woman's husband, a chemical company whistleblower, is indeed assassinated by a hitman as Martha relayed in her vision. The murder brings the Travis family to the attention of local reporter Gary Wallace (Tom Hulce, Amadeus) who becomes obsessed with uncovering the truth about Martha's visions and ultimately obsessed with Martha herself.
Black Rainbow is an odd film and it is so intentionally manipulative that it could easily be off-putting on first viewing. I'm certain in the end of the 1980s the film's willful disregard for genre tropes had to be baffling. It's not quite a horror movie, not quite a family drama, not quite a con movie, not quite a thriller, erotic or otherwise, yet it is all of those things. It doesn't function in dream logic, but time and reality are subtly fluid. The ending which seems so random proves to be set up quite well throughout the film but in such a quiet manner it is easy to miss the first time around.
Cult film authors Kat Ellinger and Samm Deighan team up for another terrific audio commentary. Both women do stellar work on their own, but take it to another level when they work together. They pull out their scalpels to get beneath the surface of the film. They dig out elements of southern gothic, incest, and the maleability of time along Hodges' more obvious critiques of capitalism, religon, and family relationships. They also take great glee in the various ways the film sets up and subverts audience expectations of genre tropes.
Other extras for Black Rainbow include an archival Mike Hodges director's commentary ported over from an earlier UK release from Anchor Bay along with a short archival making of documentary, and some vintage interviews with Jason Robards, Tom Hulce, and Rosanna Arquette.
Black Rainbow is one of those releases that may not set social media ablaze when it is announced because it doesn't tick off a major item on many fans want lists, but it the kind of curated release that we need from boutique labels. Sometimes then know what we as film fans need more than we do. My only complaint is that it took this long for me to see the movie and it makes me sad that it has been missing from my life all these years.
---