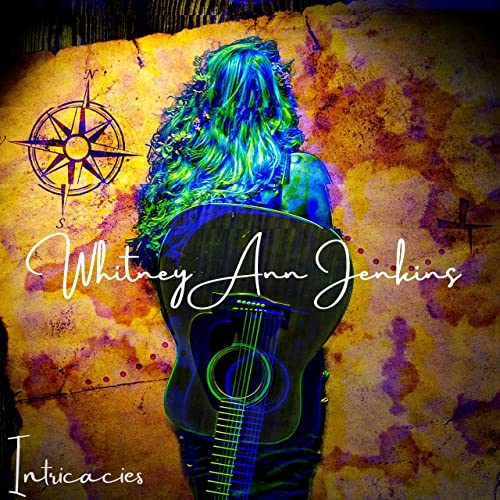 Whitney Ann Jenkins
Intricacies
Singer/songwriter Whitney Ann Jenkins is a passionate artist who does a great job at creating music that explores many different creative directions, giving the audience an in-depth taste of her charisma and personality.
As a lover of melody and energy, Whitney set out to capture the infectious rhythms of world music, along with the sophistication of jazz. What's special about Intricacies is definitely the fact that there is so much going on in this release, yet the vibe of the production is remarkably simple and down-to-earth. In other words, the musicianship on this release is totally remarkable, while the sound is still warm and easy to relate to. The song begins with a beautiful pattern of stunning acoustic guitars, and other instruments, including a very expressive cello and a nice piano, which brings so much depth to the whole arrangement. This production is incredibly versatile and direct, and what's great about is also the fact that it is richly textural and dynamic, going for an extremely distinctive sound that sets the bar higher in terms of excellent production aesthetics and authentic performance.
The beauty of this kind of music is the fact that it reveals all of the hidden nuances behind the music, giving the release so much warmth and a lot of vibe. Whitney is an incredibly gifted vocalist, and Intricacies is a very good opportunity for her to shine. This release is a perfect calling card for her music, and it is going to introduce her work to a larger audience, without the shadow of a doubt. With such a relatable blend of songwriting and a great production value to go along with it, you really cannot go wrong here! This is classic singer/songwriter music with an extra edge and so much depth to bring the sound of this release to fruition. From the warmth of the acoustic guitars, down to the far-reaching sound of Whitney's voice, anything goes.
If you are a fan of artists such as Greta and The Wheels, as well as Lisa Hannigan and Gillian Welch, this one is going to be right up your alley.
Find out more about Whitney Ann Jenkins, and do not miss out on Intricacies, which is currently available on the web's best digital music streaming platforms.
---