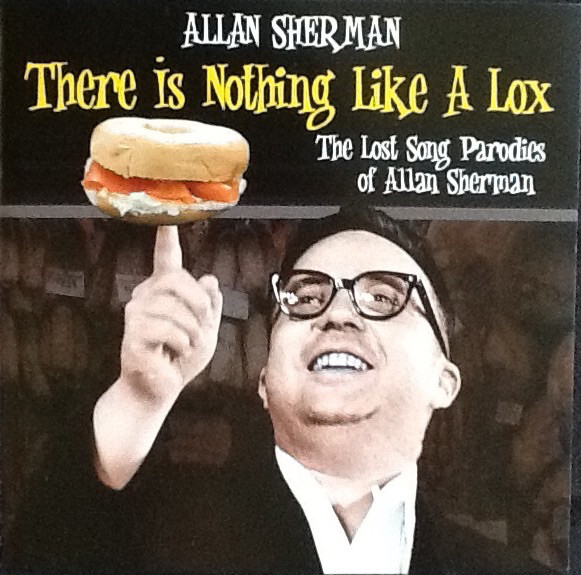 Allan Sherman
There's Nothing Like A Lox: The Lost Song Parodies of Allan Sherman
Liberty Hall
I thought I had cleaned out the Allan Sherman song book a few years ago but then this low fidelity item appeared. While it's not a "must have" it is a bit of comedy entertainment that's still good for a few chuckles. The copy I have sounds pre-hifi. The sound quality is tolerable but not what one would expect form a high-end 1960's jazz recording. Alan entertains to crowd that's hit that wonderful mix of alcohol and "I just don't give a darn." Someone has set up a microphone and tapes Allan pounding out a lucky 13 tracks of Yiddish angst and belly laughs. The audio is lo fi mono but completely clean, and the energy of the crowd propels this otherwise relic of a distant world to a decent evening's entertainment.
The material is all parodies of then-current Broadway hits, all with a Yiddish twist. The title track looks back on "There's nothing like a Dame" from South Pacific with a much stronger influence on food than sex. Another toe tapper comes from "'76 Sol Cohens", an affectionate look at the big hit number from The Music Man. A more obscure tune, at least today, comes from "How Are Things With Uncle Morris?" The source: "How are things in Glockamara" from Finian's Rainbow. It's seen a few recent revivals, but I find it a clunky. Here it's good for big laughs from an in the know audience.
All these parodies, whatever their origin, are still funny, so long as you have some resonance with the Borscht Belt comics of the 1960s and '70s. That fertile era gave us dozens of comedians, singers and musicians, all tied to the post war Jewish community in centered around New York. That fertile community spawned dozens of entertainers, many now sadly forgotten. That makes this disk a romp in pure nostalgia, and if you have anyone named Sol or Sadie in your life, this is your heritage. It's good for a few laughs if you love musical theater.
---