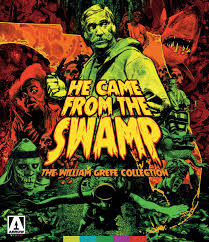 He Came from the Swamp: The William Grefé Collection Blu-ray
As a filmmaker William Grefé was always more entrepreneur than auteur but that still didn't prevent him from creating some of the more memorable schlock to ever grace a drive-in screen on a hot summer night. Grefé and his films may not have the instant name recognition of his contemporaries like Roger Corman and H.G. Lewis enjoy today, Grefé titles like Stanley, Mako: Jaws of Death and Death Curse of Tartu populated many a drive-in movie and late night TV screen for decades. Arrow Video has restored and released seven of Grefés films (sadly minus Stanley (1972)) to Blu-ray in a spectacular new box set with the subtle title; He Came from the Swamp: The William Grefé Collection that puts some overdue respect on the William Grefé name.
Embodying all of the maverick energy of his home state of Florida, Grefé made exploitation movies largely as a side hustle from his day job running Ivan Tors Studios in Miami which was cranking out kid friendly nature adventure films and TV series like Flipper and Gentle Ben. In his down time from wrangling bears, dolphins, and Clint Howard, Grefé would write and direct exploitation movies based on whatever he thought was hot and could be made cheaply enough to turn a profit. Sting of Death (1966), Death Curse of Tartu (1966), The Hooked Generation (1968), The Psychedelic Priest (1971), The Naked Zoo (1971), Mako: Jaws of Death (1976) and Whiskey Mountain (1977) are not the best or the worst drive-in fare ever but they all work on the their intended levels. Making the most of his Florida locations, Grefé turns the sunshine state into as much of a star as any of his actors as the movies utterly drip with sweat and humidity.
The movies are, predictably, a mixed lot with Death Curse of Tartu and Mako: The Jaws of Death (surely the strangest of the Jaws rip-offs) holding up the best. All these films feel like the behind the scenes stories are probably more interesting than what made it onto the screen and the extras in this set prove that idea. Four archival audio commentary tracks from earlier Dvd releases pair William Grefé with fellow schlock master Frank Henenlotter (Basket Case, Frankenhooker) and they have a great time telling stories about the wild ride that is indie filmmaking. Grefé brags about having written scripts for his films overnight and when you watch them they play like scripts written in a few hours, but he manages to make them work. If you needed more They Came from the Swamp is a delightful and in-depth feature length documentary on Grefé's career and how he built a small regional film empire out of the mosquito infested muck that is south and central Florida.
In spite of, or perhaps because of, the films' budget and time restraints the filmography of William Grefé is not without considerable charm and which is masterfully captured in this four disc Blu-ray set from Arrow Video.
---