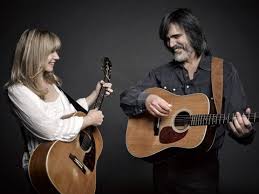 It Was the Music Premiere Livestream
January 13, 2021
by Jeremy Glazier
Mark Moskowitz has compiled an amazing 10-episode series based on a chance opportunity seeing Larry Campbell and wife Teresa Williams perform a set in promotion of their first album. That evening spawned the idea to give Teresa a camera for their 15-month road trip, to film pieces of what would become It Was the Music. The livestream event was set up to discuss additional aspects of the show and to chat live with many of the key players featured throughout the series.
The event was hosted by actor and musician David Keith, who himself has an integral role in both Larry and Teresa's lives. Teresa stayed with David's parents while finishing grad school, and David became like a brother and confidant to Teresa. David also had a chance encounter with Larry in a New York bar long before Larry meet Teresa, and he was so fascinated with his steel playing that he remembered that experience when Larry came in to play on a demo of David's years later.
The livestream contained part interview, part performance, and some wonderful clips from throughout the series. Guests include some country music/Americana royalty, with Emmy Lou Harris, Jackson Browne, Roseanne Cash, John Leventhal, and Buddy Miller among others, as well as the creator of the series, Mark Moskowitz. Moskowitz is an award-winning producer, director, and writer making a big splash with his documentary Stone Reader, which was hailed as one of the 10 best films of 2003.
Larry and Teresa have spent their careers backing up and being a part of the most pivotal music ever put on a stage, and the result was their desire to finally record the music that they needed to create. Now, two albums into their solo career, this series highlights not only the amazing music and relationship that they share, but the music that formed their roots. It Was the Music looks at what it is that makes that music so great and how experiencing it formed the foundation on which so much more great music continues to be made.
I can only say that the series is a must-see, not only for fans of Americana music, but also for fans of any music in general. It Was the Music nails home the fact that the music is what it will always be about at the heart of it all. Available now on Amazon, Vimeo, and Fans.
---