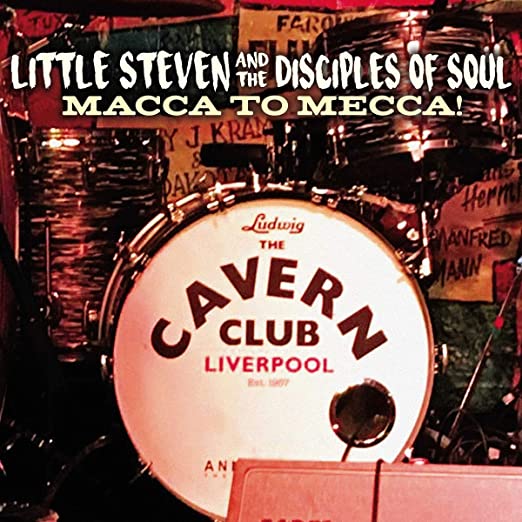 Little Steven
From Macca To Mecca!
WICKED COOL RECORDS/UMe
Little Steven Van Zandt, in addition to being a longtime member of The E Street Band, an accomplished actor, and a solo artist in his own right, is a lifelong fan of the Beatles.
For those not in the know, Macca is a common nickname for people with "Mc" in their name. One of the most famous of those being Sir Paul McCartney. From Macca to Mecca! signifies the journey from listening to the Beatles as a kid in New Jersey, to playing a tribute set at his musical Mecca, The Cavern Club, the first place the Fab Four played when they returned to England after their time in Germany.
Van Zandt came in the fall of 2017 with more than a quartet though. His 15-piece Disciples of Soul band included a solid rhythm section, piano, horns, and "the girls" on backup vocals. This allows him to not only pay tribute to several of the covers that the lads played at the Cavern Club including "Boys" (originally by The Shirelles), "Slow Down" (Larry Williams) and "Soldier Of Love" (Arthur Alexander), it also allows him to play a nice selection of Beatles originals that they never played live, as they had stopped touring by the time they were recorded. The set starts off with the backup singers inviting us to take a "Magical Mystery Tour," and continues with rousing renditions of "Good Morning, Good Morning" and "All You Need Is Love". The set concludes with the band returning for an encore, closing out with "Birthday" as it was Steven's wife's birthday.
The sound quality is impressive, especially as the 15-piece band had to set up outside of the small club. The band alternates between sounding like the seasoned professionals they are and sounding like a group of friends at a juke joint off of the Jersey Turnpike. It is clear that everyone, band and audience, are having a great time.
In addition to playing at his musical Mecca, Van Zandt also got to play with Macca himself, Paul Macartney. He joined the band at The Roundhouse in London in November of 2017 for a high energy rendition of "I Saw Her Standing There" making the lifelong Beatles fan's journey complete. My only real complaint about the album is that the McCartney intro and song are at the beginning, instead of after the Cavern Club set. It would have made the perfect coda, instead it represents a weird tonal shift, from arena rock to garage rock.
Previously only available as part of a limited box-set, From Macca To Mecca! is now available as a CD and DVD. Fans of Little Steven should obviously pick this up, but any Beatles fan should give this tribute a listen. You might enjoy a Jersey boy revisiting his heroes.
---