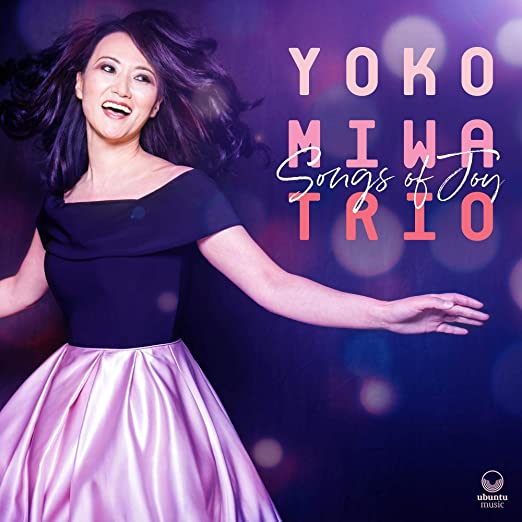 Yoko Miwa
Songs of Joy
Ubunth Music
Yoko Miwa had a pretty good thing going in Boston. For fifteen years her trio had a steady date at Zygomates Wine Bar and Bistro. That gig (along with teaching at the Berkley School of Music) gave Miwa a lot more stability than a lot of gigging jazz musicians have. Being able to play on stage, in front of a responsive audience allowed Miwa and her trio (drummer Scott Goulding and bassist Will Slater) time to develop a symbiotic, telepathic way of playing. Between the regular gigs, Miwa played jazz clubs and festivals all over the world, but the Zygomates was home. At least it was home until the pandemic came and shut down the world.
Miwa wasn't able to play with her trio for four months of lockdown. Yoko focused on writing while in exile. Finally, Miwa and her band mates were allowed to be together in the studio where Songs of Joy was born. The musicians had to mask up and keep social distancing, but they were all in the same room making music together again. I think the excitement and enthusiasm of being together jumps out of the speakers. Songs of Joy is an album that feels good. There is something in the tone of Miwa's piano, the resonance of the notes, that gives the music a real seize this moment vibe.
The title of the album is an honest description of what the trio is playing. It's also a play on the Billy Preston tune, "Song of Joy." The Preston song is one of six arrangements Yoko worked up for this album. She opens the set with Richie Havens' Woodstock showstopper, "Freedom" and does tunes by Monk, Duke Jordan and Anne Bredon. Songs of Joy includes five of the songs Miwa wrote in quarantine. The titles, "Largo Desolato," "The Lonely Hours," and "Inside and Dream," may reflect the isolation of 2020, but the sound is escape. The playing here is four musicians sharing the joy of being able to create together again (the fourth musician is bassist, Brad Barrett who sits in on the closing track, "Babe, I'm Gonna Leave You"). The joy Yoko Miwa and her friends experience playing this music is infectious. It is an infection I'm happy to catch.
---