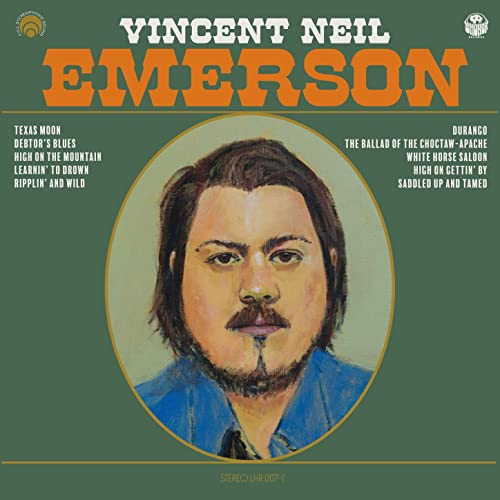 Vincent Neil Emerson
Vincent Neil Emerson
La Honda Records/ Thirty Tigers
Vincent Neil Emerson has a new, self-titled album out, and in the same way 2019's Fried Chicken And Evil Women introduced us to the music of Vincent Neil Emerson, this album introduces us to Vincent Neil Emerson himself. It's an artist writing and singing his way through some tough history, while still showcasing the whit and whimsical lyricism he excels at writing. And, pair that caliber of storytelling with legendary musician and producer, Rodney Crowell, you end up with one hell of a piece of art.
The album opens with "Texas Moon", a song that lyrically picks up where I last saw Vincent, which was road weary and trying to follow that "Texas Moon" back home. Musically it immediately feels like Texas with Eamon McLaughlin's fiddle work and Rory Hoffman's accordion reminding me of Flaco Jiminez's contributions to the Texas Tornadoes. It perfectly sets up the remaining 9 songs and is a reintroduction to the amazing talent of Vincent Neil Emerson.
"Learnin' to Drown" opens with some beautiful instrumentation with themes that echo through the song. It's packed with powerful lyrics including the chorus "I spent my whole life wonderin' why I'm down. I don't feel easy if the blues don't come around. My Face don't look right without a frown. Well if you can't swim, you better learn to drown". The song must be listened to to fully appreciate that chorus but I can tell you, it's as truthful as they come.
"Durango", if I had to choose, is probably my favorite of the album and besides the wonderful way that the chorus is structured, the instrumentation these players add to Vincent's songs is deeply honest. Rodney did a wonderful job of choosing the right players for the project and each musical contribution lends itself to the next effortlessly. Besides Vincent playing guitar and singing, the album features Lex P Price, Rory Hoffman, Eamon McLoughlin, Hannah Sutherland and Rodney Crowell on Knee Slaps and backup vocals.
One of those incredible back up vocal contributions from Rodney is on "The Ballad of the Choctaw-Apache", which explores more of Vincent's family history through the flooding of the Sabine River during the 1960's to create the Toledo Bend reservoir. It displaced many Native American communities that lived off the land including Vincent's Grandmother. His lyrics are brilliant with a chorus that proclaims "I am a proud Choctaw-Apache man, but it just don't mean a thing to the faces in your hand".
Vincent Neil Emerson is now available at your favorite online retailer and streaming service. La Honda records has also partnered with a number of independent record stores, like Vinyl Cup records in Des Moines, Iowa where I purchased my vinyl copy, to offer limited edition, specially colored versions of the album as well. Don't sleep on this album as I predict it will be considered a foundational album to future generations of singer songwriters.
https://vincentneilemerson.com/ https://lahondarecords.com/ https://www.thirtytigers.com/
---