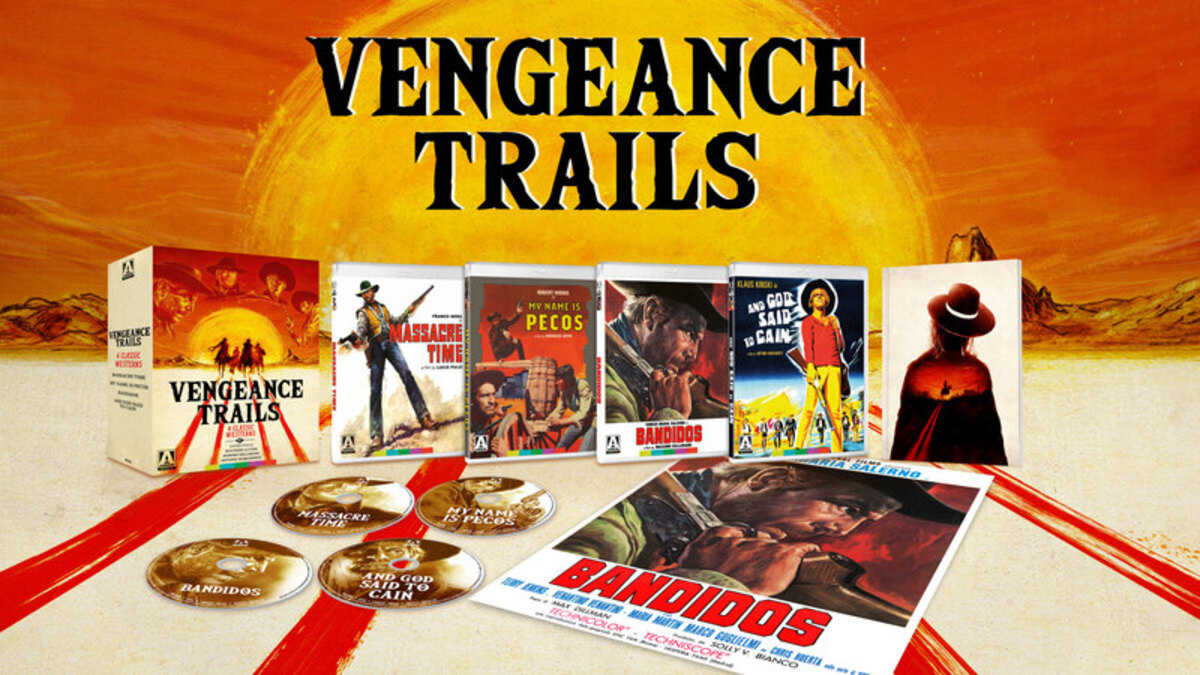 Vengeance Trails
directed by Lucio Fulci, Antonio Margheriti'
starring Klaus Kinski, Franco Nero, Enrico Maria Salerno
Arrow Video
Throughout the 1960s Italian and Spanish film studios cranked out a seemingly endless run of movies that reimagined the American wild west mythos that have since become known as Spaghetti Westerns. Westerns as a whole and Euro-Westerns in particular get a bum rap for sameness, but Vengeance Trails,the new Blu-ray box set from Arrow Video, shows a huge variety of approach to something that seems as formulaic as a western revenge story. This set collects four very different films featuring Eurocult regulars like Lucio Fulci, Franco Nero, Antonio Margheriti, and Klaus Kinski.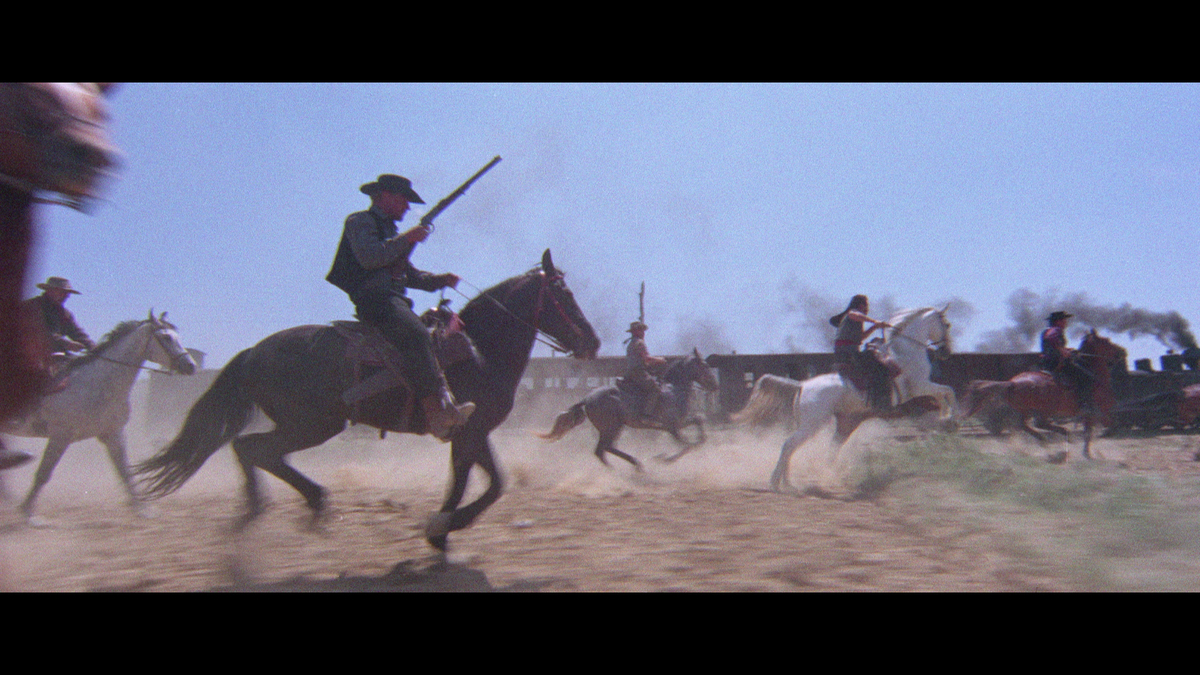 Massacre Time (1966)
Lucio Fulci's film pulsates with a palpable sense of menace and dread throughout with more than a touch of the macabre. The whole affair abounds with daddy issues. The main villain, is a bullwhip toting sadistic dandy called Junior Scott. The film even features crucifixions The score feels more like a thriller than a cowboy movie. Massacre Time is hyper violent, even for a Euro-western, and pulsates with style.
My Name is Pecos (1966)
Low budget affair missing a lot of the added atmosphere you get with extras and finely dressed sets. The western town is so empty at times it resembles the Star Trek episode Spectre of the Gun where the Enterprise relived the gunfight at the O.K. Corral amidst surreally minimalist, partially built western town. Fortunately the cheapness of the production is offset by a taut script that doesn't waste time and just gets down to the matters at hand, namely a Mexican hero (usually the Mexicans are the baddies in these films) taking revenge on a gang that is in town taking their own revenge against a former gang member who absconded with their money from a bank heist.
Bandidos (1967)
Massimo Dallamano is a director who isn't immediately associated with Spaghetti western even though he shot Sergio Leone's A Fistful of Dollars and For a Few Dollars More. The directing work he is best known for is the pair of giallo/poliziotteschi hybrids What Have You Done to Solange and What Have They Done to Your Daughters and the iconic poliziotteschi 38 Colt Special Squad. As a director Dallamano seems more comfortable with the breakneck pace of the poliziotteschi and Bandidos is paced much more like those films than the usual languid pace of westerns.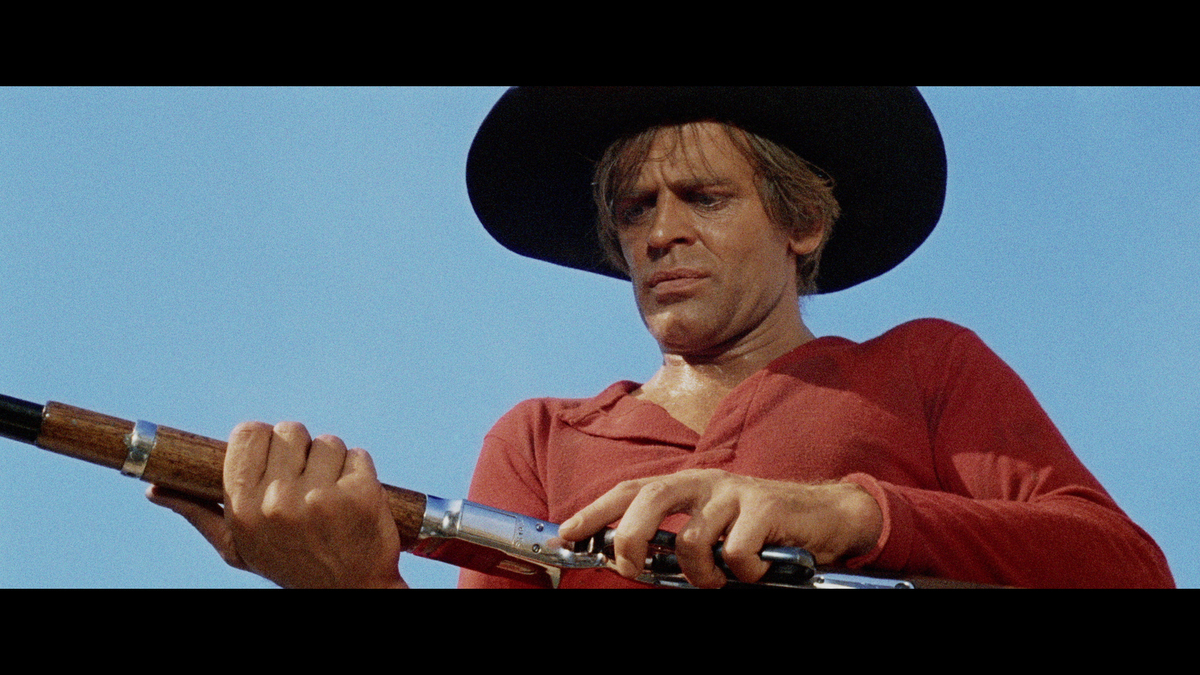 And God Said to Cain (1970)
Eurocult film legend Klaus Kinski, in one of his first starring roles, teamed up with director Antonio Margheriti to create a unique hybrid of western with gothic horror. Former Confederate soldier Gary Hamilton (Klaus Kinski) is released from prison after ten years of hard labor, for a crime he did not commit. Hamilton was convicted of theft after being framed by Acombar, a wealthy and influential landowner. Hamilton returns to town and over the course of one storm ravaged night he mounts a one-man assault on Acombar, taking on the full complement of his numerous guards before infiltrating the house for a final fiery descent into hell as he unleashes his vengeance
As expected all the films on this set look amazing and are a far cry from the transfers used on countless budget DVD packs. All the films are presented in their correct aspect ratios and feature Italian and English language dubs. They are also packed with extras including commentary tracks from C. Courtney Joyner, Robert Woods, Henry Parke, Kat Ellinger, and Howard Hughes in addition to a ton of interviews with cast and crew from the films. If you are diving in blind or thinking about upgrading your current versions of these films, Vengeance Trails is an impressive collection and a worth addition to any film collection.
---