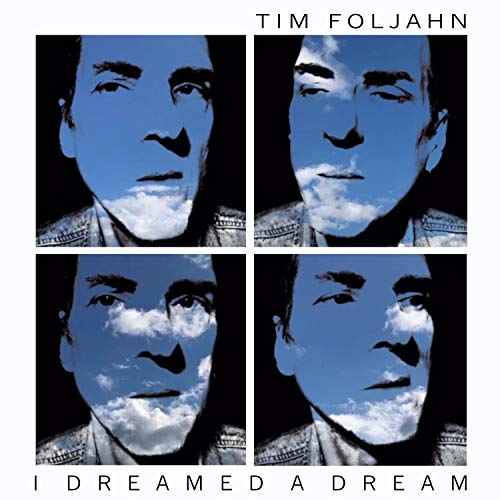 Lost and Found
Records that got lost in the mailroom
by Bob Pomeroy
I need to put together these roundups every now and then because things fall through the cracks. In fact, a couple of these records really did go missing in my car for a long time. I could just pretend that I never got the discs, but that's not fair to the people who made them. These are all good records you should know about. So here we go with short takes on 5 records that almost got away.
Tim Foljahn: I Dreamed a Dream, Cart Horse Records / Rough Trade
Tim is a painter, actor, and musician with a penchant for chamber rock tales of loneliness and missed opportunities. The record opens with the "Eleanor Rigby" by way of Blue Velvet song "Once." "Time" tells a story, but "the last page is torn, you never find out how it ends." The standout track for me is "Wake Up." The bluesy shuffle about busted romance has a chorus of "wake up motherfucker, that bitch is gone." I'll put that one on my anti-Valentine's Day playlist for sure.
K.C. Jones: Queen of the In-between
On forced sabbatical from her regular gig with the Cajun French band Feufollet, K.C. shows her mastery of the Anglais side of the folk rock genre. Jones evokes Roy Orbison rock and Patsy Cline countrypolitan with her original songs. I'm particularly fond of the twangy baritone guitars on "Bring the House Down" and "Queen of the In Between." This may be a side project, but it's a damn fine one.
Mary Karlzen: Shine, Y&T Music
Mary Karlzen had a successful run with her folk pop showing up on VH1, scored some indie hits and signed to a major label in the 1990s. Then life happened, and Mary took the next 15 years off to raise a family. Mary and producer Jansen Press put Shine together by reworking unfinished songs from the '90s and working up new material. It was an international affair with Mary doing her basic tracks in Milwaukee, Jansen doing production in France, and the other players laying down their parts in studios all over America. You would think that everyone was sitting together in a cozy cabin studio somewhere based on what you hear. Mary's songs are well crafted vignettes of life, loss, and regret. The title track, "Shine," is a heartbreaker.
Greg Antista and the Lonely Streets: Under the Neon Heat, Primal Beat Records
Greg plays the kind of punky roots rock made popular by Social Distortion and later period X. Under the Neon Heat is a collection of rowdy odes to the down and out lifestyle. My favorite songs are "Tijuana Jail" and "Warren Does Warren (Carmelita)." It's always nice to hear a Warren Zevon song, even if you've messed around with the lyrics a bit.
Swans: Children of God / Feel Good Now, Young Gods / Mute
This one came out at the end of 2020. I'm just getting around to writing about it now because the discs got lost in my car for months. Don't ask for details. It's messy. The two-CD set reissues the pivotal Children of God studio album and the "live to Walkman" Feel Good Now record. Children of God was recorded in a medieval sawmill in Cornwall and marked the shift to grinding prophecy delivered with solemnity and grace. Jarboe was still in the band for these records, which I quite enjoy. There is irony in calling a Swans record Feel Good Now. I've never thought of Swans as feel good music. There may be a little loss of fidelity from recording on a Walkman, but the performances are strong. I saw the Swans at the old Masquerade in Ybor City around the time these records were released and Feel Good Now captures the overwhelming waves of despair that I remember. Micheal Gira doesn't sing, really. He's howling and expelling demons from his haunted soul. Children of God was originally issued in 1987, and Feel Good Now came out in 1988.
---