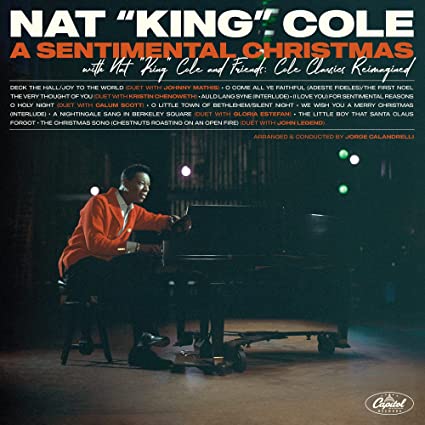 Nat King Cole
A Sentimental Christmas with Nat King Cole and Friends
Capitol Records
If there's a classic smooth listening experience in the Christmas song book, it's this 1960 Nat King Cole album. Nat sings a short dozen Christmas classics, and they dug this out of the vaults and mixed in some modern pop starts. Cole passed away in 1965, and I suspect this collection takes the master tapes from 60 years ago and remixes them with artists born after his passing. That's just a guess, but this collection of beautifully satin smooth vocals amplifies Cole's smooth and confident voice. He remains one of the most important of the 20th century, and this "remix" is true to his original sessions.
The material is the top ten of holiday carols: "Deck the Halls," "Joy to the World," "O Come, All Ye Faithful," you've heard them all. But Gloria Estefan, Kristen Chenowith, and Johnny Mathis are some of the more modern voices added in this collection, and the mix is perfect. It sounds like Cole and his modern co-singers are in the same studio space, making eye contact as they sing. I suspect the masters provide Cole's original vocals, and a new musical bed and the modern voices were layered up using sophisticated software and more than a small dose of love for the original material.
I'm no fan of Christmas, but this collection is magic to my ears. Cole's confident alto remains a fascinating and lovely vocal tract. The orchestra behind Cole is as good as any I've heard, and there is zero awkwardness in this project. If you love Christmas, if you love the mid-century ambiance, if you love the sound of the era's best vocalist, grab this and put it on repeat. This is so strong a collection, I might even leave some cookies for the Grinch. I plan to, but I'll sneak out when the lights are down and eat them myself.
---