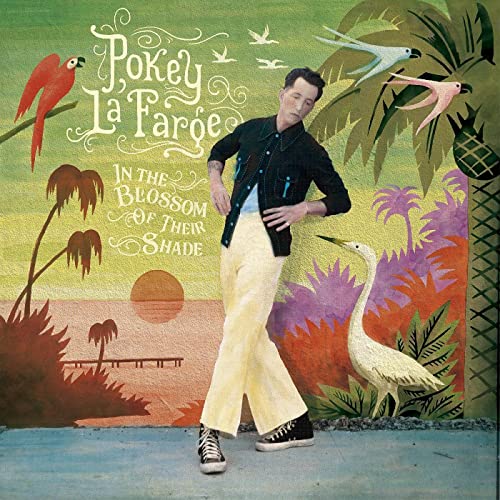 Pokey Lafarge
In the Blossom of Their Shade
New West Records
Pokey LaFarge's new album, In the Blossom of Their Shade, is a true breath of fresh air and an optimistic polar-opposite followup to 2019's Rock Bottom Rhapsody. This album is light and airy and jam packed with Afro Cuban and Latin grooves that all fit together like pieces of one beautiful puzzle. From the very first notes through the last farewell, Pokey has again proved he's a master at his craft as a singer-songwriter, and I for one am glad he continues to take us along on the journey.
"Get It 'Fore It's Gone" eases you into the album with a pseudo-reggae rhythm and catchy hook before the Latin/Caribbean flavored "Mi Ideal." "Fine To Me," "Rotterdam," and "Killing Time" all bring that 1940s/1950s attitude and swagger that propels you into each line of the story he's selling. He finishes the album with a song that he also uses to close his live show, "Goodnight, Goodbye (Hope Not Forever)," and leaves you with a feeling of the curtain closing as the musical show comes to a close.
The album artwork, done by the incredible Barcelonian illustrator Adrian (El Marques) Marques with photography by Eliot Lee Hazel and graphic design by Manu Rodriguez, is like getting a visual piece of art to accompany the musical art. The incredible artists helping Pokey create the sounds on the album include longtime producer and songwriting partner Chris Seefried, Beau Sample on upright bass, Alex Hall on drums and backup vocals, Scott Ligion on piano, organ, guitar and vocals, and Lady Blackbird on harmony vocals. Available now in all formats and on all streaming services, so grab a copy or give it a listen and soak in this masterful album.
---