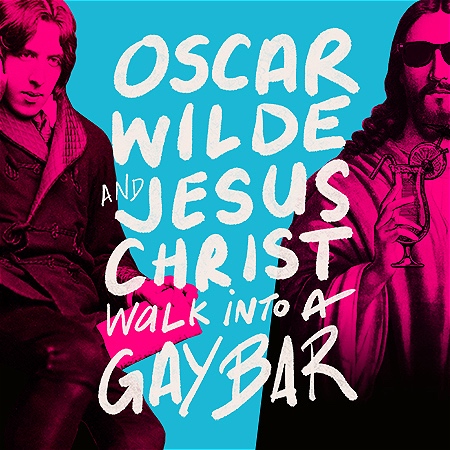 Oscar Wilde and Jesus Christ Walk into a Gay Bar
Renaissance Theatre Company, Orlando, FL
Created by Don Rupe
Reviewed by Carl F. Gauze
Welcome to one of the favorite characters in all of theater: Oscar Wilde. Wilde (Southworth) was the pop star of Victorian England; he wrote poetry and wrote several famous novels including his smash hit The Story of Dorian Gray. Wilde was bigger than life: a poet, a pop star, and as they quaintly called it back then: a sodomite. Sodomy was a jailable offense in Victorian England, even though authorities didn't like to jail anyone for it. They preferred to warn the accused and then drag their feet long enough to allow the accused time to flee to France. France didn't care what you did in your spare time.
We saw this show at the Orlando Fringe a few years ago, and it was smash hit there. This version tightens up a few plot points and was close to a sell-out tonight. This repeat drew a massive audience response in a packed house and we all cheered as Southworth sang and strutted about the stage. Act one belongs to Wilde, in act two we meet his love Bosie (Devin Sikorski) and hear a few words from him as well. But Bosie's clearly the second banana, it's Southworth we swooned over.
Southworth is a great Wilde: articulate and articulated, his physical gestures are as interesting as the story. Naturally, we only hear Wilde's point of view; clearly Bosie's father and the police held different ideas. Southworth reads a few of Wilde's poems and bits of Sholom Ascher's life story, and while Wilde is a landmark in literature, I find the florid styling rather over the top. But Southworth was up to the task and made those extended sentences breath fire.
As The Renaissance theater adds more shows to its playlist, its clearer where its strengths and weakness lie. It's a flexible space with a seriously high ceiling, and I suspect there's a monster scissors lift lurking somewhere. Proper theater seats surround most of the stage, and the risers are tall enough to give everyone seated a good view without craning their neck. Sound is good and the bar stays open for the whole show, which should add to profitability. On the downside, restrooms are very limited, and the lighting outside of the theater itself is rather spooky. But these are nits, the work here is excellent.
---