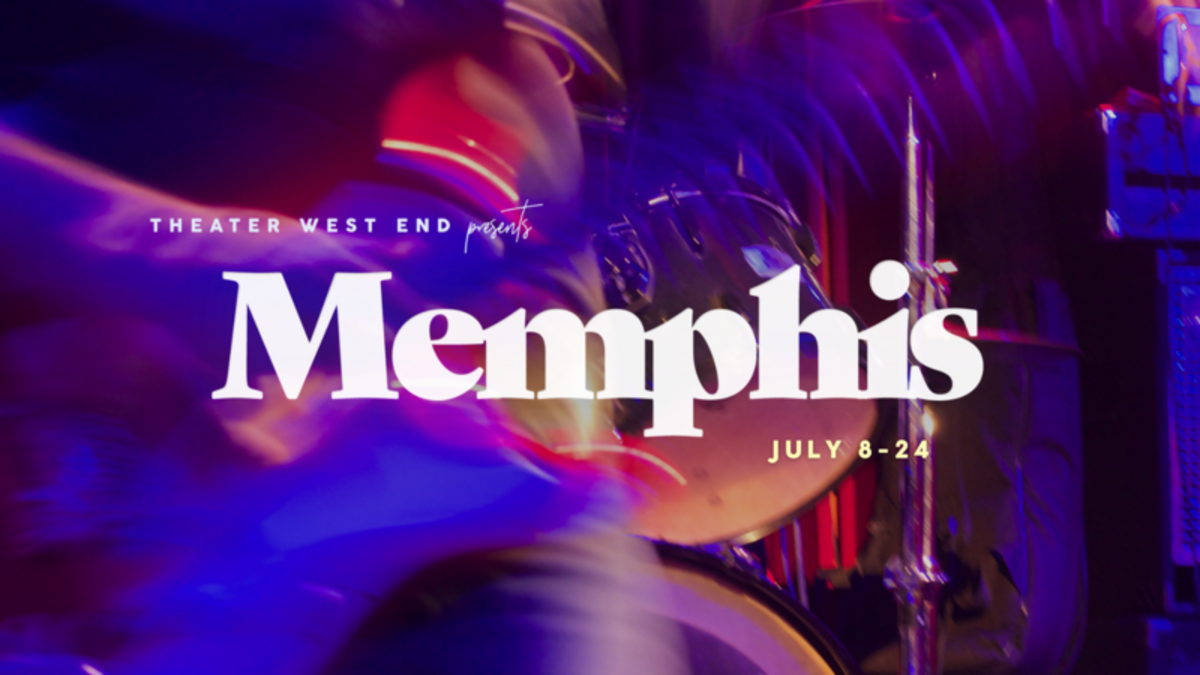 Memphis
Theater West End • Sanford, Florida
Book by Joe DiPietro • Music by David Bryan
Lyrics by David Bryan and Joe DiPietro
Direction by Ayò Jeriah Demps • Musical Direction by Brandon D. Martin
Choreography by Bethany Hemmans
Starring Chase Williams and Bethany Hemmans
by Carl F. Gauze
Just when everything is settled and everyone knows what they can and can't do, some yahoo comes along to upset the racial apple cart. It's 1950-something in Memphis, and Huey Calhoun (Williams) wanders into a "Blacks only" club on Beale Street. He's not very welcome, yet he calms the denizens of this demimonde by promising to get their music some air play. Felicia Farrell (Hemmans) has a song complete with a backing arrangement and the record gets made, but they can only afford one copy, and it gets broken. What to do? There's nothing to show the record producer man. But they persevere, and Huey sweet talks his way into a graveyard shift on the local AM radio. I'm not sure FM even existed back then, but nevermind that. Huey's outrageous radio ads sell product, and the station owner reluctantly agrees to keep him on the air. After all, money is money. And that's just the first act. There's a lot more drama in this 3-hour show, but the time flies, and eventually we see an interracial marriage. Maybe we CAN all live together… nah, who am I kidding?
There's a ton of good music in this rocking show. There's a great supporting cast with luminaries like Jacob Eddy as Wailing Joe and the tall and taciturn Gabriel Hennas as the tight-lipped Gator. Then there's my favorite character: the sputtering station manager Simmons (Tom Young). I'd love to see a sequel focusing on his journey. William's lover boy / promoter sure did talk funny, but he also kept up the persona for the full 3 hours without a slip. Ms. Hemmans was more of a wilting flower, if such a woman could make a hit and chip away at the color barrier. Then there's the ominous Delray (Terrence Jamison) who mirrored the local tradition of not breaking the color barrier. Delray frets about it from the Black perspective just as Simmons worried about it from the white side of the tracks.
Yes, this is a long show, but it's got the legs to keep the audience well engaged. We had a standing ovation and people humming the soundtrack as we filed out into the muggy Florida night. This is a provocative production—the town of Sanford is rife with stories about racial tension, segregation, and the miseries engendered here. But Memphis ultimately takes an upbeat, positive message and puts it on stage for all to see. This is one top-notch performance, loaded with top-notch singers and actors.
---