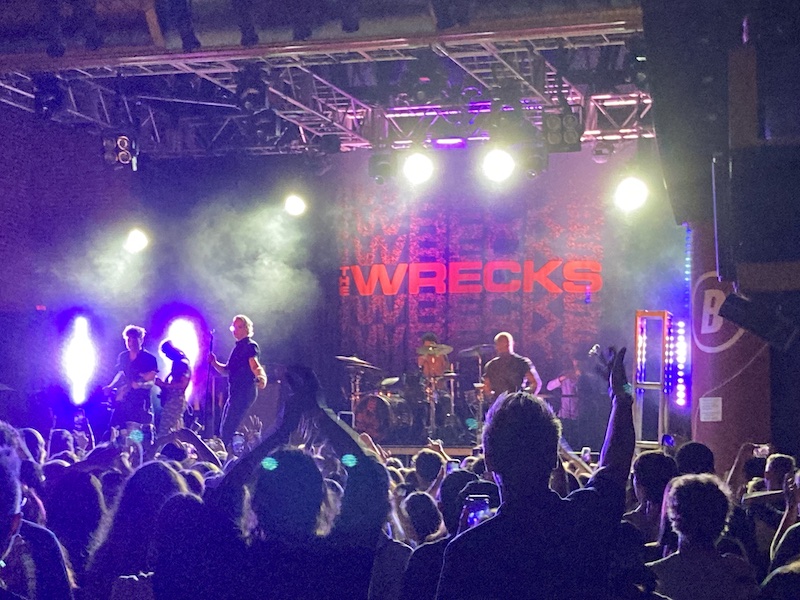 The Wrecks
with Girlhouse
Beacham Theater • Orlando, Florida • July 14, 2022
by RJ Bowen
The A/C at home was unceremoniously pronounced dead. What better way to beat the scorching Florida summer heat than to check out a rock show at the Beacham Theater in downtown Orlando?
While the venue itself was a refreshingly cool respite, The Wrecks brought the kind of heat I prefer in the form of catchy, original music and a rocking good time. No strangers to the stage, that The Wrecks packed the house full of their devoted fans—on a Thursday night, no less—made it clear we weren't dealing with amateurs. The Wrecks hit the road in June on the Better Than Ever Tour 2022, in support of their second studio album Sonder.
After an extended period of technical difficulties was remedied, The Wrecks took to the stage, eager to give the patient fans what they wanted to hear. I'll admit, I hadn't listened to the album in full prior to the show to maintain objectivity. However, from the high-octane, deftly-played first note, there was no denying their obvious musical talents. Launching into their first song of the night, "Out of Style," band members Nick Anderson (vocals/production), Nick Schmidt (guitarist), Aaron Kelley (bassist), and Billy Nally (drum kit), were heartily greeted with an excited crowd singalong, asking the relevant question, "when did love go out of style?"
The show consisted of 15 poignant tunes in total, showcasing a cross-section of songs from their earlier works on Infinitely Ordinary and their most recent endeavor, Sonder. The Wrecks expertly alternated from the whimsical dance-inducing "Feels So Nice" to the brooding post-break-up piece "I Love This Part." From the perspective of a self-admitted Wrecks concert virgin, here are what were, in my opinion, the main standouts:
"I Love This Part." Proclaiming victory over a selfish former partner, the protagonist in "I Love This Part" sails through the murky waters of an ending, jettisoning the baggage of heartache along the way.
"Fvck Somebody." This song is brilliant on so many levels. The audience clearly felt the same way as they danced their hearts out to the story told by a guy who was so done with a relationship, he wished his girl would just Fuck Somebody and let him off the hook!
"Where Are You Now?" This nostalgic ballad aches bittersweetly, begging the question, "what ever happened to that doomed first love from age 19?" Featuring tourmates Girlhouse, "Where Are You Now" really takes you back to days of yore and no frontal lobe to speak of.
"Favorite Liar." I remember this one! How aptly that they ended the show with their first big hit. "Favorite Liar" truly was my jam a few years ago, while I drove around in my fast car blasting it on heavy rotation at Sirius XM Alt Nation. Little did I know at the time, the song lyrics would soon ring painfully true to me after a particularly nasty breakup of my own.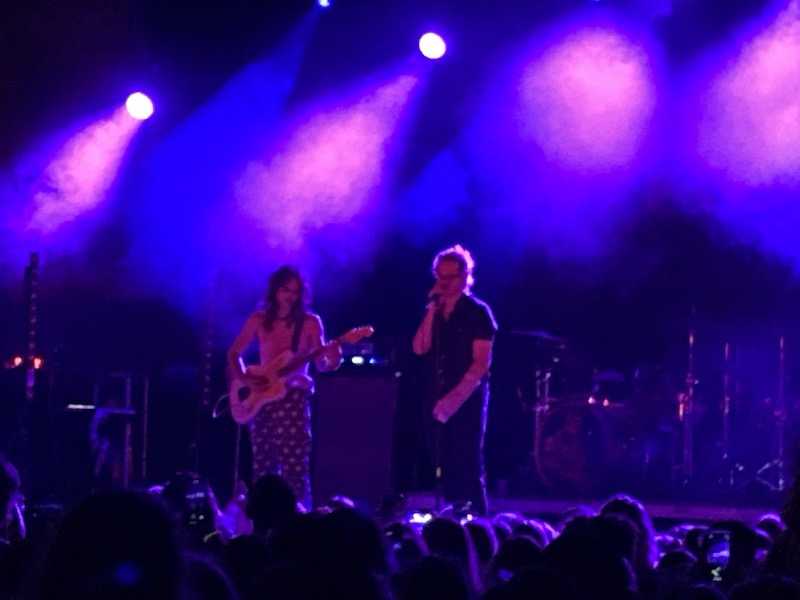 From beginning to end, lead singer Nick Anderson's charming voice resonates smooth as butter with the occasional edgy hints of smoky Maker's Mark. True, he may not be James Dean, but he's arguably by far the better option in that he's funny, witty, and still among the living. Even though you can detect the influences of Fall Out Boy, the Killers, and even subtle hints of Glass Animals peppered throughout their songs, The Wrecks successfully cultivate a sound all their own that is overwhelmingly loved by fans of all ages. Blending relatable humanity into their heartfelt lyrics with hard guitar riffs and hauntingly hypnotic synthesizers, these guys demonstrate a rare insightfulness well beyond their years. For instance, at one point, Nick commiserated with a guy about the fan's impending wisdom teeth extraction surgery scheduled for the following morning! It's because of this natural likability that they make such a genuine connection with their audience despite their undeniable rock-star stage presence.
---