An interview with mike watt
That's Why Free Jazz Feels Like Punk Rock
by Patrick Greene
During a recent Skype call with mike watt, Patrick Greene at one point said something like "sorry to go off topic." He caught himself and added "I'm not sure what the topic is." Then watt said, "It's music. No, we've talked about books and writing. It's expression."
---
On a recent weekday morning, a Thursday at 10 a.m. to be exact, mike watt and I got together to talk about punk, jazz, literature, kayaking, politics, growing up at the same time (he's three weeks older than I am), collaboration, Motown, Creedence, and other things. He said his first concert was T. Rex — D. Boon's father brought them to the show when they were 14. He noted how the trebly sound left plenty of room for the prominent bass and drums, something that aligned with his ongoing Motown influence.
We grew up at the tail end of the '60s and '70s. Pop, AM radio… genre and marketing weren't as scientific then. You might hear a track off of the Beatles' White Album, Isaac Hayes, George Jones, and Andy Williams in the same hour. Now we live in a time of Moneyball and algorithms, where the bottom line might be attainable if you play along, but it is also limiting, less interesting, and not as fun.
In 1980, mike watt on bass, his best friend D. Boon on guitar, and drummer George Hurley formed the now legendary San Pedro trio Minutemen. The band was not guitar dominated, like many other bands. D. Boon may have been the frontman, but the band seemed to be giving each other equal time. Their lyrics were a stream of consciousness. The music felt improvised — the kind of improvisation that feels like three truly connected humans. Their music was rhythmic, beautiful, jarring, and relatable. They were byproducts of San Pedro, James Joyce, John Coltrane, and the early '80s California hardcore scene as represented by SST Records.
When I first heard Double Nickels on the Dime, I listened to it over and over.
mike watt recounted, "Double Nickels on the Dime was inspired, because I had just finished Ulysses by Jim Joyce. What he tried to do is to use one day, a wife and a husband, but [not] try to talk about the whole universe. I read it at 25 years old. I read it again at 40. When I was 25 I thought it was this happy, incredible book. It seemed really sad when I read it at 40. Now at 64, I think it's a mixture of both. You know, the hundredth anniversary of that day was June 16, 2004. I went to Dublin and spent three days, no gig. That's something watt never does."
watt talks about how the concept may have been inspired by one of the most challenging modernist works in the English language, but the name of the album came from a more pedestrian source. He asked if I remembered Sammy Hagar's "Red Rocker" phase. It was a difficult part of rock history for someone my age to miss.
"Sammy Hagar at the time called himself "The Red Rocker." He was singing for Ronnie Montrose, then he went on his own. He had a song called "I Can't Drive 55," so D. Boon said, 'this guy drives crazy and plays safe music. Why don't we drive safe and play crazy music?' Some people thought the numbers were highway numbers. It had nothing to do with that. We were making fun of Sammy Hagar."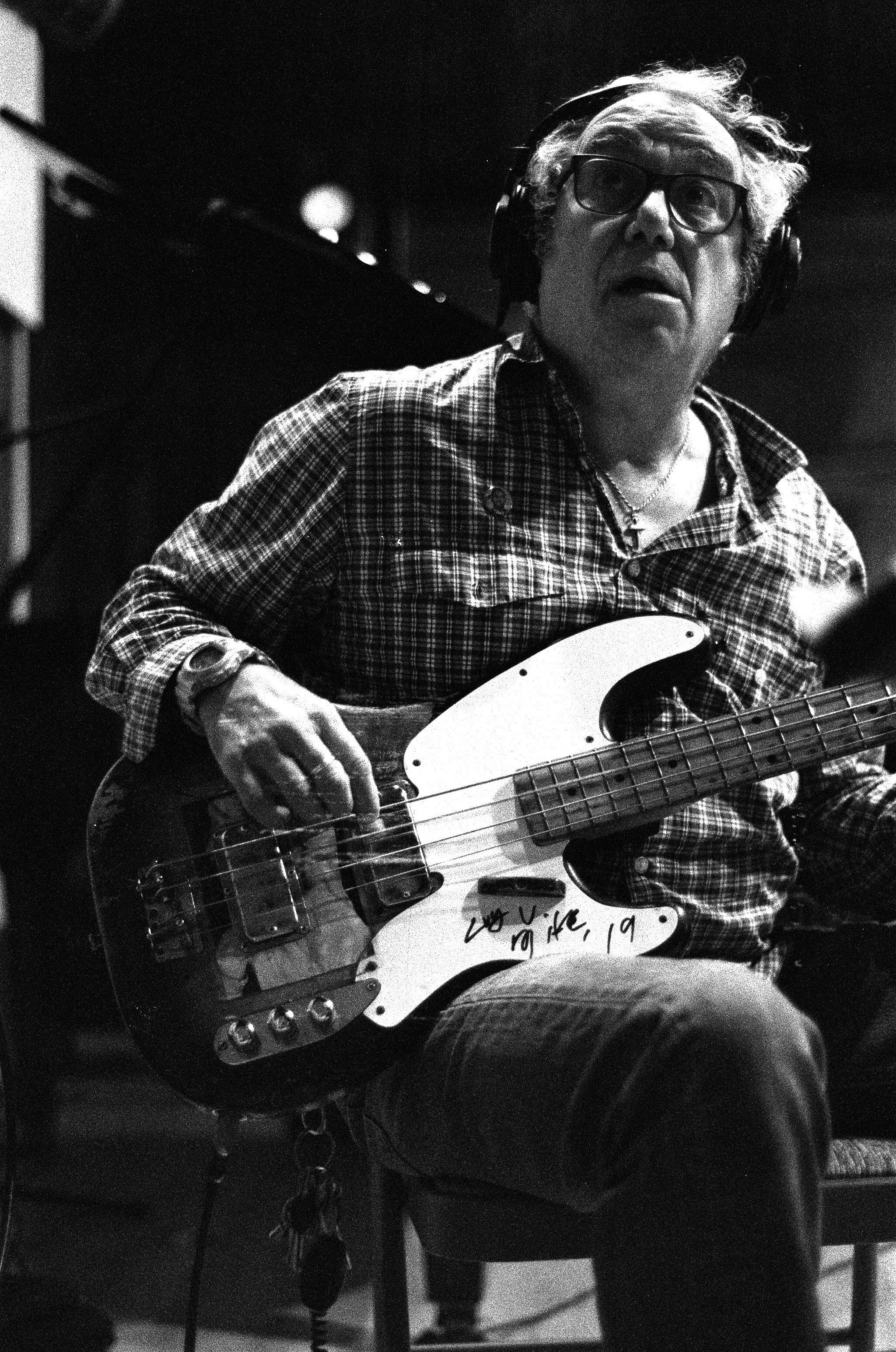 Minutemen seemed to be influenced by many but didn't sound like anyone else. They became a solid part of the LA post-punk scene.
In December of 1985, D. Boon died in a van accident in Arizona. watt was depressed for a while. He didn't want to play. Thurston Moore urged him to keep playing. The following spring, mike and George Hurley formed the band fIREHOSE.
Ed Crawford was a Minutemen fan living in Ohio. He contacted watt based on a false lead given to him by Camper Van Beethoven. Crawford heard watt and Hurley were looking for a guitarist and singer. Crawford called watt and eventually showed up in San Pedro. mike gave him a chance. That was the beginning of fIREHOSE, another brilliant and powerful trio.
mike watt and I may have discussed free jazz more than anything rock related, but our talk was mostly about the beauty of expression.
Raymond Pettibon, now a famous artist, was initially known as the illustrator for his brother Greg Ginn's SST label. He introduced watt to free jazz. They had just been to a Germs show, and Pettibon put on John Coltrane's Ascension album afterward.
watt said, "I thought it was like a Germs gig."
I had heard about mike's love for last year's release of John Coltrane's A Love Supreme: Live in Seattle. watt told me that Pharaoh Sanders and Donald Garrett were invited to play the live show in Seattle, and they didn't know the music. He said that's why free jazz feels like punk rock.
A musician friend of mine commented that watt is a virtuoso who doesn't act like a virtuoso. He plays with musicians who aren't necessarily as technically proficient as he is, but he also plays with virtuosos.
When I mentioned this to watt, he told me how Miles Davis would often play with the best musicians, and how many talented musicians weren't secure enough to do that. He speculated that they wanted to be the spotlight. Davis knew what worked.
watt has been a member of or played with Minutemen, fIREHOSE, The Stooges, J Mascis + The Fog, Porno for Pyros, Dos, Eddie Vedder, Dave Grohl, Evan Dando, Kathleen Hanna, and others. Since 2017, watt has played with guitarist Mike Baggetta and drummer Jim Keltner. Their latest album Everywhen We Go is set for release November 18.
The album has a sleepy Paris, Texas feel that has surges of surf guitar. Baggetta's guitar is the dominant voice. I hear Ry Cooder, Calexico, and maybe Dick Dale. It's a beautifully haunting album. watt and Keltner supply a very solid rhythm section — these two guys have jazz chops or any other sound you want. mike watt is approachable, a virtuoso, an intellectual, and a man of action. He looks and feels blue collar. His work ethic and constant collaborations are consistent with that.
mike watt may not have been referring to himself, but summed up his creative spirit nicely when he stated, "genre is such a Berlin Wall." With this in mind, he probably would rather not use any of the labels that I've placed on him.
---