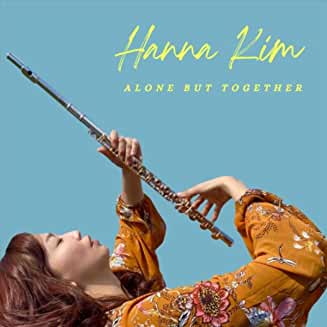 Hanna Kim
Alone But Together
Flutist Hanna Kim whispers profound feelings on her latest single, "Alone But Together." Without a doubt, uniting jazz with contemporary classical touches is no easy task. Yet Kim manages somehow to stitch them together with a calm smoothness. It's a delicate procedure. If one style overpowered the other, it would be jarring; however, there isn't an awkward or forced moment on the track.
Because of its eclectic roots, it'd be difficult to classify "Alone But Together." Then again, that exemplifies much of its appeal. In other words, it sounds fresh and timeless. If you weren't aware that "Alone But Together" is a new release, you couldn't pinpoint what era it's from. The song emanates from an artistic purity that is simply rare these days.
The introductory piano gradually picks up steam. Although it immediately engages the listener, when Kim's majestic flute swoops, it's simply transcendent. Kim's flute envelops the air around it, generating a mood of tranquility. It relaxes you. "Alone But Together" is a triumph of skillful musicianship that produces cinematic images. Kim should be composing music for theatrical movies.
Kim graduated from the prestigious Berklee College of Music in Boston, Massachusetts, which explains the high level of performance on display. At the same time, the single conveys a wide range of emotions that come from the heart and not any school.
---