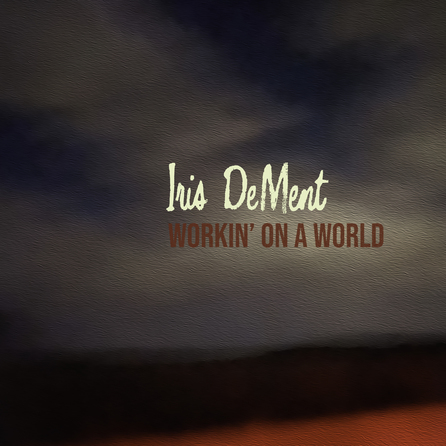 Iris DeMent
Workin' On A World
All Eyes Media
Country music, like the blues, will never go away. Both styles rely on the minutia of human mystery, and both work best when the singer lacks a finely-tuned operatic voice. Rather, it's rough edges that fill the music with the rough emotions of lost love, lost jobs, and lost opportunity. Ms. DeMent excels in the this sound. I first heard her singing on that old NPR chestnut A Prairie Home Companion. Her country laments fell right in line with the beaten down prairie dwellers that populated the fictional town of Lake Wobegon.
In the collection Workin' on a World, we run into a number of eminently hum-able tunes, each carrying a subtle and often subversive message, poking fun at today's model Texan. Let's look at track number two, "Going Down to Sing in Texas." Here, she pokes fun at the gun culture of Texas and its hypocritical lust for more weapons on every corner. It's provocative, unashamedly political, and a toe-tapping Texas tune that subverts the entire state. A few tracks on, and it's time to take a whack at ultra-religious Christianity. In "Let Me Be Your Jesus" the entire Judeo-Christian theology is turned on its head, and the concepts of turn the other cheek, feed the poor, and welcome the foreigner are turned into a huge ball of carefully curated hypocrisy.
DeMents's clear and quavering vocals can pull a tear out of your eye without plunging into the depths of remorse. She's an exceptional storyteller working in the genre of modern country music. And country music is at its best when telling stories of desperation. Desolation and sinners with no hope of redemption are its fodder. If you're reading this, chances are you're not in the cross hair of the current destructive political wave. And if that's true, DeMent's angle on the world today is what you need to hear, but good luck selling it to the "patriots" of today's fulminations.
It's rare to see politics turning into classic and timeless music, but this might just be a disc as important as the anti-war crooners of the Viet Nam era. Buckle up your flak jacket, and sit on your helmet. The fatal shot might just come from beneath.
---