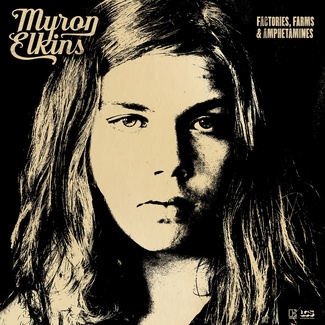 Myron Elkins
Factories, Farms & Amphetamines
Low Country Sound/Electra
Myron Elkins and his band have released their first full length album, and man, is it a scorcher. The Michigan-based welder may not have had plans to be a full-time musician, but as is the case with tremendous talent, fate intervened, and the result has been numerous nonstop tours and a tremendous fan base. The album Factories, Farms & Amphetamines is an eclectic collection of songs that represent the various influences of this young band and what they will be capable of in the future.
One of the first songs I ever heard the band perform, "Old Trauma," gives off a classic Paul Kossoff – Free feel, while a track like "Hands to Myself" leans into a sultry Motown vibe. "Mr. Breadwinner" and "Factories, Farms & Amphetamines" take on more of a straightforward rock and roll sound, and "Good Time Girl" and "Wrong Side of the Tracks" lean into their country influences. Some of what I consider the quintessential sound of Detroit rock and roll comes through in songs like "Machine" and a tune that would give Bob Seger a run for his money, "Nashville Money.''
In addition to Myron on vocals and guitar, the band is made up of Jake Bartlett on drums, Nathan Johnson on bass, Avry Whitaker on guitar, and Caleb Stampfler on lead guitar. The album was recorded at the historic RCA studio A in Nashville, Tennessee, under the watchful eyes and ears of legendary producer Dave Cobb and is available for streaming on all platforms. Follow along at their website where you find tour dates and where to grab the CD now, with vinyl copies available in May of 2023.
Find my Myron Elkins podcast and playlist at The Art Inside the Craft on Ink 19.
---