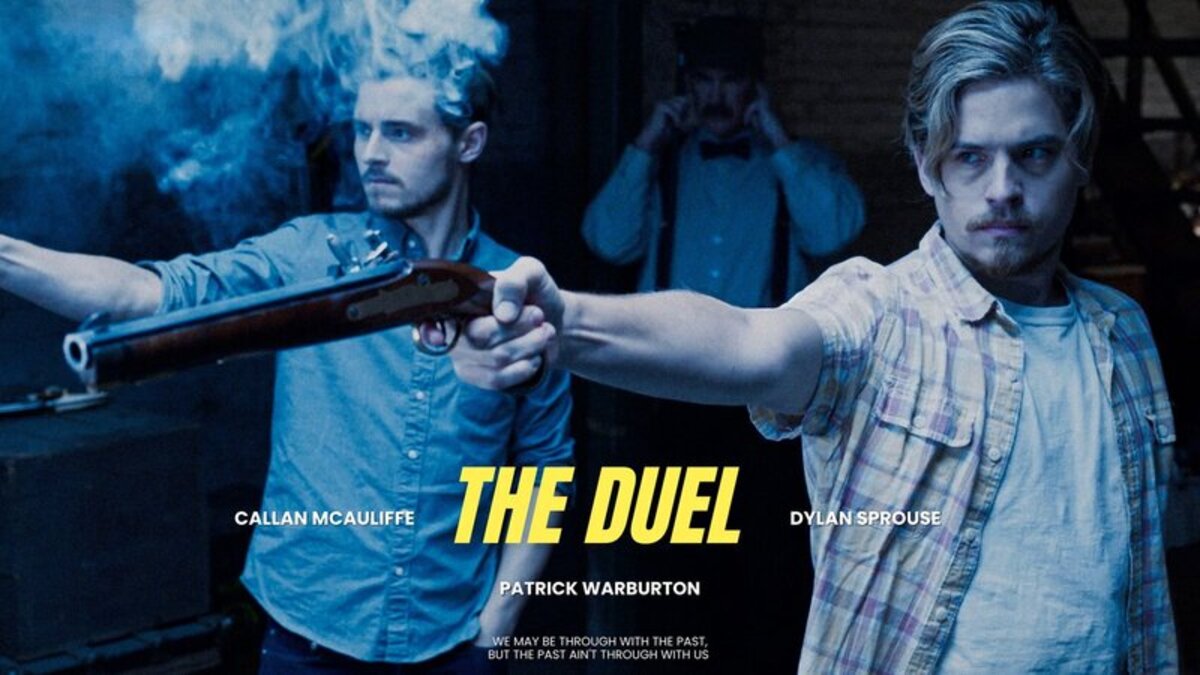 The Duel
directed by Justin Matthews and Luke Spencer Roberts
starring Ronald Guttman, Dylan Sprouse, Callan McAuliffe
You're a guy. You have a girl. She's sleeping with him but not you. What do you do? Beat the crud out of him? Pop a cap into him? Go find someone else? Try this: Challenge him to a duel. An old-fashioned, pistols-at-dawn, preserve-my-honor duel, just like in the old novels.
In The Duel, while driving around, Colin (Dylan Sprouse) and Woody (Callan McAuliffe ) and their best buddy Sam (Denny Love) stumble into proper dueling master Christoph (Patrick Warburton). He takes the boys into his lair and explains the rules of dueling. Then Christoph offers options. Pistols at dawn? Rapiers? Broad swords? The option are endless, and the rules are arcane, but they agree. This mysterious dueling master has all the gear, right here in his mysterious lair. As both aggrieved parties debate their options, the dueling master (Roland Gutman) takes them down to a huge estate in what might be Mexico, owned by a major heroin dealer who also happens to be a dueling enthusiast as well.
It's pistols at midnight, and after the battle is decided, they hold a huge party celebrating manliness. Alternately witty, funny, and violent, we address the question of what exactly IS honor, and how should we defend it in the 21st century? Is it better to die proving yourself a Real Man or quietly slink off and just get another mate?
The film is wonderfully surreal, the cast gorgeous, and the drug lord witty and intelligent. The ending is a bit ambiguous, and there are more questions asked than answered, but that's part of the fun. I will warn you, a pig is shot on camera, but I suspect it's of the genus Porkus Digitalus.
This is a fun and unexpected romp through toxic masculinity and what it means to be graceful.
This film was presented at the 2023 Florida Film Festival.
---