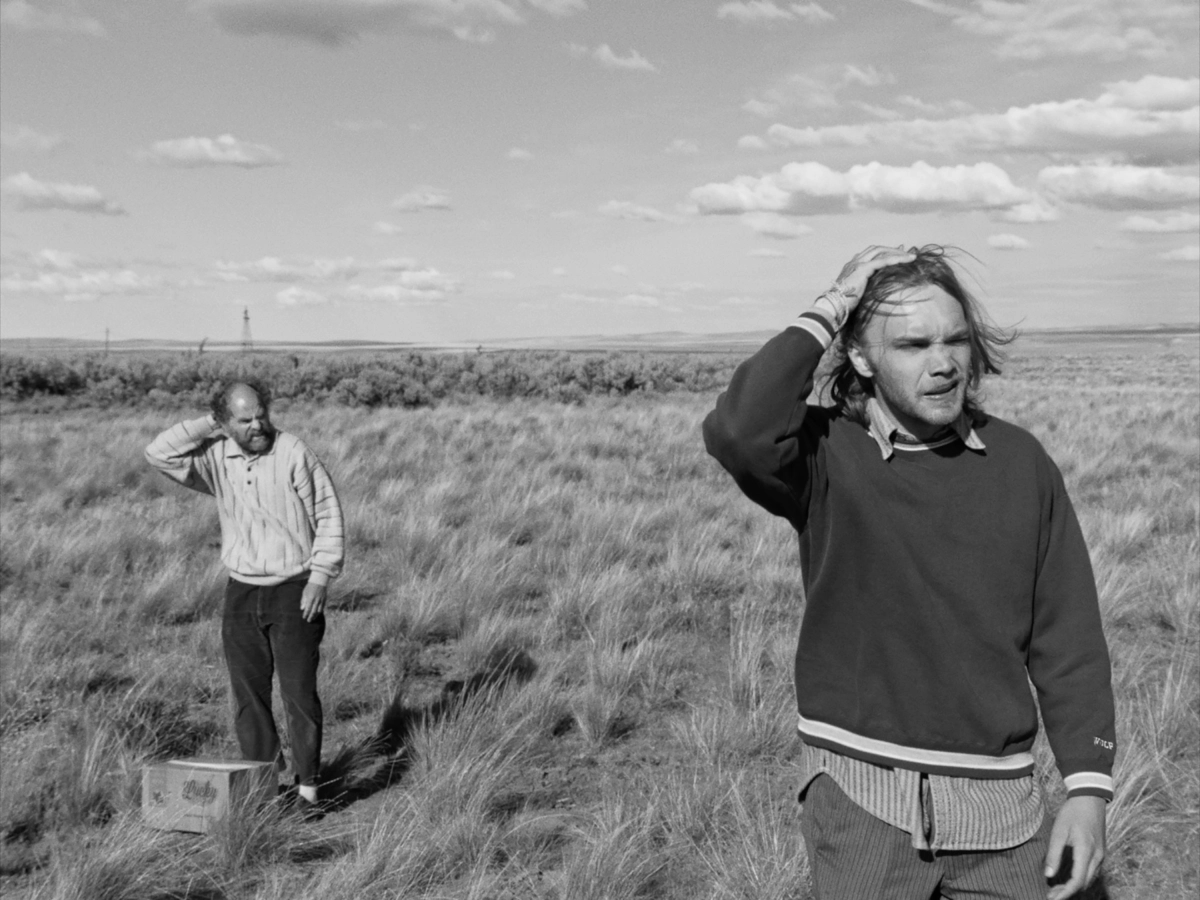 A Perfect Day for Caribou
directed by Jeff Rutherford
starring Jeb Berrier and Charlie Plummer
A flat expanse. A few trees try to survive in the harsh Oregon high country. The color palette is a silver gray sky and gray burnt landscape. A man sits on a bench in a sad cemetery waiting. But for what? After a while, a car arrives. A young man steps out with a small child. They give the child a toy and ignore her for a half hour. The make small talk. The older man is retired and broke. The younger man is slightly employed. Technically, his car works, but only technically. They mostly stare at the ground, but speak from time to time. Take your time. Listen to their woes. Where are we, anyway? Rural Oregon, on a blistering clear day. A divorce floats in the air around their spare words like the rusted muffler off a '78 Dodge. Granddad shows off his collection of paint-by-numbers he did at the community center. He basically can color between the lines. He has a skill.
Oh look! We can't see the little girl anywhere. A search begins. The search continues. Up bluffs. Down ravines. The old man totes his artworks lest they be stolen. They meet a woman with a gun. There is little to shoot at, so they bum a light off her and move along. The men commiserate. She wished them luck and heads to what counts as town. There is one man in the one bar in this town. She knows him, but that's all we know. There might be a bartender, but that is not certain. Back to the glacial chase. More walking. More attempts to light a cigarette. Neither man had a good relationship with his wife, mother, or any other woman. They find a road. It is paved. A bit of vegetation. They find the child. It feels anticlimactic. We walk back to the cemetery. More driving. Roll credits. Is this Oregonian existentialism? At least you don't have to read subtitles.
Now THIS is art house cinema!
This film was presented at the 2023 Florida Film Festival.
---