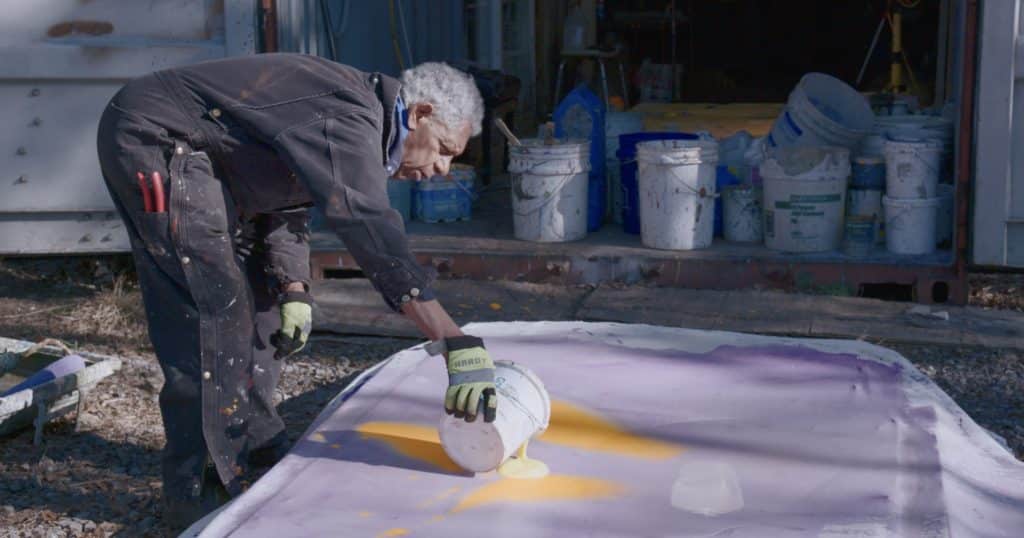 With Peter Bradley
Import Media, Fierce Optimism Films
directed by Alex Rappoport
starring Peter Bradley
Peter Bradley grew up in the Jim Crow days, but his mother was well known and hosted all the top jazz bands when they came though town. That gave him a good foundation in the arts, and Peter was drawn to abstract art. He became a mover and shaker in in the 1960s New York art scene. He was one of the names in abstract art, but had trouble getting exhibited due to his race. Without an agent, he had trouble marketing his work, although he became second in command to one of the biggest New York dealers. Peter could display others' works, but his own efforts remained unsold. Today he lives in a Revolutionary era house in rural New York state. He makes large abstracts in a repurposed shipping container behind his house, mainly using watercolors, mixing up buckets of paint and pouring them on canvases to dry. Then he slice and dices those rough canvases into framed pictures, which rarely sell. This guy is a true artist.
With Peter Bradley is filled with tales of meeting jazz greats as a child, and running the sales department of one of New York City's mega-dealers. Bradley had exhibitions in North America and Europe, and was a genuine "big thing" for a while, until his fortunes shifted as they often do.
Along the way, we visit the demimonde of the 1960s New York art scene, where certain people are gatekeepers, and they kept those gates closed to non-whites. We dig through Bradley's collections of hip clothing and famous acquaintances and discover how he sees abstraction. Bradley points out that African art is by its nature abstract, and that culture was at its height when Europe still had trouble coloring between the lines. But now Peter is done with galleries and the whole scene, and he paints for his own pleasure and that of his cats.
The ride from the top to the bottom is clearly documented and not a new thing, but Peter is free with his techniques, and we can all learn a bit about art from this pioneer.
This film was presented at the 2023 Florida Film Festival.
---