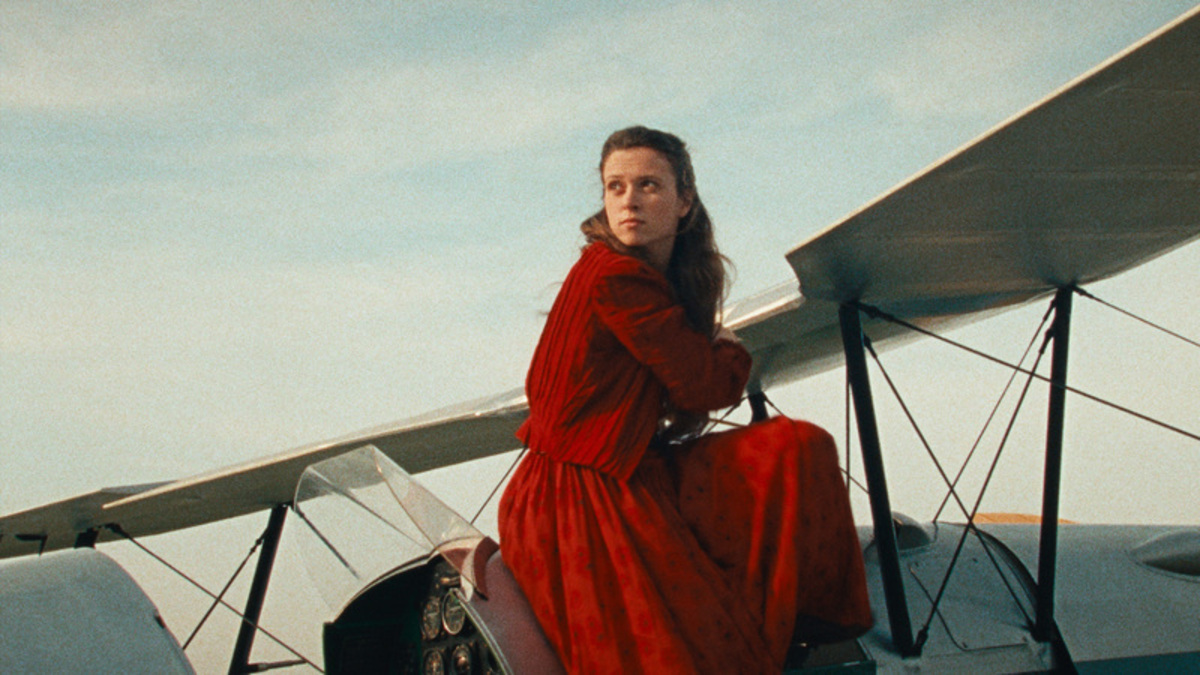 Scarlet
directed by Pietro Marcello
starring Juliette Jouan, Raphaël Thiéry, Noémie Lvovsky, Louis Garrel
CG Cinéma
With the release of Pietro Marcello's enchanting feature, Scarlet (L'Envol), we see the first cinematic adaptation in over sixty years of Aleksandr Grin's beloved fairy tale novel, Scarlet Sails. In 1961, legendary director Aleksandr Ptushko, who had for the previous decade plus drawn heavily from his animation origins when he created some of the most fantastical, folklore-based films of post-war Soviet cinema, such as The Stone Flower and Sampo, began a period where he would strip away the visual effects that he had pioneered in favor of greater character development. This change in ethos, combined with the popularity of Grin's work during Khrushchev's reign, led to Ptushko's faithful (albeit more secular) treatment of Scarlet Sails.
At their core, Grin's novel and the film by Ptushko are the equally divided stories of two young people whose actions are heavily influenced by their relationships with their fathers, who each view artistic endeavors in radically different ways. Asole is the daughter of Longren, a compassionate but destitute seaman who possesses an almost supernatural ability to transform wood into art and who has returned home from a long voyage only to find that his wife has perished under foul circumstances, and Arthur Grey, a boy of great wealth, is the son of Lionel Grey, a brutish and cruel man who collects art to further his status as a man of means. Growing up in the small village where she and her father are pariahs, Asole takes joy in her father's stories and plays with the handmade toys he makes to create her own reality, while Arthur steals away to his mansion's library to read books and delve into paintings, where he imagines a world of adventure at sea, away from the grips of his father.
As he did with his 2019 reimagining of Jack London's 1909 book, Martin Eden, Pietro Marcello, who co-wrote the screenplay with Maud Ameline, Maurizio Braucci, and Geneviève Brisac, freely adapts Grin's novel to the screen in Scarlet. As achieved in Martin Eden, Marcello significantly shifts the shape and depth of the source material's original subjects, and with these shifts, he creatively skews time and genre and rejuvenates fairy tale and folklore structures with infusions of modernity, which altogether present a transcendent film experience. Furthermore, to diverge from Ptushko's lavishly shot and epically staged adaptation of Scarlet Sails, Marcello and cinematographer Marco Graziaplena filmed Scarlet in 16mm with a 4:3 frame that imbues the narrative with an intimacy that upholds the warmth between characters while never diminishing the film's quixotic elements.
Set in the years after World War One, Scarlet centers on the father-daughter pair Raphaël (Raphaël Thiéry) and Juliette. Craftsman Raphaël returns home after combat and finds out that his beloved wife Marie has died, and consequently, his daughter Juliette (Suzanne Marquis, the first of three actresses to play the role in Scarlet along with Asia Bréchat and Juliette Jouan) is being raised by a widow named Madame Adeline (Noémie Lvovsky), who offers the father and daughter a permanent home on her farm in exchange for Raphaël's help around the property. As opposed to the nameless caretaker she was depicted as (and limited to) in solely the first few pages of the Grin novel, Madame Adeline remains an integral part of Raphaël and Juliette's life and emerges as a surrogate parent to Juliette and a great friend to Raphaël. With her praise of Raphaël and influence at a shipbuilding worksite, Madame Adeline helps Raphaël get an audition and eventually a job as a woodworker for ship construction, allowing him to settle into a new life and integrate into the community in the surrounding village. However, despite being well-liked, Raphaël still senses a distance between himself and the rest of the village and suspects Madame Adeline's refusal to greet or even acknowledge local bar and community gathering space owner Fernand could explain why. One day, when Raphaël insistently asks for the reason behind her iciness, she shares the harsh details of Fernand's nefarious actions that precipitated Marie's death. Soon after, when a serendipitous moment allows Raphaël to exact a measure of revenge, he, along with Adeline and Juliette, become ostracized from the village, leaving Raphaël with no other option for income than to sell his handmade toys in a nearby city and Juliette as the subject of constant ridicule by her peers.
Accepting her fate, Juliette comfortably spends time alone at a nearby creek, first to release a rescued frog and then to play with a sailboat. There she meets a clairvoyant woman (Yolande Moreau) who predicts that one day she will leave home in a ship adorned with red sails. But when the news of this prophecy reaches the village children, it becomes added ammunition for Juliette's derision. Though the children treat Juliette with extraordinary cruelty, Raphaël, who appears throughout Scarlet as a Prometheus-like figure, wondrously dissolves the predominance of Juliette's outsider dread by playing songs on his concertina, telling stories, and building beautiful toys in addition to encouraging his daughter to pursue her own talents such as playing a piano that he restored by hand just for her. With such a creative and nourishing environment, Juliette transforms into a strong and imaginative individual who dreams of freedom at a young age, and when her intelligence is recognized at school, she is given the option of studying in the city, far away from her father, but she refuses to leave him. Over the years, as she remains by his side, she develops further into a virtuous renaissance woman, painting and composing music in a humble studio adjoined to Raphaël's home workshop. Subsequently, midway through the film when the soothsayer's prophecy partially unfolds in the form of the dashingly handsome pilot Jean (Louis Garrel), whose grounded aircraft requires a blacksmith's attention to repair a broken engine part, Juliette, for the first time, has someone outside of her home to share affection with, but after their moment together, she rejects any notion that could lead her away from the place and the people who have shaped her.
Though ultimately still set in an era almost a century ago, Scarlet includes many scripted transformations of the original source text and incorporates multiple cinematic techniques to successfully evolve Grin's story for a contemporary audience, but the most significant changes made by Marcello and his crew are character-based. Marcello expands the unidentified woman who takes care of Asole in the absence of Longren and his wife from a minor character to a major one in the development of Madame Adeline as a critical supporter and pillar of strength for both Raphaël and Juliette. In contrast to the establishment and amplification of Adeline's character, Marcello de-emphasizes the novel's Arthur Grey character, who is adapted into Jean. In one regard, Jean retains the wide-eyed genuine soul inherent in Arthur that would make him appealing to Juliette, but Marcello eliminates a prolonged backstory and adds a somewhat hapless exterior to him, and in turn, he becomes a way to vie against a storybook rescue by a Prince Charming. Furthermore, by wildly experimenting with elements of musical and magical realism alongside hypnotic images of nature in the countryside and woods around Madame Adeline's farm, Scarlet simultaneously places us into Juliette's mindset throughout, which also keeps us from falling into the outdated trappings of the traditional fairytale.
With Scarlet, Pietro Marcello revitalizes the classical narrative of Scarlet Sails by drawing us closer and closer to Juliette. Whereas Ptushko's adaptation inherently distances the audience from its characters with its grand scale, Marcello tightens our focus on Juliette and invites us to live alongside her as she navigates her harsh reality, flourishes with Raphaël's love, support, and artistry, and expresses her own fortitude inspired by that of her father and Madame Adeline. With such intimacy, we experience, rather than witness, the magical and the real of Juliette's life, and as they weave together and converge into a single plane, we find ourselves in a fresh, invigorating space that summons inspirations from folklore into new possibilities for our imaginations today.
Scarlet opens at Film at Lincoln Center and the IFC Center in NYC this Friday, June 9, 2023. Featured photo courtesy of Kino Lorber.
---