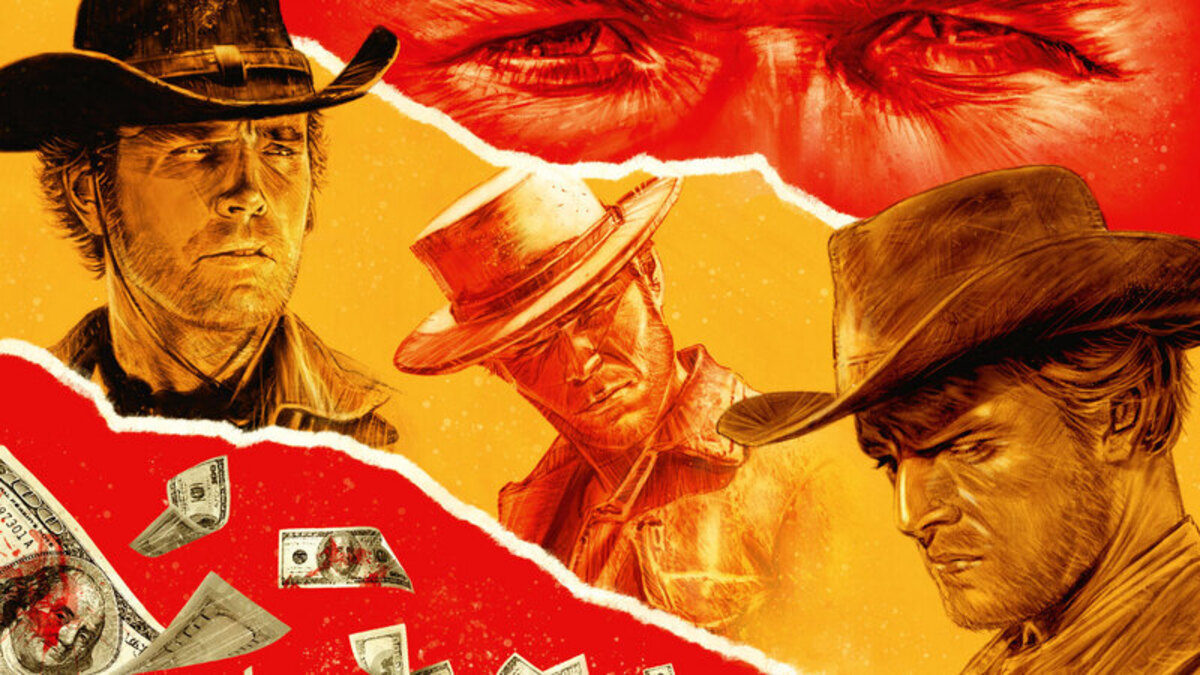 Blood Money: Four Western Classics Vol. 2
directed by Romolo Guerrieri, Giovanni Fago, Giuliano Carnimeo, Cesare Canevari
starring Gianni Garko, Jeffrey Hunter, Ana María Mendoza
Arrow Video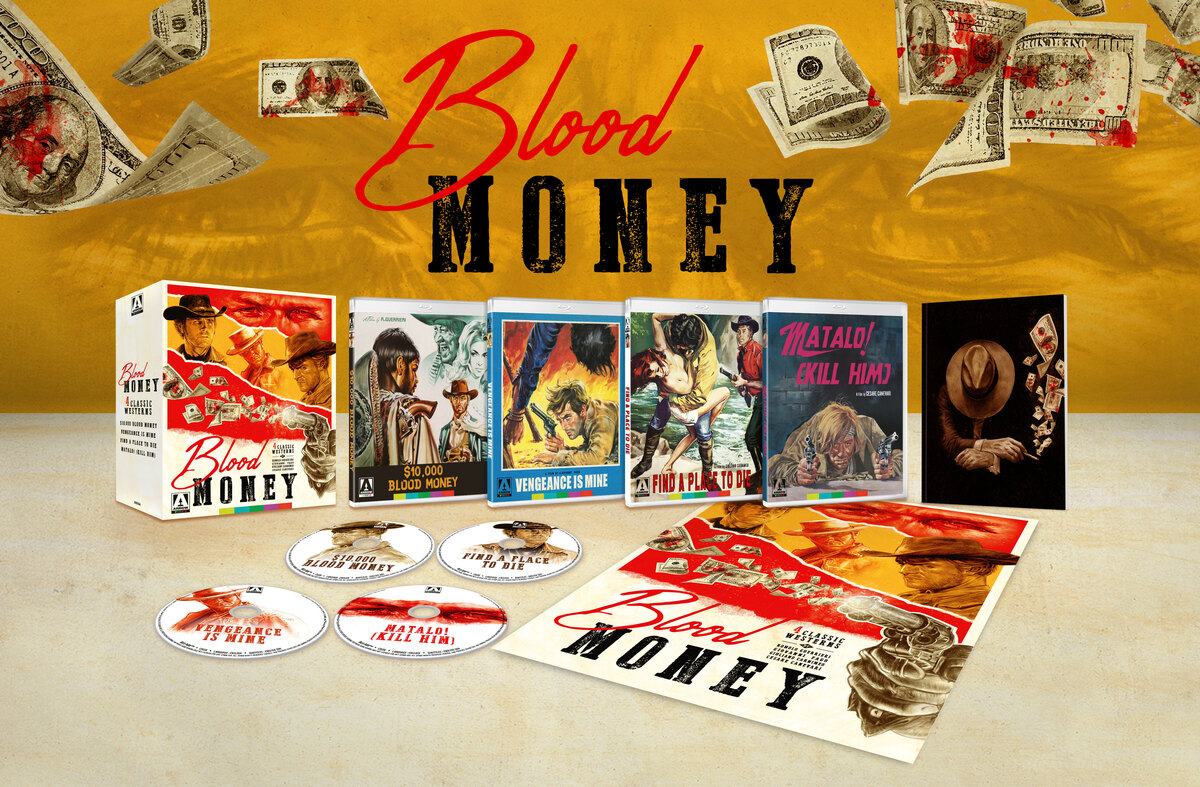 Following the success of their Vengeance Trails: Four Western Classics Blu-ray collection, Arrow Video has curated another quartet of blood-soaked spaghetti westerns in Blood Money: Four Western Classics Vol. 2.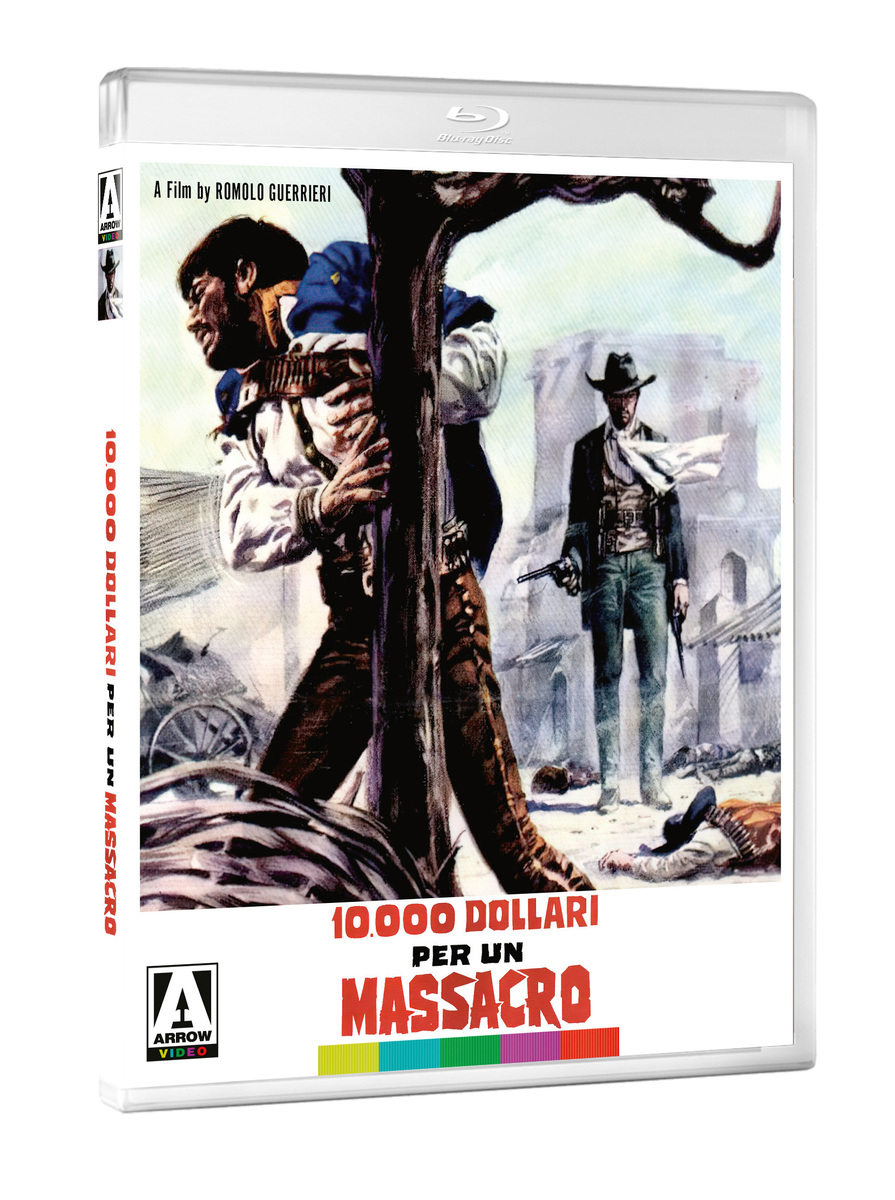 $10,000 Blood Money, a.k.a. 10.000 Dollari per un massacro (1967), stars the always charismatic Gianni Garko as the bounty hunter Django, although the character is far closer to Garko's supernatural gunslinger Sartana, whom he portrayed in four classic westerns. Django is almost single-handedly clearing Texas of outlaws, but he is not a hero. He is utterly mercenary and refuses to go after bounties that don't have a high enough reward and is loath to pull his guns without a payday. Django is convinced to work a job with Mexican bandit Manuel Vasquez (Claudio Camaso, A Bay of Blood) in order to push Vasquez's bounty price higher. Unsurprisingly, there are a number of double crosses, and Django is tortured and left for dead before he takes things personally and sets out to get revenge on Vasquez and his gang.
In his audio commentary, film historian Lee Broughton discusses the different types of Django films that were released in the wake of Sergio Corbucci's 1966 classic, Django. Basically, there are official Django films, where there is a character named Django (whether or not he bears any resemblance to the original) in the film and title, films where Django is just in the title, and less common, as is the case with $10,000 Blood Money, there is a Django character but no mention in the title. Which begs the question: why rip off an established character and not exploit the fact in the title?
The film is full of fun characters and striking action scenes, but the entire conceit of Django and Vasquez joining forces never really makes sense for either party. Django is trying to raise money to help his girlfriend, the local saloon owner, to be able to open a saloon in San Francisco, but joining up with a wanted bandit gang to rob a gold shipment protected by Union soldiers seems unlikely to have a good outcome. Easy money isn't really what the genre is about, and the anti-heroes in these stories often have to endure much suffering before getting their revenge. Django suffers plenty, including being tortured and buried up to his neck in the sand and left to the scorpions before the final showdown in an eerie ghost town.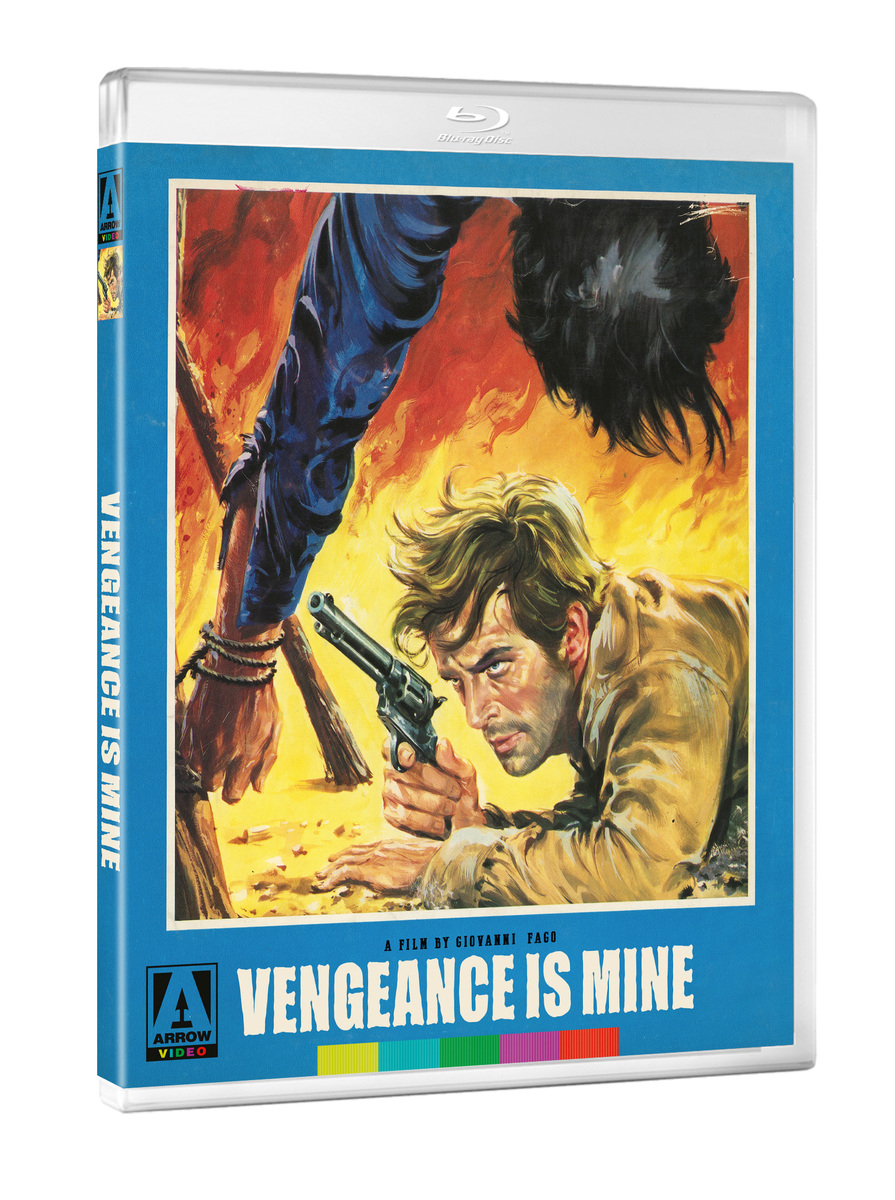 Although it is not a sequel, Vengeance is Mine a.k.a. 100.000 dollari ti ammazzo (1967) again stars Gianni Garko and Claudio Camaso, this time as half brothers in another tale of betrayal and vengeance. When Johnny Forest's paternity is called into question, his younger brother Clint frames Johnny for the murder of their father. The family's wealth is highlighted in a series of flashbacks which show the brothers fighting for attention on the family's lavish beachfront estate. After a ten-year prison sentence, Johnny is making his way as a bounty hunter with an eye out for revenge on his little brother. His blood lust gets complicated when he gets word that their mother has died and her final wish is that Johnny not exact revenge unless Clint shoots first.
The film mixes some elements of gothic horror into the wild West, especially in the opening sequence. Johnny ambushes a Mexican gang in an abandoned church by hiding in a coffin, and the bandits chase shadows accompanied by Nora Orlandi's score, which mixes a standard Western score with motifs from Bach's Toccata and Fugue in D minor, which is immediately recognizable to anyone who's ever seen a classic horror film. Both of these films feature pretty brutal violence, even by Euro-Western standards, as Gianni Garko suffers numerous beatings and tortures in both films before he is allowed to gain the upper hand and exact his revenge.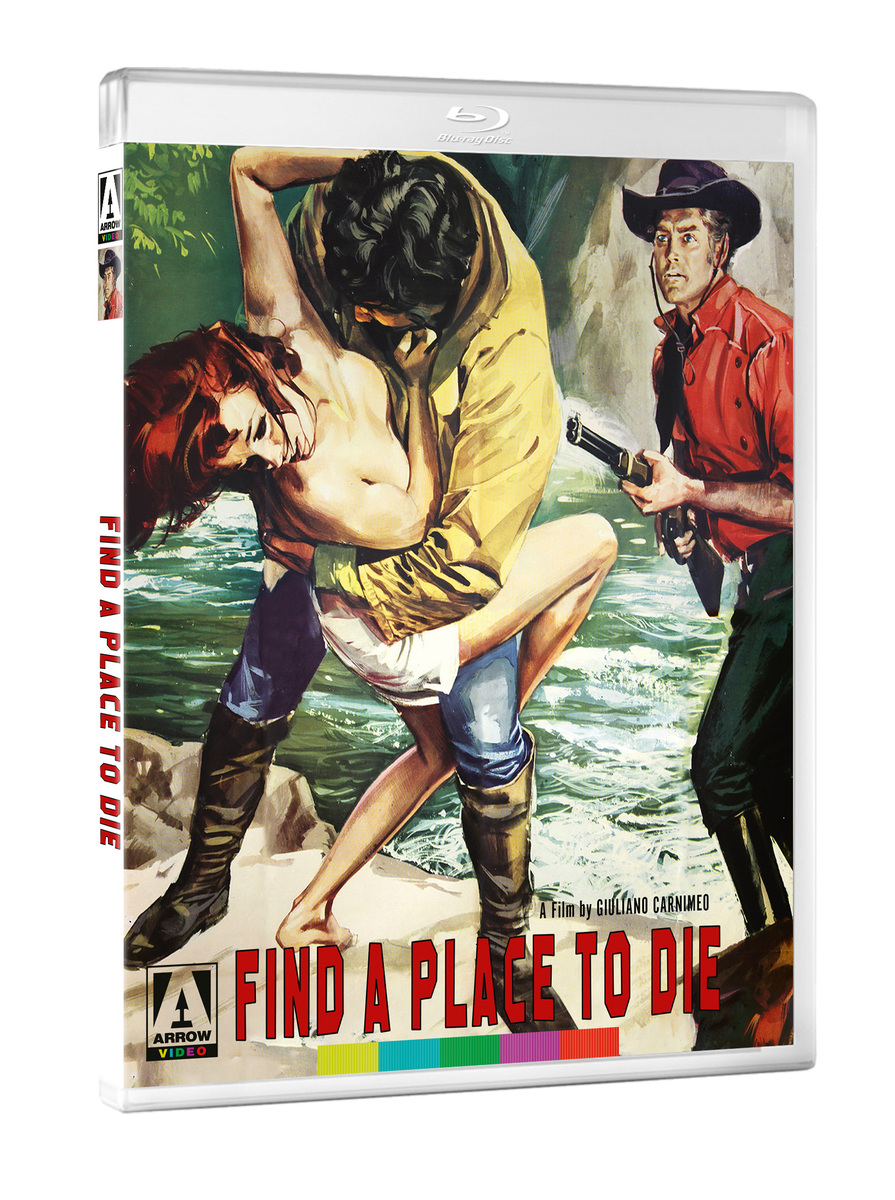 Find a Place to Die is shot much more like an American Western than most Eurocult westerns, with limited interior sets and far less reliance on zooms and close-ups. Locations near Rome replaced the standing western town sets in Almeria, Spain, giving this film a different feel from its contemporaries. Directed by Giuliano Carmineo (I am Sartana, Your Angel of Death) this unofficial remake of Henry Hathaway's 1954 film Garden of Evil involves a woman, Lisa Martin, played by French actress Pascale Petit hiring a shady group of gunslingers led by Collins, (Jeffrey Hunter. Star Trek) to help rescue her husband, who is injured in a gold mine from a gang of outlaws. The film is pretty revolutionary for spaghetti westerns with a woman in such a strong, prominent role, as women in these films are usually relegated to the sidelines with minimal screen time and minimal impact to the plot. The band, with their uneasy alliances, gets to the gold mine too late to save Lisa's husband or her gold, and to make matters worse, Chato's gang are after them, and Collins' motley and outgunned crew must make a stand.
The film unfortunately falls through the cracks as it isn't classy enough to work as a prestige American western and isn't weird or trashy enough to work as a spaghetti Western either. Jeffrey Hunter ultimately lacks the cool charm needed for his character to truly work. One can imagine the role being so much more with George Hilton or an American star like Charles Bronson in the part. Pascale Petit is beautiful and captivating but sadly disappears once the shooting starts, and you can't be blamed if you forget she was in the film when she reappears after the lengthy gun battle that takes over the final act. Find a Place to Die has a lot of the pieces for a terrific western and is overall entertaining but just doesn't do enough to be truly memorable.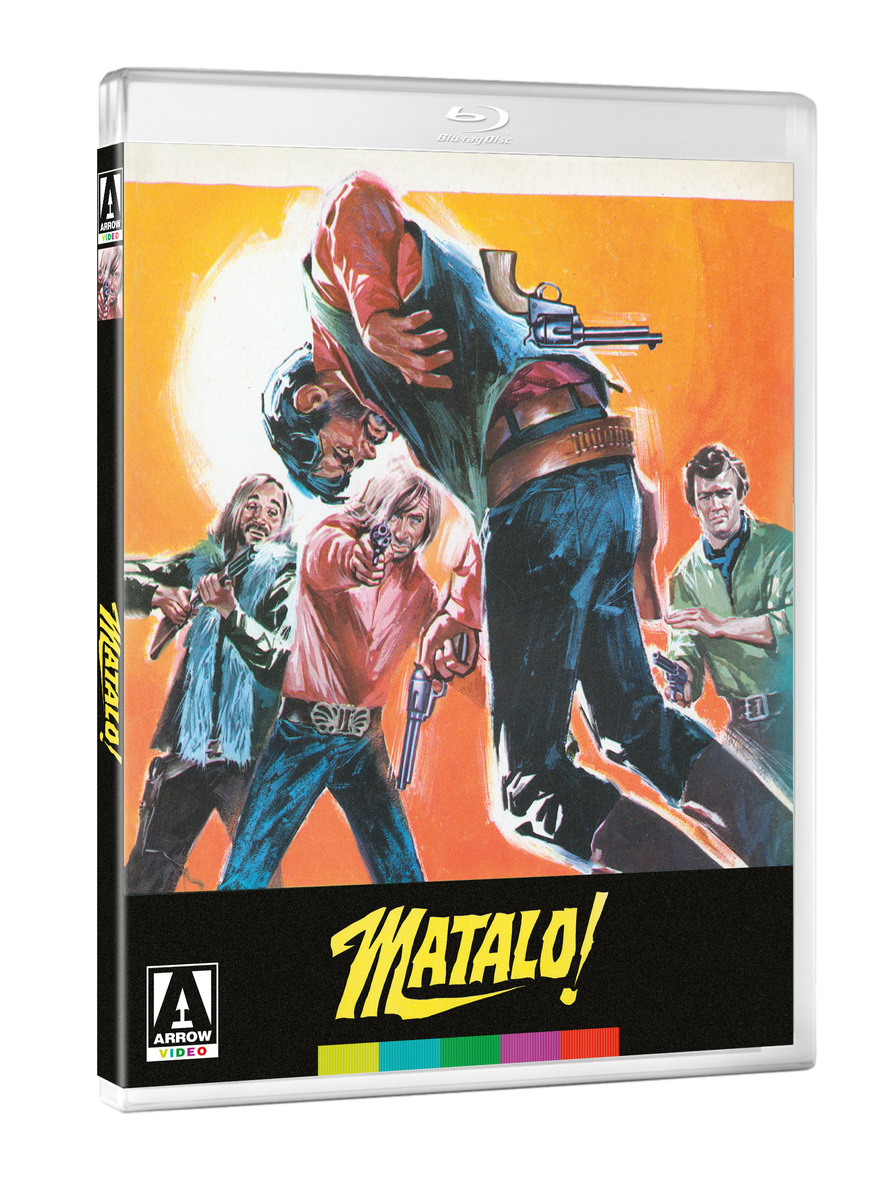 Eurocult westerns are known for splicing elements from other genres into their stories to keep the films from getting too formulaic. Matalo! (Kill Him) (1970) combines the western with gothic horror, then sprinkles in a nod to the Hong Kong martial arts weapon films and even echoes of the Manson Family cult, in one of the most delightfully strange westerns ever made. When you consider this film is from the director of the Nazisploitation "classic" The Gestapo's Last Orgy, you know he has the sleazy bonafides. The often surreal imagery in the movie is punctuated by an unconventional prog rock score which adds to the oddness of the film, which had to be nearly indecipherable for 1970 audiences expecting more conventional genre fare.
A gang holes up in a ghost town to hide out after a stagecoach heist, but soon discovers the town may actually be haunted. When a film chooses atmosphere over plot, it is vital that the atmosphere is thick, and director Cesare Canevari layers it on for a memorable and unique film. Following a stagecoach heist, the gang is forced to wait in the ghost town to unload their purloined gold, and the tensions among the gang members is heightened by the discovery of a survivor of the stagecoach assault, Ray (Lou Castel), along with the last living resident of the town, in the form of Constance Benson (Ana María Noé). While they wait, Ted (Antonio Salines) decides to work out his sexual frustrations by sadistically torturing Ray with the dog chain that the movie strongly implies the gang's femme fatale Mary (Claudia Gravy) used on him when they were previously an item. Eventually Ray is able to get his revenge on his tormentors, armed with his curious weapon of choice, a leather sheath of boomerangs, which makes the climax one of the most singularly strange in the whole of the Eurowest canon.
• •
Blood Money: Four Western Classics Vol. 2 follows up the superb first volume with another outstanding set of deep-cut films for fans of the genre. All four films look fantastic, and the set is absolutely loaded with extras, including audio commentaries on all the films. A set like this probably isn't the best jumping on point for spaghetti westerns, but is a must for fans who are looking to dig deeper into the genre. One of the great joys of Eurocult cinema is the realization that after you've seen all the important cornerstone films, you have really only begun your journey. Thankfully, the boutique Blu-ray labels realize this and work diligently to bring out neglected titles deserving of a second chance at life.
---